The Linen Shop: Where Quality Still Counts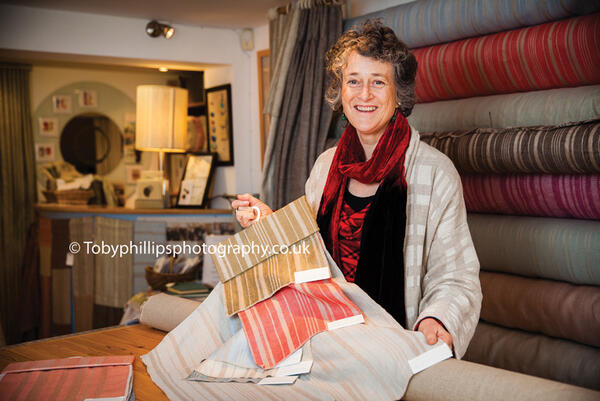 It's increasingly common for people to accuse Horsham town centre of being dominated by restaurants and coffee shops.
But if you look closely, you'll see that fabric shops are giving them a good run for their money. There are now four in the town centre, three of them based in the Carfax, with The Linen Shop being the most recent addition.
Linen is not the most expensive fabric in the world; that honour probably falls to vicuña, a South American relative of the llama and the alpaca. A Scottish textile company produces fabric woven from 100% worsted vicuña, which is harvested from the coat of the animal only once every three years. Its rarity ensures a price tag of about £3,000 per yard.
Linen's price tag isn't even remotely as obscene, but because it is made from the fibre of flax plants and is labour - intensive to manufacture, it is among the more costly common fabrics. The cultivation of linen cloth has declined in the UK and Ireland over the last decade. Many of the high quality flax cultivation mills have closed as Eastern Europe and China offers cheaper but lower quality alternatives.
Yet Fran White, owner of The Linen Shop, has refused to compromise on quality. She still offers highly sought-after Irish linen, as well as linen from Scotland and Belgium, which along with Northern France and The Netherlands now produces much of the world's highest quality linen. And unlike the vast majority of high street fabric stores, Fran sells linen woven to her own designs.
Most customers buy Fran's linen to use on home furnishings such as curtains, blinds, cushions and throws. But the linen can also be used to create clothing items and the shop even sells a range of clothes including kimono
robes, scarves and loose jackets.
With the addition of quirky gifts such as patchwork pieces, buttons, matchbox covers, pin cushions, ponchos, and a selection of art Fran creates in her spare time, The Linen Shop is as unique as Fran's own journey to the town centre.
"I had a business called Linen Hire in London and we hired out fabrics for use in advertising and editorial photography," said Fran. "I had a huge collection of fabrics and they were used for all sorts of things including adverts for Nescafe and even photographs in the Marks and Spencer Cookery Book.
"Business was okay but the work wasn't creative enough for me, so I started to study part-time to learn more about designing and producing fabric. I ended up at college. I sold the business and began studying full
time at the Surrey Institute of Art and Design in Farnham.
"I left as a mature student in 1998 and the following year I started trying to sell my own designs locally. I met Ann Sutton, a well-known weaver based in Arundel, and it was Ann who suggested that I find a mill to weave the fabric I had designed.
"She gave me some contacts in Ireland and I found a mill that would weave me thirty metres of fabric. That arrived in February 1999 and I had to start selling that. But the Irish mill closed down, so we tried a Scottish mill and they still weave a small amount for us. But most of the fabric we have here is woven in Belgium.
"I did try hard to find a mill in England, but they were all closing just as I was starting out, mainly due to competition from overseas. Initially there was a drain to India and now it's China. When I began researching, I found that some people who were having their linen woven in India would regularly find mistakes in the work. But they would simply send it back as it is just so cheap.
"But I didn't want that. I want it to be right every time. So we spend a little more to have it produced by the best mills we can find. Also, for many people who know fabrics well, Irish linen is still held in high regard as it's so fine."
Eventually, Fran opened a showroom close to her home in Nuthurst in 2003. The footfall was very small but gradually the customer base grew, until Fran decided to make the jump into the town centre. Shortly after opening at 18 Carfax, the Linen Shop won the Dressed for Success 'Best Independent' Award for its Christmas window display.
Fran believes the cluster effect of fabric stores is good for all of the businesses, as they all specialise in different areas. There are also several local companies, such as upholsterers, furniture restorers and curtain makers, working in partnership with The Linen Shop.
The location of the showroom may have changed, but Fran continues to sell designs very close to her original hand-woven patterns. A fashion designer called Nicole Urbanski, who has a shop in Hove, was one of Fran's very first customers, and designer Jane Cattlin has made clothes from Fran's designs that are on sale at The Linen Shop.
Fran and colleague Trudi Robb have themselves introduced gift ideas such as aprons, sew-yourself fabric kits, the 'best tea towel you'll ever have' and buttons which scooped a Homes and Gardens Magazine award.
There's even been the occasional link to the big screen - Fran supplied five pairs of curtains for use in the 2009 film Bright Star, an acclaimed period drama about the life of the poet, Keats.
Ideas, initiatives and opportunities come and go, but there has been one consistency; Fran's fascination for the timeless, subtle qualities of linen. "The fabric is very reasonably priced for its quality," she said. "Our range has very subtle colouring which can be used for both interiors or clothing.
"Linen never goes out of fashion as it is very adaptable - for instance we sell a range of Crinkle Jackets that celebrate the fact that some linens are prone to creasing. "Trudi comes up with some new ideas like pocket mice and kits, but the most recent new thing for us is our rugs which are knotted by hand in Nepal. The Swedish stripe is one of our most popular designs and this is the design we have put into the rug.
"I knew a weaver who had her fabric turned into a rug and I had always wanted to do that, so she put me in touch with someone with experience in that field. He looked at the website and converted a couple of my paintings into linen rugs, and then the idea developed.
"I suppose the big challenge for companies now is the Internet. Recently a customer bought fabric from us, and
admitted she had first gone home to see if she could buy it any cheaper on the internet. But because this is all our own designs you can only buy this fabric from here. You can buy it online from us, but it's the same price as it is in the shop. There are a lot of people out there doing interesting things with the fabric.
"We cannot predict who the end user will be - they might be craft workers, they might be interior designers, they might be fashion designers. We have appeal across the board and for us that keeps it interesting."
For more details visit www.thelinenshop.biz