Blaker Specialist Welding Repairs Ltd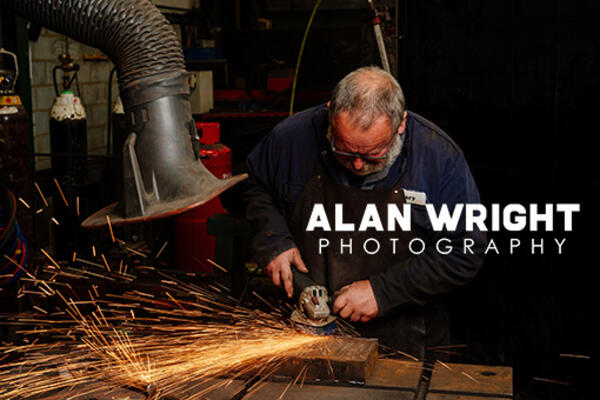 Published on 1st July 2021
No two days are the same at Blaker, a specialist welding company in Adversane, near Billingshurst. For more than a century, it has been renowned for repairing and fabricating parts for just about anything that moves, from steam engines to Spitfires. Today, the company finds itself in a transitional period, adapting to meet the needs of a changing world.
THE WHEEL DEAL
You might not have heard of it, but Blaker is one of the longest-established businesses in the Horsham District, having been founded as Blaker Engineering Co. Ltd in 1886. Founded by Alexander Blaker, it was initially based in Islington, London. Blaker specialised in automobile engineering and was instrumental in developing the innovative Hallé Spring Wheel, which received a gold medal at the Liege Universal Exhibition in 1905.
In the 1930s, the company bought a blacksmith's shop in Dial Post and launched a new axle and chassis repair business, Blaker Specialist Welding Repairs Ltd. This grew steadily and during the Second World War, the skills of its engineers were in great demand. War-time work included fixing components for Hurricane and Spitfire plane engines, as well as tank transporters and reconnaissance vehicles for Canadian Army units stationed nearby.
By 1946, Blaker employed about 30 people and was the 'go-to' company for machinery and vehicle repairs, with its vans carrying out mobile repairs across the South of England. A middle workshop was added in Dial Post in the 1970s and used to repair lorries and earth-moving machinery. There was demand for vehicle preservation work too and Blaker became renowned as classic car specialists as well.
Business Manager Robin Plater joined Blaker when the business was taken over by the Charles Muddle Group in 2005. Robin says, "For a long time, Blaker ticked along with a small team of welders at Dial Post. When the Blaker family's long association came to an end, the business was placed on the market. Nobody expressed much interest until Stuart Muddle purchased the assets and moved the business to a unit adjacent to Charles Muddle Scrap Merchants in Adversane. Some of the team have remained throughout, and there's nothing they don't know about welding."
THE ENGINE ROOM
Robin was brought in to explore new commercial opportunities, which he has achieved by expanding into the recycling machinery. However, it's Workshop Manager Simon Rawlins who drives the engine room, where the team can overcome any engineering problem.
In his spare time, Simon built a half-size replica Burrell steam engine, using diesel rather than steam power. So, he's no stranger to engineering challenges, which come in many forms at Blaker. One project was a Peugeot Type 9, introduced in 1892 as the French marque's first closed-top family car. Blaker's straightened and repaired rotten pieces of the chassis for a customer.
Another job was converting a 1926 Bentley into a racing car. The chassis had been damaged in a road crash in 1933 and to be strong enough for historic racing, needed to be distorted back to its correct shape, with repair work based on the original designs. Other projects include repairing a Brough Superior 1150 motorcycle, now on display at Brooklands Museum, and a 1904 Siddeley called Daisy, believed to be the first car to drive on the famous Brooklands circuit.
Simon feels that the work has changed since he first joined, but it's always challenging. "The Dial Post site looked small from the outside, but it was like a Tardis," he says. "Usually, we had a month's worth of work in front of us and it was always challenging and interesting. That's what I enjoy about the job. You could be fixing a Bentley Blower one day and helicopter rotary blades the next."
ORIGINAL IS BEST
Simon and his experienced team use specialist equipment including lathes, mills, surface grinders and radial drills to carry out wide-ranging work. Metal turning and milling projects are varied, so one milling machine alone has an eight-metre bed and can bore large holes in steel plates up to 10cm thick. It can do cylinder head skimming too, using rotating grinding stones to achieve a flat and even surface to ensure the new head gasket seals.
Robin says, "We've been straightening bent axles for generations. The team has experience of DAF, Volvo, Scania and SAF trailer axles, as well as repairing brake drums, brake discs, flywheels, shafts and threaded items for anything from lorries to vintage cars. We've been skimming cylinder heads since 1935 and have repaired engines for motorbikes, HGVs and agricultural machinery. For historic vehicles, it's important to maintain the original frame.
So, owners bring us their old vehicles, be it a steam traction engine or a vintage car worth over a million pounds."

RECYCLING GOALS
However, with demand for such work waning, Blaker is diversifying too. A recent development has been to design and fabricate recycling equipment for the scrap metal industry.
Two key pieces of equipment are helping Blaker reach new commercial clients around the world. The first is the Magthro, which uses a continuous magnetic flow to separate non-ferrous metal from mixed materials, resulting in reduced levels of material ending up in landfill. The second is the Sandflo, which uses sand and high revolution vibrations to separate secondary metals and minerals according to density. It's a cost-effective way to recover aluminium and zinc, copper and brass fractions from mixed non-ferrous metals.
Robin says, "From the 1950s to the 1990s, people would spend more time repairing cars, as it made financial sense. Because the way we buy cars has changed and the high cost of repairs nowadays, we can no longer rely solely on traditional revenue streams. That's why we are developing machinery for the recycling industry. When I started here, 90% of our business was repairs and welding, whether fixing tractors, restoring iron railings or straightening truck axles. But the demand isn't there anymore. The next generation is not as interested in veteran and vintage cars, preferring classic cars of the 1980s and 1990s instead. So, we've adapted and the fabrication side has taken off. Perhaps that's where the future of Blaker lies."
Further information: Unit 1 The Yard, Adversane Lane, Billingshurst, RH14 9EG