Cocoa Loco in Swan Walk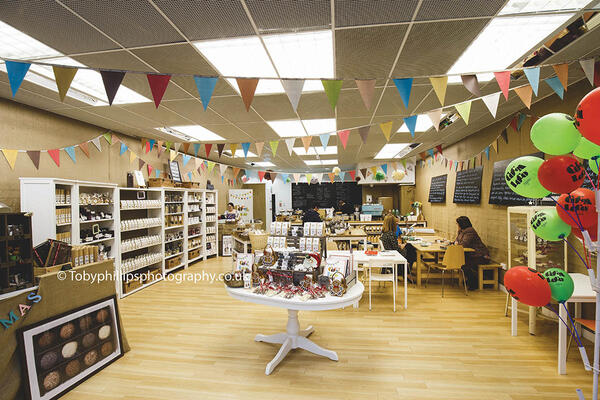 Published on 5th December 2016
Chances are you'll be buying somebody chocolate for Christmas. That may be a tube of sweets as a stocking filler, or perhaps a variety pack for someone you barely know for the office Secret Santa. Either way, it's unlikely you'll give it much thought.
Which is a pity, considering Horsham has its very own award-winning chocolate company in Swan Walk.
Given the branding and familiarity of its name, you'll be forgiven for thinking that Cocoa Loco is a national brand. But that is not the case. It's owned by local husband and wife team Sarah and Rory Payne, with all the products created at a small chocolate factory in West Grinstead, with just a single shop in Horsham town centre.
Sarah said: "A lot of people are not aware that we are a local company. People come in to the shop and say 'I've seen you in Guildford.' One time I replied, 'we're only in Horsham' and the customer said 'No, I've definitely seen another of your shops somewhere!'
People do think Cocoa Loco is a franchise and sometimes I just go along with it! There is something in the name that suggests it's a bigger company."
The Champagne Debacle
This can bring about problems when it comes to protecting the name of the brand. As a small company, Cocoa Loco has had to consult with solicitors as other companies have attempted to adopt the name. Yet it can work both ways, as Cocoa Loco made national news courtesy of its 'Champagne' truffles!
"We had a big Champagne débâcle as the Comité Interprofessionel du vin de Champagne (CIVC) asked us to cease using the term Champagne with our truffles. We replied to explain that we make our truffles with genuine Champagne, but the CIVC felt we were inferring a level of quality to a product that they did not endorse.
"The story was picked up by the national media. We appeared in The Sun and on South Today and they reluctantly decided not to take the issue further.
"Then, from out of the blue, Nigel Farage picked up the story as he felt it was an example of EU bureaucracy. He called me on the phone and invited me to Brussels. But in the end I decided not to make a political story from our truffles!"
100% Organic Fairtrade Chocolate
Cocoa Loco was born in 2005, when Sarah started baking brownies, selling them on eBay. Rory decided to leave his job and work alongside Sarah 18 months later as the Cocoa Loco range expanded.
The company's commitment to organic chocolate made with cocoa beans from a Fairtrade co-op in the Dominican Republic appealed to several renowned restaurants and outlets. Among Cocoa Loco's customers are Oxfam, John Lewis, National Trust Gift Shops, Fortnum & Mason in Piccadilly, Abel & Cole, Liberty London and Jamie Oliver restaurants.
Yet whilst the products are supplied to an increasing number of fine food emporiums, the opening of a Horsham shop is Cocoa Loco's biggest and boldest move to date.
Sarah said: "We started with a very small shop in Piries Place. It was close to Waitrose and we shared a lot of the same customers, so when Waitrose closed it killed our trade almost overnight.We looked at alternative sites and this unit in Swan Walk was available. It was a big jump, but we went for it."
Marble Bars and Tasty Elephants
Cocoa Loco opened in the shopping centre about 18 months ago and sells an increasingly intriguing range of chocolates conjured in Sarah's creative mind.
Currently, these include chocolate moustache lollies, a six-piece chocolate tool set, white chocolate and raspberry lip lolly, lime and chilli dark chocolate bar, Christmas pudding truffles, dark chocolate mango and white chocolate and strawberry elephants. Popular chocolate bar flavours include white rose geranium, milk and Brazil nuts, sesame snap and honey, and the marble bar, made with a combination of milk, white and dark chocolate.
Most recently, the company launched its first advent calendar, with its own hand-squeezed chocolate!
But it is the introduction of a café which has proved pivotal to making the shop a success and helped Cocoa Loco to scoop two accolades at the Sussex Life Awards 2016 (Best Tea/Coffee Shop and High Street Hero Award).
"We always wanted to have a cafe element to the shop," said Sarah. "Coffee is my big other big passion and I wanted to serve really good coffee and in particular create a proper Cocoa Loco hot chocolate.
"I've been to so many places where they mix chocolate powder with milk and call it hot chocolate. Here, we use our own organic chocolate flakes and organic whole milk from the Goodwood estate, so the customer has a nice foamy topping.
"The ingredients are organic and fairtrade so we adopt the Cocoa Loco philosophy into the cafe as well. I also bake the cakes for the café, which is really rewarding as it harks back to the early days of the business for me. I still get excited about cake and want to hear feedback!"
What Price a Perfect Drink?
The hot chocolate has become the most consistent seller, as more people discover the Cocoa Loco café.
It's particularly popular with families, thanks to a colouring table for children with a roll of plain paper and crayons. Despite its success, there are no plans yet for a second branch of Cocoa Loco.
"We just want the business to grow as it is and improve what we have. The first few years were quite tough so we're enjoying the position we are in now. Certainly, we do need to be more efficient in terms of production. We're still making our chocolate bars in batches of about 20, which of course can be quite expensive.
"People who aren't aware that we're a small firm - using fairtrade cocoa which in itself is costly – perhaps don't appreciate that our bars are made in such small amounts and we can't compete with the pricing of the major brands.
"I read a review online recently where somebody had given us four stars out of five. They had written that our hot chocolate was the most luxurious that they'd ever had, then added at the end that it was 'a bit pricey.'
"We're using real organic chocolate and organic milk, so is it not worth the extra 25p more than what you'll pay at the coffee chains? For the work that goes in, it's not pricey at all."
You can visit the Cocoa Loco shop at Swan Walk Shopping Centre, Horsham, or see the full range of products at www.cocoaloco.co.uk