Everyman Cinema Opens in Horsham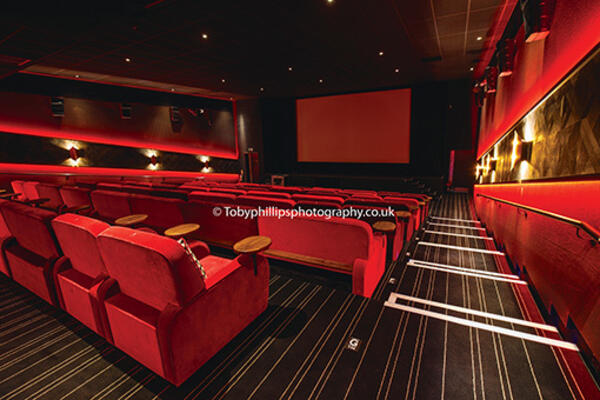 Published on 1st April 2019
As Everyman opens in Piries Place, we meet Venue Manager Rebecca Drees to find out why the cinema's arrival is causing such a stir...

Do you sense the anticipation regarding the opening?
I've spoken to business owners around town and they seem excited that an Everyman is here. One comment I often hear is that it's a "good fit" for Horsham. The town has beautiful pubs and excellent leisure facilities, but there's not much in terms of entertainment. Obviously, it has The Capitol, which is primarily a theatre, but I think people will appreciate having a cinema in the heart of town.

How have you prepared for the opening?
We tried to emulate a complete service during training days and test screenings. The first film shown was How to Train Your Dragon: The Hidden World on Monday 25 April, for staff and guests. Since then, we've had test screenings of A Star is Born, Bohemian Rhapsody and Green Book, among others. It's not really the same without customers, but we've prepared as well as possible.
Do you know the town well?
I've only been here for six weeks. Previously, I was Deputy Manager at Everyman in Chelmsford, one of our top locations in the country. Chelmsford has the right demographic for the brand and I hope it's similar here. Both cinemas are in the centre and both towns have been boosted by a John Lewis development. In Chelmsford, we were busy from day one, which I'd like to repeat!
Can you describe the Everyman experience?
Everyman is what cinema was meant to be. When you go to the movies, you want to be slightly pampered. Everyman is a boutique cinema that injects a bit of luxury. We know our prices are higher than others, but the personalised service warrants that. There is a sense of nostalgia, as it harks back to an era when people would be excited about the cinema. There's a touch of boutique class.
This is reflected in the design too…
Everyman is known for its retro- chic look. Each site is individually designed by Fusion DNA and every time we open a new venue it looks more refined than the last. As you'll see from the interior design, we consider every aspect. Horsham is the first Everyman to have a roof terrace, which I'm very excited about. It is stunning when the sun is out.
Is dining a big part of the experience?
Everyman is more of a bar/restaurant with screens attached. People have asked if they can come in just for a drink, which they can. We want people to visit for a drink or a bite to eat during the day, taking advantage of the terrace overlooking Piries Place. When I go to the cinema, I like to make a night of it with good food and drink alongside a comfortable place to watch the film. Everyman has that. It makes a great date night, as you can chat over a glass of wine and a meal before the film.
What food do you offer?
Everyman's Food and Beverage Manager is very meticulous, so the focus is on quality rather than quantity. There isn't an extensive menu, but what we have is freshly prepared. We have a selection of pizzas and burgers, served with hand-cut chips, with Specials changing every three months. Sweets include sundaes, cakes, tubs of retro candy and of course, popcorn. On the drinks side, we have beers and ciders, including Silly Moo, made in the Horsham district. We also have beautiful sparkling wine from Bolney Wine Estate.
Can people order from their cinema seats?
They can. Every seat has a wooden drinks and snacks table and we can bring refreshments to you, during adverts and trailers, prior to the film commencing.
How many screens are there?
We have three screens, each with a combination of armchairs and two person sofas. Screen One, with the red LED lights along the side, is our biggest screen with 98 seats. Screen Two has 88 seats and Screen Three is more intimate, with 52 seats. Whilst it's a small room, the screen is big, making it ideal for private hire and group screenings. Most Everyman sites have three or four screens, as the boutique feel would be lost if there was much more than that.
Do you only screen new releases?
We have a mixture of films, although it's primarily blockbusters as that's what people want to see. Our first public screening will be Dumbo and this year is dominated by Disney, with Toy Story 4, Aladdin, The Lion King and Star Wars: Episode IX all set to be released. We are also screening Monty Python's Life of Brian soon, and The Italian Job to coincide with Piazza Italia. It's the 50th anniversary of the film's original release and it'll be great to be part of the town's biggest event. We haven't yet planned regular classic film nights, as we need to get a feel for the market first. Other Everyman venues have organised things like horror weeks, so we'll see…
And live shows?
We have live screenings for plays and operas by the Royal Shakespeare Company, The National Theatre, Royal Ballet and occasional events like Take That Greatest Hits Live. There will be a weekly subtitled screening and dementia-friendly screenings from June. We also have a Q&A with writer and director Steven Knight, to coincide with his latest release.
People can become an Everyman member. What does that offer?
We have three levels of membership: Everyman, Everyicon and Everywhere, which give you various perks including discounts on food and drink and private hire, as well as free tickets. Everyman is offering a Founder Membership package for the first time, giving additional bonuses. We have a partnership with Green & Blacks, so members can receive a free chocolate on every visit too!
How is cinema faring in these challenging times?
Cinema is a growing industry, whereas the high street is having a difficult time. Sometimes you need escapism and cinema is perfect. No matter what, you can go out with friends and enjoy life.


Visit Everyman Horsham at 16 Piries Place, RH12 1EH.
For tickets visit www.everymancinema.com/horsham