Animal Instincts at Maltman Cosham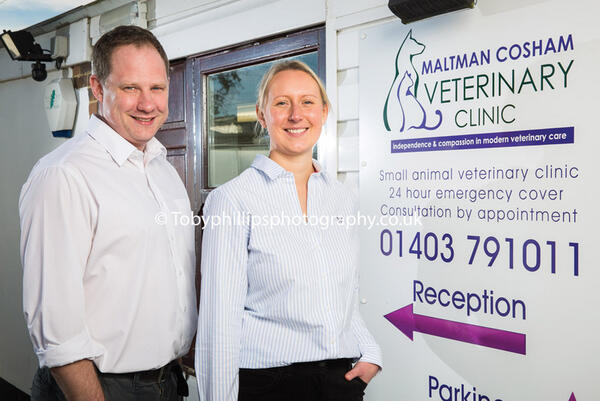 Recently, I took my lively cocker spaniel, Otis, to the vets to be neutered.
I can only recall three previous occasions that I have been to a veterinary clinic, and they all involved me walking in with a rabbit, and walking out without one.
So Otis, I assumed, would instinctively know upon entering the vets that danger may lay ahead. He'd presumably survey his surroundings, probe the room for escape routes, formulate a plan for freedom and live a glorious, castration-free life. He'd surely pick up on the fear of any other animals and that odd aura that is exclusive to waiting rooms, where time stands still and people feel compelled to read a May 2009 edition of Top Gear magazine.
But none of this happened. Instead, Otis enjoyed his time at the vets so much, that when we returned a day later for a check-up, he pulled me along on the lead with his tail wagging furiously, in the same way it does when we approach the playing fields for a game of fetch.
A short time later, as I sat in the waiting room (disappointed not to find a four-year-old copy of Top Gear) I could hear one of the veterinary nurses laughing and making a fuss of him. When we left, Otis tried to jump over the reception desk to avoid going home!
This all happened at Maltman Cosham Veterinary Clinic, which opened in March 2011 on the Lyons Farm Estate in Slinfold, where neighbours include several businesses devoted to building, fixing and even painting custom made motorcycles. But owners Mark Maltman and Josie Cosham, two qualified vets with 20 years of experience in the field between them, have managed to build up their business thanks to their friendly and caring
approach.
Mark said: "We had both been working at another veterinary clinic in Horsham. I moved to Brighton for a time and worked in a night clinic and during the day we both worked on setting up our own clinic. We wanted to stay within the Horsham area as we've both lived here all our lives. It was just a question of finding a building with a car park and this fitted the bill. People like coming here partly because we have plenty of parking space and there's no hassle.
"We wanted to promote a traditional veterinary service rather than one that is drifting towards being commercialised, like many other professions have become. It was important that we offer a personal service tailored for each person that comes through the door, as obviously what one person needs and wants for their pet may not be the same as the next person.
"To begin with there was just a couple of vets here but we have maintained the same ethos as we've grown.
"We get to know our patients and keep continuity. If you come in and see one vet, you can keep seeing that same person, which is good for the owner and the pet too. We make sure people see their primary vet for the vast majority of their visits.
"Because we are very open and honest with our clients, they even have our own personal email addresses and mobile number, so if they need to contact us directly they can. We also provide our own out-of-hours cover so if you need us at night or at the weekend, you can call the main number and it'll come straight through to the duty vet's mobile phone.
"It will always be one of our own vets on call and we can see animals here at the practice or if need be we would make a home visit in an emergency."
Maltman Cosham covers every aspect of companion animal care, with hospitalised animals benefitting from modern diagnostic equipment with access to ultrasound scans, radiography (X-ray), ECG and full laboratory analysis. There are now four fully qualified vets and Mark also holds additional qualifications in small animal medicine and veterinary cardiology. In addition, there are seven qualified nurses and a further two trainees, a kennel assistant, two receptionists and a bookkeeper.
Josie said: "The nice thing is that all of the nurses here have said they enjoy working here more than any other practice they have worked in, as they feel we have the right ethos. I think we've had quite a few animals that have been concerned about coming to the vets, but because we are a small clinic and perhaps have a bit more time to work with them, they have enjoyed their time here.
"We have treats for dogs and cats, so we give them a reward, build their confidence up and make their stay a nice one. People pick up on these small touches. We have a split waiting room, with a quiet area, so if there are lots of dogs then someone with a cat can use it, or an elderly dog can get away from the hustle and bustle of the main reception area. Quite a few animals jump up on the sofa and snuggle up!
"There are lots of small things that we do to make the animals feel at home and when you add it all together it creates an overall effect. The floor has a bit more traction than normal reception areas so animals don't slide about and panic on it. In the hospital area, dogs and cats are separated at all times so cats won't have a dog barking next to them. We have Classic FM on the radio and we have soothing pheromones that calm the environment.
"Most importantly, our nurses are very good with the animals, so they are always being cuddled and fussed over. They will do whatever they can to make every animal feel comfortable here."
At home, Josie has a labrador, a border terrier and a three-legged cat called Harry, whilst Mark has two dogs and three cats, including Poppy, who was found in Horsham on Remembrance Sunday. But they both spend as much time at the clinic as they do at home with their pets.
Josie said: "Since we've opened we've probably put in 80 hours a week. It is very hard work but extremely rewarding too. You have some cases that work out really well and they just buoy the whole practice. Quite often, you do form an attachment to an animal, and the owners too. When someone's pet is here for surgery, the owner goes through the highs and lows. A pet is a family member and so if something happens to them it affects them all. On the occasions when there is nothing that can be done for a pet, you feel you need to help the family come to terms with that."
The clinic has grown quickly, but the owners are aware that any expansion could jeopardise the ethos of their small, personal practice.
"I think there is some scope for expansion but it's not imminent," said Mark. "Maybe over the next year or two we can expand a little, but our ethos is not to have five surgeries dotted around Sussex. We like it small and personal. The aim is that everyone who steps through the door, for the time they are in our care, feels as though they are the only people in our world. We'll ruffle a dog's ear in the good times and enjoy the happy periods, and stand by them when things go wrong and walk that path with them right through to the end.
"There are ups and there are downs, but by being close to the clients, you are providing a service in every possible situation."
For more information call 01403 791011 or visit www.maltmancosham.co.uk