The History of South Lodge Hotel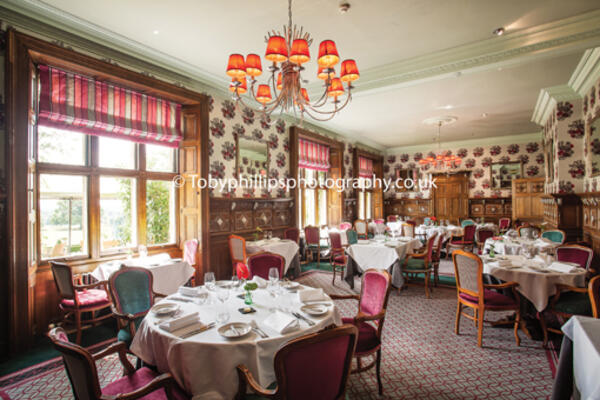 South Lodge owes its existence to beer. It was built in 1883 by Frederick Du Cane Godman, who had inherited a fortune through the family connection to the Whitbread and Co brewing company.
But it was as a naturalist that Frederick truly made his mark. He was one of the country's outstanding naturalists, to the extent that a bronze tablet representing him is in the foyer of Natural History Museum. Along with a close friend, he decided to specialise in fauna and flora of Central America, having been Inspired by Darwin's Origin of the Species.
He travelled to Central America and studied fauna and flora with a close friend. The book, Biologioa of Central America took decades to complete, but in total 50,263 species were described, 19,263 of them for the first time. Du Cane Godman was also interested in Islamic pottery, and his was one of the finest collections in the world. His travels took him to the eastern Mediterranean, and he witnessed the Crimean War in 1855. His collection grew as he visited West Indies, Egypt, South Africa, Rhodesia and Egypt. He also built up an important collection of Islamic material from Iran.
Dame Alice, Frederick's second wife, was an explorer and a keen shot who shared her husband's enthusiasm for gardening. She helped gather a collection of rare orchids, alpine plants and magnolias at the family home at South Lodge. South Lodge was in friendly competition with Sir Edmund Loder at Leonardslee in the planting of Rhododendron hybrids.
Alice received a D.B.E for her contribution to the British Red Cross during The Great War and later became deputy president of the Society. She was Girl Guide commissioner in Sussex (succeeding Lady Baden–Powell) and played a major role in the Movement's early days.
When Frederick died in 1919, his extensive pottery collection remained at South Lodge, where it was well looked after by his wife and (after the Second World War) his daughters, Eva and Edith, who were born in 1895 and 1896. Growing up at South Lodge, they acquired a wide range of interests. Eva was joint author of a volume on the birds of Somaliland, no doubt a book which would have delighted her father. The sisters became joint – commissioners of the Girl Guides, succeeding their mother, from 1945–1960.
They were happy to entertain scholars and interested visitors from all over the world, loyal to his memory.
Eva died in 1965 and the future of the Islamic collection and, from then onwards, the house itself, was handled by Edith. She recognised her father's wishes in her will and bequeathed the Godman Collection to the British Museum. Edith died on 18th May 1982, aged 85, whilst waiting for a taxi to take her to the Chelsea Flower Show.
The bequest made to the British Museum was the largest from a private source since the turn of the century. It is still available for public viewing.
The estate was put up for sale by Frederick's great, great nephew, V A Gordon Tregear. Before long, the contents of the house were put up for auction, which was handled by Christie's. The auction took place at South Lodge on the 16th and 17th July 1984.
The catalogue contained 100 pages and 902 items for auction, including objects of Vertu, paintings, furniture and furnishings, European textiles and Islamic works of art. Furniture included an early George III commode attributed to Pierre Langlois, and a George III four pillar mahogany dining table and chairs.
It was only at this time that the auctioneers told the Tregear family how much a treasure-trove of drawings Du Cane Godman owned was worth. The great naturalist had bought the original watercolour illustrations for John Gould's The Birds of Asia, a book which took 34 years to compile, from 1849 to 1883. In it many species were illustrated for the first time. He had also bought illustrations for Gould's Birds of Great Britain and Birds of Australia.
The family held on to the collection for a further decade, before they decided to sell. The Birds of Great Britain made over £1million in October 1994, but unfortunately a campaign to keep the collection together (led by Sir David Attenborough) failed. The Australian bird illustrations made another £60,000.
In 1985 the house was sold and turned into a hotel by Exclusive Hotels Group. Danny Pecorelli is the Managing Director and owner of the Exclusive Hotels Group, which currently comprises four luxury hotels. The other hotels in the group are Pennyhill Park in Surrey, Manor House Hotel in Castle Combe, Wiltshire, and Lainston House Hotel in Winchester. The group also owns a number of leisure venues including Mannings Heath Golf Course.
GOING FOR FIVE RED
It's been a tough road to obtain five stars from the AA, but more work needs to be done for South Lodge to be listed amongst an elite group of five red star hotels.
David Connell succeeded Rupert Spurgeon as manager of South Lodge Hotel in January. His role at the Lower Beeding hotel means that David has now worked at all four luxury hotels in his eleven years with Exclusive.
David said: "One of our key strategy aims was to bring all four hotels up to a five star standard, and we achieved that this year. Pennyhill Park is probably considered as the flagship hotel as it is a five red star property. That wouldn't mean a great deal to most people, but the red element shows that it is among the AA inspectors' top 200 hotels. We hope that all four hotels will reach that standard in the future, but there are a number of things we need to achieve.
"The red star rating really comes down to taking the service to another level, so whilst expectation at five star
level is incredibly high, the facilities and service need to surpass these levels to obtain a five red star. Key to reaching that standard at South Lodge would be a spa facility.
"We have had designs done, and we are carrying out a feasibility study at the moment. The design we are looking at would be very eco-friendly. At ground-level it would appear to be quite low, so when you look at it from the car park you would see a grass or wild meadow roof. The spa would follow the contours of the land, blending in with the hill going down to the lake. The actual excavation will be two storeys and the spa will have doors at the front of course, but from the surface level it will look like it is underground. The lake we would become a feature of the spa, as its outdoor pool.
"That design is coming in at £16.5million, which is, frankly, too expensive. If we try to do that, it's not a feasible
business option for us. So we are doing the feasibility study. We may be able to spend £10m, it may be £12m, but whatever the number comes out as we will have to adjust. We were hoping we might be able to start building the spa next year, and that may still happen, but it would take up to two years to complete, so we are probably looking at three years before it is ready, if it is approved.
"I was there when we built the spa at Pennyhill Park ten years ago, and I think it is still the second biggest hotel
spa in Europe. It was a massive project and we learned a lot. We can use that knowledge here at South Lodge."
South Lodge has grown and changed considerably since the Pecorelli family bought the house in 1985. At that time it was a much smaller property, so initially the drawing room and the billiard room of the manor house were used as function rooms.
The Camellia, the in-house restaurant at South Lodge, was also smaller. Perhaps the biggest development was the Sussex Wing, which opened towards the end of 2008, just as the recession kicked in. The wing is comprised almost entirely of new rooms, 43 in all, at Junior Suite level or above. The rooms in Sussex Wing are renowned as being amongst the best in the country with spacious, bathrooms, walk-in showers, Aquavision televisions and four poster beds.
Sophie Menhennett, Sales and Marketing Coordinator, said: "There was an imbalance in the amount of function space we could offer here, and the numbers we could put up in rooms. We were turning away meetings where the company wanted 100 delegates to stay. We could accommodate the function itself but we had a shortage of bedrooms, so the Sussex Wing maximises the potential of the function space we built in the South Downs Wing eleven years ago."
Now five years old, the Sussex Wing has not yet paid its way, but it has helped South Lodge obtain a higher star rating. "Perhaps the Sussex Wing hasn't grown the business at the rate we might have expected before 2008," said David. "But that's just down to timing and the recession.
"It's very tough to turn it into a profitable business as we borrowed a lot of money to build that. But it has had a major impact in that it's turned South Lodge from a four star hotel into a five star hotel, as the quality of the rooms is sensational. That is vital, as it has made us a far more attractive offering to major clients in the city."
Today, one of the key aims is to add contemporary touches whilst still maintaining the traditional elements of the old manor house. David added: "The lounge area was refurbished in June. It was charming, but we needed to ring it into the 21st Century. We restored the heavily embossed wallpaper, investing a lot of money to bring it back to its original state, and we've done some work that brings out the features of the ceiling.
"At the same time, we've made the cabinet at the back of the lounge more contemporary, and brought in new furniture. It's not everybody's cup of tea, but it's a bold statement. We also still have the original wallpaper by William Morris along the corridors.
"The original colours were absolutely beautiful but at some date before 1985, it was painted over. It would be nice to restore it as there is a great amount of details in the original. Some people might think it is a bit tatty but it has history.
"Fundamentally, we are a country house hotel, not a boutique property. This used to be somebody's home and so we want to maintain that feel, whilst providing a great hotel experience. So whilst the Sussex Wing bedrooms are
very contemporary and modern, we have a lot of traditional features in some of the rooms of the main house. You can still have the Downton Abbey experience."
TEA IS TEA, ISN'T IT?
Not to Natalia Phillips, who has quite a rare job title…Tea Sommelier. Natalia said: "We have hundreds of people here every week for afternoon tea, and the feedback is very positive. But we do now encourage people to taste something different.
"We have a Genmaicha tea, which has roasted rice within it and gives of a roasted pine aroma. Soon we'll be
introducing a variety of chocolate tea, and some additional green teas. We're also bringing in some more Oolong tea, which are traditional Chinese teas.
"Tea is hugely popular now; you only need to look around Horsham to see that. In London, there are bespoke tea bars and the health properties of the drink are being promoted. We are changing here too, offering those who come here for afternoon tea more choice as people should care about their tea as they do their wine."
THE MICHELIN STAR
The Pass is the second restaurant at South Lodge, but it is the one that has, under head chef Matt Gillan, gained
the most recognition.
David Connell said: "Three of the four hotels in the group have a Michelin star, and Pennyhill Park has two. But we don't chase after the stars; guests come back because the food is of a high quality more than anything. As a group, we invest heavily in chefs, but here at South Lodge we are very fortunate in that most of our chefs have been trained in-house and have come through the ranks.
"Matt had worked in Michelin starred kitchens before he came here seven years ago, but he developed his skills at The Camellia before he took on The Pass. The owners are very proud of that, and he has done an incredible job and gained a Michelin star.
"In my view, he has two stars in him. He may not be there just yet but he has time on his side, and he'll go on to
get two Michelin stars. We like to think it will be here, but the fact that he's been here for seven years shows that he likes the environment that he is in."
This view is shared by Tommaso Di Cristofaro, Restaurant Manager at South Lodge. "Matt's style has, in my opinion, changed in the last year," he said. "It is still friendly on the palette, but the combinations have developed. I think Matt has the technical ability to reach two stars, I truly believe that. He is an incredibly talented chef. But we cook for our guests, not for journalists and Michelin critics. If we lose that focus then we defeat the point. But if a star comes, then we'll take it!"
In the past year, The Pass has introduced a new Surprises Menu, based on a diner's own likes and dislikes. The
menu ranges from six courses for £65 to a 12 course menu for £95. You can still enjoy Michelin-starred food at lunchtime for £25 for three courses.
Also new are a juice flight, and somewhat surprisingly a water flight! Tommaso said: "The water menu is something we started developing about a year and a half ago. We use 28 different waters from around the world, with 15 on the water menu at any time based on what is on the menu.
"You do get comments like 'water is just water' but we try to explain how differences in the water can suit it to
different flavours. Sometimes people are not interested, but I really believe in the product.
"We also have the juice flight now.After a big party, one guest who was not drinking felt a bit left out, so she said 'maybe you could do fruit juices?' We took that on board and Matt and I spent three months working on a juice flight. We have cucumber and sorrel, carrot, celery and pear, rhubarb and strawberry, apple and pine, pear and
verbena, lime and rosemary, beetroot and tomato, and lots more, so it's good fun."
The Camellia is the less extravagant of the hotel's restaurants, but the management believe it offers unbeatable value for money. David said: "The pricing structure at The Camellia is in line with East Street prices. The al fresco dining is stunning. It costs £18.50 for a two course lunch, and you can sit out on the terrace and enjoy that view.
I challenge anyone to find a better view than that. A local farmer will soon be grazing some of his cows on our land for six months of the year. They will be close enough to see but far enough away that you won't be able to smell them! They are a Sussex breed crossed with an Australian red and they are trying to create a red wagyu beef. There is a possibility that we could serve the beef in the restaurants one day."
PROMOTING ENGLISH WINE
In recent years, South Lodge has been promoting the virtues of Nyetimber wine, made in West Chiltington.
Manager David Connell said: "Nyetimber have a great product. For all intents and purposes it's Champagne, but they can't call it that as it's from West Sussex of course. It goes head to head with Champagnes and wins."
The Nyetimber range is well-liked by the South Lodge sommelier Dominic Roberts. "Nyetimber is now incorporated into a lot of our packages and it's had a really good response," he said. "We actually sell more of it than we do our house champagne.
"I like a glass sometimes, when I'm allowed! They've won many awards but the Blancde- Blancs is probably my
favourite of their range as it is very food friendly. English wines are a lot better than they were five or six years ago, although the climate is more suited to whites rather than reds.
"A lot of our guests are willing to try new things, so the wine list is an even split between new and old world wines. We have the sampling machine in The Cellar, so people can sample an ever changing range of 16 different wines.
"We now have several formal tastings a week in The Cellar and every evening quite a few people come down to sample wines before dinner. We have everything from a 1998 Chateau Ducru-Beaucaillou, a classic Saint Julien Bordeaux, for £60 a glass, down to a £1.50 sample of a nice Rosé.
"We offer the charcuterie and cheese boards with the wine tasting, but the next step forward is to do more in depth dining down here."
VIP GUESTS AT SOUTH LODGE
South Lodge hosted financial leaders from across the world, who gathered in the UK for the G20 summit in London. During their stay, they would no doubt have held discussions which had a bearing on how they all reacted to the global financial crisis.
Residents living near the hotel were visited by the police and received a letter from the hotel that read: 'Dear neighbour, I am writing to let you know that Her Majesty's Treasury are organising a high profile and therefore a high security meeting at our hotel. It is probably going to entail a high police presence in the area but apart from this there should be no effect to your daily lives.'
Among those staying at South Lodge were President Barack Obama's Treasury Secretary Tim Geithner, Chancellor Alistair Darling, the Governor of the Bank of England Mervyn King, and Dominique Strauss-Kahn, the Head of the International Monetary Fund.
Sophie Menhennett recalls: "It was incredible seeing the security set-up; it was even hard for the staff to go to
work! "It was also interesting in terms of room layout as representatives from certain countries needed to be placed next to others.
"At the time though, it was a real coup, and the press that came with it was amazing. We received a lovely letter from Alistair Darling afterwards, and we still have the dinner plan framed in the hotel."
But whilst that may be a sign of the prestige of the hotel, South Lodge is trying to reach out to more people in the
local community. Increasingly, they are becoming involved in local events, most notably Piazza Italia. The Ferrari Owner's Club now meet on the lawns before heading into Horsham, which comes as something as a pleasant surprise to those who have booked weddings at the hotel on that particular day!
Ladies lunches are still held regularly. David Connell said: "For our Ladies Lunches, we charge £33 a head
for a reception drink, three-course lunch, and entertainment from an interesting guest. That kind of thing is not something you can find on the high street.
"People need to know that we are open to everyone, whether it's for lunch, afternoon tea, dinner at The Pass, or a
drink on the terrace. You don't have to be staying here to enjoy the hotel. We don't want to be the big house on the hill. We are ordinary people; not snobs! We just enjoy looking after other people."
Visit the South Lodge website at https://www.southlodgehotel.co.uk