The Vintage Veterans: Bolney Wine Estate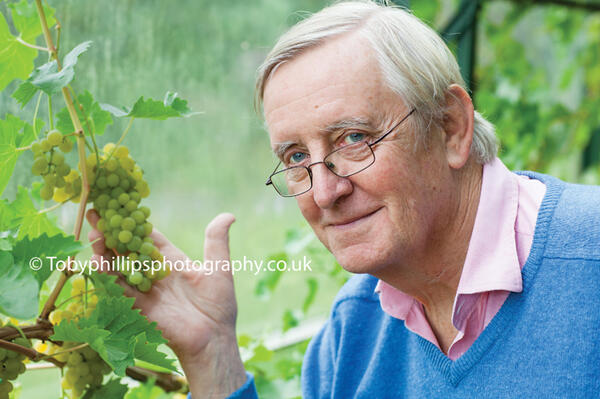 In 1972, Rodney Pratt, a city worker with a passion for wine, bought a farm in Bolney. He had a dream to run his own vineyard. But the method of producing English wines was, at that time, a long forgotten art.
Peter and his late wife Janet, a keen horticulturist, spent many years toiling in the vineyards to build a reputation, experimenting with various grapes and battling against a general derision of English wines. But eventually, the effort would be worthwhile.
Booker's Vineyard at Bolney Wine Estate now grows eleven varieties of grape across more than 40 acres, producing up to 100,000 bottles a year. It has played an important role in transforming the fortune of English wines, with its 2007 Blanc de Blancs receiving an Outstanding Gold Award in the International Wine and Spirit Competition (IWSC).
Over the last decade or so, Rodney has taken a step back. It is now his daughter, Sam Linter, who is head wine maker. Sam said: "We moved to the farm when I was very young and naturally I learned about wine making. I was always out picking and helping to make the wine. It was a great life – my brother and I (Mark is now co-owner at the vineyard) ran wild as our parents were very busy and we had the surrounding countryside to explore.
"But it was very difficult for my parents. When they started out, very little was known about this new style of vineyard. There was no useful information available which would help them. Consultants came over from Germany but they were talking about ideas that worked over there, where there is a different climate. So all the early planting my parents did were Germanic varieties which do not grow well in this country as it is too damp and
too humid.
"They had to go through this massive learning curve of planting wrong varieties, experimenting with different grapes and gaining an uderstanding of how to make good wines. But over the years we've learnt so much and it's been very exciting."
It wasn't just a matter of producing a good wine – Booker's Vineyard needed to change people's opinion of English wines. Sam recalls: "It was frustrating. I remember going to country shows and having a stand there. I would say to people 'Why don't you try some?' and they would ignore you because it was English wine. People would not go near it.
"I remember going to the South of England Show at Ardingly and seeing a change in how the wine was received. It would sell out really quickly. But it was a long process to turn around the bad reputation English wines had to where we are now. It feels great to have been involved right from the beginning to now, when we and other vineyards in the south are winning International awards and making great wines."
Rodney and Janet started with just the one field, growing wine on three acres of the farm. Now at Bolney they grow a variety of white wine grapes including Chardonnay, Pinot Gris and Bacchus, as well as red grapes
including Pinot Noir and Dornfelder. In addition to the award-winning sparkling wine (using the Chardonnay), Bolney also produces three reds – The Lychgate Red, The Pinot Noir and its Cuvee Noir, which is a unique red sparkling wine. They also make a Lychgate White, the Bolney Rosé and a Cuvee Rose which has received several accolades.
Stuart Barford, Sales Manager at Booker's Vineyard, said: "We are predominantly a red wine making vineyard, which is very much against the grain as English vineyards predominantly produce sparkling white wine. We make two styles of red – our Lychgate red is a blend of Rondo and Dornfelder grapes. The Pinot Noir also grows very well here.
"The sparkling red goes down really well in restaurants – sommeliers love it. It's more of a hand sell, and sommeliers love something that is different and quirky yet is still a well-made product. Tamarind (an award-winning London restaurant) and Riddle and Finns in Brighton sell that, as does Trinity Restaurant in Clapham. The
Hinds Head in Bray has our Lychgate White.
"As well as restaurants, independent merchants and some local supermarkets sell our wine. Waitrose champion English wines and know and respect the wines we make so they were a good fit for us. The Co-Op push local produce too so we are in local stores. When our sparkling white won Gold Outstanding at the IWSC it made headlines in The Daily Telegraph and other national newspapers. People were coming to the vineyard saying 'I want that wine!' It really raised the profile."
"It gave English wines a real boost. Over the last few years English wines have been consistently winning awards. We've had other vineyards such as Ridgeview (in Ditchling Common) and Nyetimber (West Chiltington) all receiving accolades, which has raised the profile for us all.
"People can see that there is consistency and that English wines are good across the board. For many years we have bought wine in to the country and we've been a great market for France, Italy, Spain, America, New
Zealand and anyone who wanted to sell their wines. Now we are saying that not only are we good at selling
wines from overseas, but we are actually very good at making our own."
It is here in the south of England that many of the best English producers are based. That is not just because of the warmer climate, but also because the soil is ideal. Many successful vineyards are located near the South Downs, with the earth comprised mainly of sandstone which is good for the maturity of vines. But still, our climate is not ideal for every type of grape. Those that need a lot of sunlight in order to generate the right level of
sweetness will not consistently reach the right level of maturity and therefore result in a poor wine.
At Booker's Vineyard there is an area where the wine makers can experiment with canopy management, see which grapes mature, and test ways of combating disease. Getting it all right can be a process that takes more
than years – it takes generations. Rodney said: "When you look down the vines you will see that one or two will be doing far better than other vines, and that may be because of a slight mutation.
"They suit the area and soil better so you propagate off those vines so you are gradually improving your stock. It takes a hell of a long time. It's like breeding race horses. It may take many, many years, but eventually you end up with the Pinot Noir for this particular vineyard."
It will soon be picking time at the vineyard, but it is not easy to judge when the grapes are ready. Stuart said: "Normally, we would have already started picking by (the end of September), but because of the rain we have had it'll probably be the start of October when we start picking our first grapes.
"We will do two runs through the vineyard, picking the ripest first and then coming back to pick the next batch later in October.Wine making isn't as glamorous as people think. It's a lot of hard work – youget cold and wet and in the winery there is a lot of chemistry involved. There is also more vintage fluctuation, you could say, within an English vineyard than there would be in Southern France and that's primarily down to the climate. You can have a heat wave in March and there is often frost and even snow in April or May.
"We have a 'frost buster' that works like a huge hairdryer. It goes on the back of the tractor, pumping out hot air. The weather does affect the harvest. We only made 2,000 bottles of the award-winning 2007 sparkling wine, yet in 2009 we had enough for 10,000 bottles. This year, because of the weather we've had, we won't have grown as much Bacchus. This year will not be as plentiful as 2009 but there is still plenty of quality.
"We are lucky, in that the weather does not affect us too badly because we have so many different wines. Some vineyards grow one style of grape and so one bad year. can have a big impact."
After the picking process, the grapes will go into the winery and on to a sorting table. The wine makers pick out any bad grapes before they are crushed and pressed. Then, depending on the wine, they are left in tanks or
barrels before being bottled.
Because of its expensive bottling, corking and processing machinery, Booker's Vineyard makes wine for other vineyards. They will bring in their own grapes, and they will do the rest in the winery at Bolney. Liz Garrett, Assistant Wine Maker, said: "It never stops. Vintage is the busiest time but once the wine is in tank there are a lot of processes we need to go through before bottling.
"We essentially process wine all year round, through testing and blending trials. There is a lot of filtering too. The bottling process begins at the end of the year, but our red wines sit in barrels for six months so we'll begin bottling in June. The bottling for the sparkling wines is done all year round and of course there is the labelling and packaging process for our wines and other vineyards. It's certainly a lot more than two busy months per year."
Booker's Vineyard is in a healthy place. It has a good reputation for its wines, the new café is attracting business and its tasting tours are growing in popularity. So, forty years after it all begun, is there anything else left to achieve?
Sam said: "I think for Dad, seeing where we are now, winning Gold Outstanding at the International Wine and
Spirits Competition this year, it is the culmination of all the dreams they had and that is great. For Dad, this is what he set out to achieve. But I'm always thinking about what we can do next and how we can move forward. We've planted on 40 acres of the 50 acres we own here so we are looking for areas we can expand into. It has to be the right kind of land but we are looking.
"England is producing less than 2% of the wine that is drunk in this country so we have a huge market to grow into. Here at Bolney, we are becoming a Pinot Noir specialist and that's where my heart really is. It grows really well on our site – we have a great micro climate and soil for it. We've had great success with that wine and I want to become known for that. I want people to say 'Bolney is the place to grow Pinot Noir in the south east'."
For more details about the wines and tours visit www.bolneywineestate.co.uk