HOME COUNTIES POOLS & HOT TUBS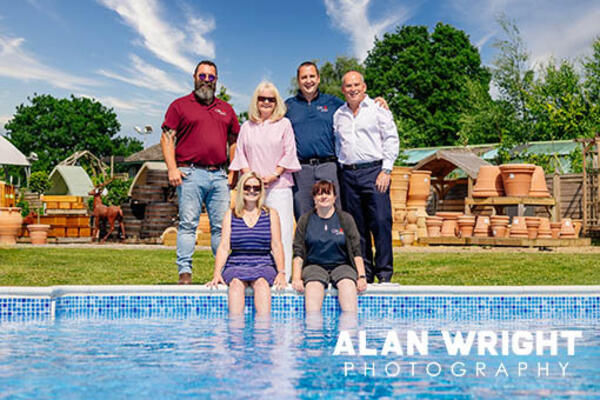 Published on 1st July 2023
Home Counties Pools and Hot Tubs is celebrating its 40th anniversary this year. The business, based at Hillier Garden Centre on Brighton Road, Horsham, first established its reputation by installing Cascade pools, before broadening its appeal by offering hot tubs and innovative pool concepts. AAH visited the showroom to meet owners Craig and Gill Trusson, as well as key members of the team…
TESTING THE WATER
Home Counties was founded by Peter and Judi Burkitt in 1983. The couple launched the showroom at Hillier, where the business remains, and installed two Cascade pools, which were officially unveiled by Olympic gold medallist Duncan Goodhew. Craig Trusson joined the business in 2003 and was soon followed by wife Gill. For the next decade, they ran the business alongside the Burkitts.
Craig said: 'Ever since I left school, I have worked in this industry, initially supplying equipment for Cascade pools. Home Counties was one of my customers and, one day, Peter talked to me about his long-term plans, which led to me joining the company as a partner. Gill had become disillusioned with her job in education, and as we had always wanted to work together, this provided the perfect opportunity. For 10 years, we worked alongside Peter and Judi, until they retired soon after the 30th anniversary of the business in 2013. Since then, we have expanded the range of products at the showroom to meet ever-changing demands. New additions have included the Original Endless Pool, which accounts for many of our new installations and is key to the business.'
DIFFERENT STROKES
Endless Pools appeal to many people as they require less space than a conventional pool. The smallest in the range is a mere 14' long and 7' wide, and has been installed in converted garages and conservatories. Which might leave you wondering how you can swim more than a stroke or two! It is possible through Endless Pool's advanced technology, which allows you to swim at your own pace in the centre of the pool while a hydraulic propulsion device creates a current through the water – adjustable to 50 speeds – which works against the body. A treadmill on the bottom also allows you to run in the water, so the pool has dual benefits.
Craig said: 'We received a call from America, asking us to build a pool in time for the 2012 London Olympics. My initial reaction was that someone was pulling my leg, but it was a representative of Endless Pools, which was working on a project with British Triathlon. To encourage people to take up triathlon, the sport's governing body wanted an exhibit in Hyde Park, where the Olympic triathlon was held, so that visitors could try all three disciplines. They could easily replicate the running and cycling parts with static bikes and treadmills, but swimming was more of a challenge. So, they contacted Endless Pools, who needed us to install it.'
'We wondered if it was possible, but one of the most remarkable things about Endless Pools is that every single component fits through a standard door. You don't need cranes, as it can all be carried by hand. We've even built one on a roof terrace in Notting Hill, carrying parts up in a lift! We built the pool in Hyde Park and were amazed not only by the product, but the public's reaction to it. The triathlete, Alistair Brownlee, had used one to aid his recovery from an Achilles injury, and this helped
highlight how an Endless Pool could be used by elite competitors. However, the concept had much broader appeal. Others enjoy swimming for fun and general fitness, but would prefer to do it in the comfort of their own home, as opposed to a leisure centre. If they don't have space for a traditional pool, the Endless Pool provides an alternative.'
'After the Olympics, Endless Pools asked us to install another exhibit for the 2013 World Triathlon Championships in London. By then, we had seen enough to want the brand at our showroom in Horsham, so we came to an agreement and have been an official Endless Pools supplier ever since.'
THE JET SET
Home Counties has also supplied two leading American brands of hub tub – Garden Leisure and Cove – since its dedicated hot tub showroom opened in 2007. Garden Leisure has a wide selection of energy-efficient and long-lasting tubs, from the 334L (three seats and 34 jets) to the 696L (which has 96 jets). Some models come with a lounger that allows you to stretch out across the tub, which others sacrifice such luxury for extra seats.
Mark Daniels, Sales Manager, said: 'Every product offers something different in terms of seating arrangement, jets, lighting and finish. Some jets offer a full rotation, massaging into the small of your back, while others are more focused on overall body comfort. One of the most enjoyable aspects of a hot tub is moving around to find the spot most comforting to you and adjusting the air on each individual seat.'
'We certainly had a peak during the pandemic. Pool sales increased a little, but hot tubs went through the roof and we had a record year. The market has returned to normal levels, although people do worry about energy prices, which are fortunately coming down again. Our products are very well insulated and, for an average home, the running cost equates to less than buying a cup of coffee a day.'
'Something that is underestimated is the positive impact a hot tub can have on a family's wellbeing. We find that families who install a hot tub love them, as parents are suddenly chatting to children who had previously shut themselves in their room playing computer games. To be outside, having fun and spending time together is a wonderful thing to do.'
VINYL COLLECTION
Cascade Pools remains a core part of Home Counties' business. Originating in the US, the pools utilise a unique water distribution system which ensures heated and treated water is distributed to the bottom of the pool, providing improved energy efficiency. The pools are made with multi-cellular, synthetic resin wall panels which come with a lifetime guarantee, and are finished with a vinyl lining.
Dave Tuppan, Service Manager, who has worked at Home Counties for over 20 years, said: 'Cascade pools are a great and established product, and the two we've had on site for 40 years are testament to that! They are not for everyone and we receive enquiries for other types of pool – such as those with vanishing point edging – that we are not specialists in. However, Cascade Pools are not only cost effective compared to other construction methods, but also very efficient in terms of water conservation, heating and maintenance.'
'Servicing is a big part of our business too. People don't use outdoor pools all year round, so we typically treat the water before the pool is covered up in September, or October if we have an Indian summer, then prepare them again in spring, ready for use. Customers often take care of the regular water and filtration checks themselves, as we stock all supplies here, but we can manage that too when required, and we also offer maintenance and refurbishment services.'
MAKING A SPLASH
The experience of the staff has helped Home Counties scoop many awards and accolades. They are a nine-time winner of a SPATA gold award (Swimming Pool and Allied Trades Association) and were the first UK company to win a EUSA (European Union of Swimming Pool and Spa Associations) award in 2015. They are also a Which? Trusted trader with a five-star rating for customer service.
Craig and Gill are now looking to spend more time away from the business as they approach retirement age – coupled with the arrival of their first grandchild. However, they know the business has everything it needs to continue to be a success.
Craig said: 'We have great landlords at Hillier Garden Centre, who have given us the space to develop the site when we've asked. It is also a nice place to visit, being close to town and with free parking. We are in an industry driven by the economy and weather. If the economy is poor but the weather is good, we are fine. Likewise, if the weather is poor and the economy is strong. We hope that the two won't collide for a long time!'
Gill added: 'Working here is a blast. We have always focused on customer service and, for us, the most important thing is not making money, but having a good quality of life. We don't run ourselves ragged and don't ask that of our team, as we're very close-knit. Instead, we look after people and that's why we receive such good reviews from customers. A huge part of that is down to the team, so even when the time comes for us to pass on the reins, we know Home Counties is in safe hands.'
Further information:
Visit Home Counties at Hillier Garden Centre, Brighton Road, Horsham, RH13 6QA.
Words: Ben Morris/Photos: Alan Wright