Company save couple's extension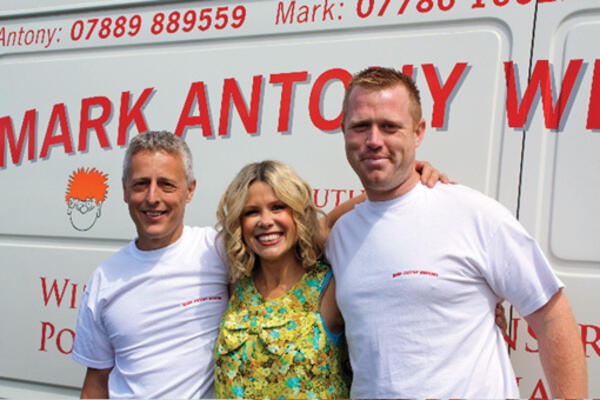 Mark Antony Windows recently made its television debut in Channel 5 show Cowboy Builders.The locally based company were called in to help presenters Melinda Messenger and Dominic Littlewood clean up the work of a 'cowboy builder'.
The show told the story of Southwater couple Neil and Davina, who needed an extension to their two-bedroom semi. But the builder they contracted to do the job frequently failed to show up. Seven months later, with £25,000 invested, the extension was still half-finished and building control found 15 faults with the work. That was when Mark Antony Windows were called in...
Mark Edwards said: " We were contacted by the show's producers, asking if we would donate two doors and a window for this couple who had lost a lot of money, and we were happy to help. The only problem was that they needed the doors and windows in four days and this is unheard of in our industry! But we spoke to John Fredericks Plastics, our main supplier, and they said they could do it for us as a special one off and would even pay half the cost of materials, which we were extremely grateful for. We fitted the job and met the presenters, Melinda and Dominic and found them to be very nice people."
Business partner Antony Deakin added: "It was pleasing to get the job done properly with such time constraints. Plus, we had a great day and it was good to help someone who'd been let down by poor service elsewhere."
Earlier this year, Mark Antony Windows was awarded official status by DGCOS - Double Glazing & Conservatory Ombudsman Scheme set up to maintain high standard in the industry. They are also approved by Checkatrade.
For more details about Mark Antony Windows visit www.markantonywindows.co.uk or call 01403 732800