Big Plant Nursery in Ashington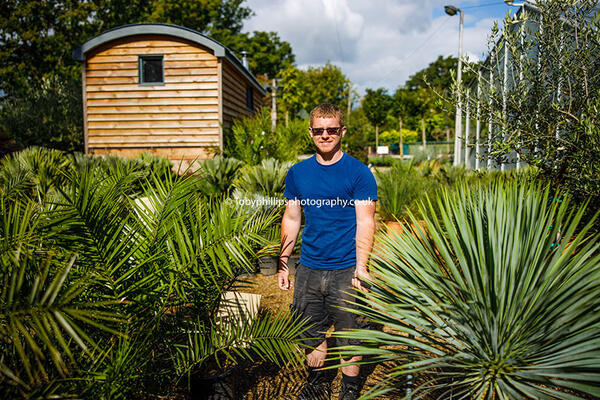 Published on 1st October
For 20 years, the aptly-named Big Plant Nursery in Ashington has been known for its eye for the exotic.
Bamboos come in a multitude of colours whilst shrubs, olive trees, Japanese maples and hardy exotics from banana trees to gingko biloba plants, sets it apart from traditional nurseries.Even after two decades in business, owner Bruce Jordan still travels extensively, seeking dazzling new plants to inspire gardening professionals and enthusiasts. And by embracing new technology, Big Plant is expanding its reach…

HUMBLE BEGINNINGS
Bruce had been designing and landscaping for 17 years but had struggled to source certain types of plants for the gardens he worked on. So, he started growing bamboo, as well as palm trees and some hardy exotics at his home in nearby Wiston.
"It wasn't long before clients started telling their friends about the plants I was introducing to their gardens," said Bruce. "At weekends, people would visit my home, as they were enthused by these new ideas. There was a demand for bigger, jungle-like plants that wasn't being catered for by garden centres."
"I decided to take these plants on the road, attending county shows, as well as Horsham Farmers' Market. It reached a point where I enjoyed finding and growing plants more than I enjoyed the landscaping. The owners of Hole Street Nursery offered me some space and we took the plunge in January 1999, running Big Plant from a caravan and a small poly tunnel.
CHAMPIONING EXOTICS
The focus on evergreen, architectural-style plants created great interest at exhibitions and shows. After attending small Royal Horticultural Society events, Bruce was soon being invited to prestigious venues like Hampton Court, Tatton Park and Chelsea, whilst the nursery attracted the attention of gardening programmes including BBC Gardeners' World.
Big Plant eventually took on the entire site 12 years ago, when the owners of Hole Street Nursery retired. To meet demand, Bruce formed partnerships with a specialist nursery in Cornwall, as well as others in Holland, Belgium, Germany and Italy, to offer more choice to customers.
"What we have always done is champion hardy exotics and new types of herbaceous plants," he said. "We've been inspired and influenced by planting in European gardens, as well as ideas from the West Coast of America, particularly Oregon and California, and have introduced these new concepts to customers."
"Dutch garden designer Piet Oudolf transformed the way we look at prairie-style gardens by giving it a contemporary twist. It's not just about herbaceous borders, but about ornamental grasses combined with loose and relaxed bursts of colour. It's vibrant, yet low maintenance and relatively inexpensive - perfect for modern living."
"Every year, there are interesting forms of grass, shrubs and plants being developed by breeders all over the world, so I'm always on the lookout. I've been in this industry for 40 years and I still learn something every day. You can never know everything and that's why I love the job!"
IN-HOUSE GROWING
It is not just an eclectic mix that has helped Big Plant to thrive. About half of its plants are grown at the nursery's second site, not only providing a sustainable business model but also reducing the reliance on exported plants. A major success has been bamboo, with Big Plant championing clump-forming Fargesia varieties like Black Dragon, Black Cherry and the striking orange and red canes of Jiuzhaigou.
They are ideal focal points for prairie-style planting, as they are stimulating, both visually and audibly. Not every plant prospers when grown from seed in the south of England, but Bruce says it's surprising how many suit the conditions.
"We have a plantation of palm trees, as they grow well in Sussex clay. We've grow a range of exotic plants too and are working on new ideas all the time. We have a begonia plant with enormous flowers in the shape of elephant ears. It was found high in a mountain range and we're trying to grow it here. If it's successful, we'll offer it to customers."
"Of course, sometimes you can't beat the Mediterranean sun and we do need to bring in certain plants from Sicily or elsewhere on the continent. We used to sell more olive trees, but there's a reliance on importing them from abroad for that same reason."
JUNGLE TEA ROOM
There have been two major changes over the last decade which have altered the way Big Plant caters for its customers.On a local level, the Jungle Tearoom was built, drawing in people to enjoy a hot drink or home-made savoury dishes, breakfast and lunches. The design was inspired by a tin-roof café that Bruce came across while on a plant-hunting expedition in Costa Rica.
On a national level, there has been a boom in online sales. Bruce and his team were quick to utilise the potential of the internet and today there's a constant stream of palm trees, bamboos, arid plants, ferns, Japanese maples, fruit trees, conifers and other plants being transported across the country and beyond. "The future for us is the continued growth of our e-commerce business," says Bruce. "For that, we need to be aware of trends and you do that by talking to customers."
"The wonderful thing at Big Plant is that it doesn't matter if you're a pensioner from the village looking for a single camellia or somebody looking to completely landscape a five-acre garden; we will do all we can to help you choose the right plants. People have different tastes when it comes to their garden and that's what makes it exciting for us, as you never know what the next customer is looking for."
Visit Big Plant Nursery at Hole Street, Ashington, RH20 3DE, call: (01903) 891466 or visit www.bigplantnursery.co.uk
WORDS: BEN MORRIS | PHOTOS: TOBY PHILLIPS