Bring Gardens Nursery in Washington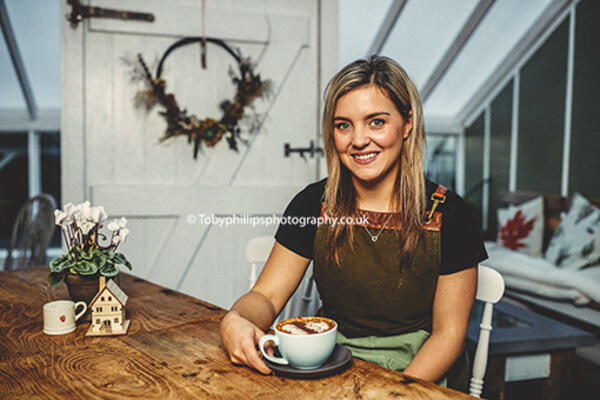 Published on 1st January 2019
Spring Gardens Nursery has run as a pick-your-own site for many years. Now, a new generation are taking the farm to new heights.
Strawberries, raspberries, blackcurrants, plums, tayberries, loganberries, boysenberries and black berries, as well as asparagus, sweet corn, broad beans, runner beans, beetroot and potatoes, are grown on the 35-acre family farm in Washington.
Previously, the fresh fruit and vegetables was enjoyed by a steady trickle of regulars. However, since March 2018, an extended farm shop and café has broadened its appeal. The diversity of the site was recognised by BBC's Countryfile last summer and manager Holly Allan hopes that the business will continue to grow, whilst maintaining the features that made it so appealing in the first place.
"People appreciate the fact that this is a family-run farm and that Spring Gardens is different. It's quaint and has quirky features. The shelves are made from old pallets, we use a traditional wooden wagon for a fruit display, and customers sit under vines. In the summer, some even put raise their hands and tuck into the grapes!"
"The three elements of the café, farm shop and pick-your-own complement each other. So, it might be that someone comes here for produce and ends up having a coffee and a slice of cake. Or is here to pick fruit but have a wander around the shop whilst they're here."

FAMILY TRADITION

Holly had thought about transforming the potting shed into a fully-fledged farm shop for many years. As a young girl, she would pick fruit for her grandad's shop and had long believed that a cafe would work. After studying horticulture at university, the right opportunity finally presented itself.
"It's been a huge family effort," said Holly. "My grandad still runs the farm and supplies the shop with seasonal fruit and vegetables, whilst my dad did all the building work and my mum handles the accounts. We opened in March to coincide with the pick-your-own season and that helped us hit the ground running. Customers were coming here anyway and the café was a nice surprise for them."
"Gradually, word spread, more people visited and we were able to expand our offerings from hot drinks and home-made cakes to sandwiches and even a breakfast menu. It's gone better than I ever imagined and now we're having to think about creating another seating area without losing the character of the cafe."
Much of the fresh fruit and vegetables sold in the shop comes from the farm, although out of season, Holly buys produce from other Sussex farms and markets. Suppliers include Green Farm Butchers in Washington, Southview Dairy, High Weald Dairy, Brookham and Harrison, The Real Patisserie in Brighton, Nutbourne tomatoes, Trenchmore Farm, Cocoa Loco and The Loft Pickles & Jams.
Holly said: "I always wanted to sell as much home-grown produce as possible and work with as many local businesses as possible. We spent a lot of time researching suppliers, buying in coffee and tea from Cast Iron Roasters (Pulborough) and Edgcumbe's (Arundel). It took a few months to build a solid foundation of about 20 suppliers, but once we became more established, others came to us asking to be represented in the shop!"


AN ARTISTIC EYE
One of the suppliers is even closer to home, with sister Nicole Allan's paintings and greeting cards proving a big hit with customers.
Nicole is currently studying Graphics at Loughborough University, but returns to the farm during holidays.
Nicole said: "I painted a cow on a large canvas for my mum and she framed it and put up in the kitchen. My passion grew from there and the first time I put one up in the shop, it sold within a day! I have cards of all sorts of animals, but people seem to particularly like the chicken!"
"I can't keep up with demand for commissions as I'm studying, but perhaps in future, I'll be able to return to the farm and perhaps have my own little studio here."
Contact: (01903) 892225. Spring Gardens Nursery, Washington, RH20 3BS
https://springgardensnursery.uk