WOOL SHRED, HORSHAM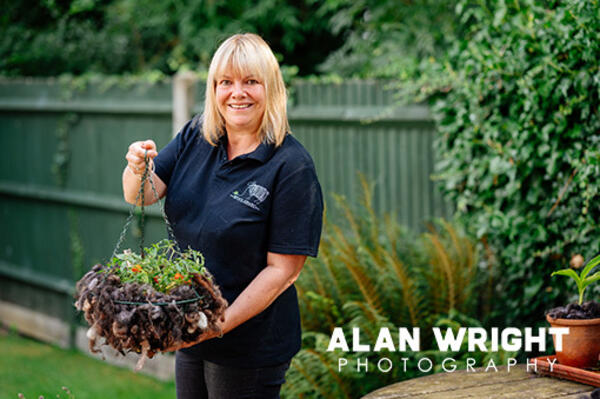 Published on 1st September 2023
Fliss Lewis first became interesting in keeping sheep after attending a course in Devon. Her passion has since inspired a business, Wool Shred, which offers a range of products aimed at keen gardeners. Here, Horsham-based entrepreneur Fliss describes her journey so far…
LAMBING CARE
While on holiday in Devon, my husband and I signed up for a lambing and sheep care weekend, run by Lesley Perrett on her beautiful farm. Lesley had a flock of Devon and Cornwall Longwools and had great success showing them at countryside shows. I've always loved animals, having previously kept chickens and also been part of a co-operative that looked after pigs. So, although I didn't have much knowledge and experience besides what I learned in Devon, I wanted my own small flock of sheep.
I've remained close friends with Lesley and she is always available for help and advice. Lesley feels strongly that local breeds should be used where possible when setting up a flock. Traditionally, Sussex and Hampshire are home to Southdown sheep, which graze on the chalky slopes of the Downs. So, I purchased six pedigree Southdown ewes from a retiring shepherd who wanted them to go to a good home. They now graze on farmland north of Horsham with beautiful views across town and south to the Downs.
Initially, it was a hobby, although an expensive one! I was in the police for 30 years, based in Sussex, and would get up early each morning to tend to my flock, before showering and going to work. Looking back, I honestly don't know how I managed to fit it all in! I installed a camera during the lambing season and linked it to my phone, so I could keep an eye on the sheep and watch the lambs grow. Gradually, I learned more about lambing and maintaining a flock through the seasons and now I have 35 sheep, which is a manageable number.
I hate to waste wool, especially a lamb's first fleece, which is the most valuable. While attending an event hosted by the National Sheep Association (NSA), I came across Southdown Duvets, which makes products from 100% Southdown wool. I met the owner and came to an arrangement. I would provide them with wool for their duvets, and they would provide us with a ram for breeding. This worked well for us, until the owner of Southdown Duvets relocated to the west country and the distance proved too great.
GARDENING PLAN
I retired from the police in October 2018 with a plan to focus on lambing. However, I was unsure what to do with the wool. The fleece price is very low, which is why you hear stories of farmers burning or burying fleeces, as the costs involved in bringing them to market are so high. Burning them isn't something I would ever do. Then, I was diagnosed with breast cancer, just before the lambing season in 2019. Fortunately, I had a successful operation and the recovery period gave me time to research the market and come up with a plan. It was then that Wool Shred was born.
Wool is commonly used for clothing and other fabrics or textiles, such as rugs and carpets. But it's an expensive process. Once a sheep has been sheared, wool must be cleaned and scoured before it is combed and spun into yarn. Only then can it be knitted or weaved. These are skills I don't have, so for it to be financially viable, I would need a much bigger flock to mass produce fleeces. Even then, I would have to promote and sell my products. Instead, I had the idea of selling wool to gardeners and allotment owners, as it's brilliant for lining hanging baskets. It can also be added to compost, as it has excellent water retention. It's also a sustainable product, slowly releasing nitrogen as it biodegrades.
I gave some wool to gardening friends to test and the feedback was excellent. The wool really helped with water retention in pots and containers, and proved to be a natural slug and snail repellent too. But there was a problem. The white wool from my Southdown sheep was very bright and stood out in the plant pots. While it was effective, it would get dirty and looked untidy amongst plants and flowers. One of the gardeners asked if I had black wool, as that would be perfect.
HEBRIDEAN WOOL
By now, I was invested in Wool Shred, so I contacted British Wool to investigate alternatives. Hebridean sheep are a mountain breed and their wool is coarse and hardy, because of the climate in which they live. The wool is used more in industrial products such as carpets, compared to the fine, soft Southdown wool. After lockdown, I bought a tonne of Hebridean wool and shred it by hand, packaging it into 350g bags (enough to line two hanging baskets or mulch about 10 pots) and 1kg bags, for those with bigger gardens or allotments.
Two years ago, I started selling at markets. As well as Horsham, I occasionally have a stall at Henfield and Billingshurst markets, and also supply wholesale to Village Nurseries in West Chiltington, Garden Sage in Henfield, Camelia Botnar in Littleworth, Parham House and Gardens, and other venues in Sussex and Surrey. In April, there was a feature on BBC Countryfile, where a Welsh farmer raved about sheep's wool, which was being used successfully on a vineyard. The programme boosted my sales overnight! There were many gardening enthusiasts who watched it and wanted to try wool in their own garden!
I like to collaborate with other independent businesses and am always open to ideas. Last Christmas, I worked with Margo Lemon's Garden, who often takes her florist's van to the Carfax market, providing wool for her festive wreaths. I've also teamed up with a Billingshurst business, Yarn Flora, to make bird nesting feeders, and with Janorah, who make our draught excluders and garden kneelers. I also sell a small selection of products by other businesses on my market stall, including soaps and balms by Bee Cosmetics (see feature on p19) and pottery by Seabreeze Ceramics.
Business is tough, as people are being careful with money. However, Wool Shred has been aided by support from Horsham District Council's LEAP funding scheme. It has helped me to improve my website, which generates a significant percentage of sales. After selling out the first batch of Hebridean wool, I have now bought a further 1.6 tonnes, sourced from about 80 farms across the UK. The funding is also giving me the opportunity to rebrand and improve the packaging of my products. I have also recently won an award at the South England Prestige Awards 2023/24 as 'Eco Friendly Business of the Year'.
Sales of Hebridean wool have allowed me to process my own Southdown sheep fleece at a mill in Dorset. This wool is available as wild bird nesting wool in 125g and 250g bags, ideal for crafting. I'm very happy with my flock and proud to have claimed a 1st and 3rd place in the Southdown class at Findon Sheep Fair in 2019. They are a lovely breed and I have no intention of giving them up, as tending to them is a highlight of my day. My passion remains as strong as ever!
WORDS: BEN MORRIS / PHOTOS: ALAN WRIGHT
Further information: www.woolshred.co.uk