Little Notes: Hitting the Right Notes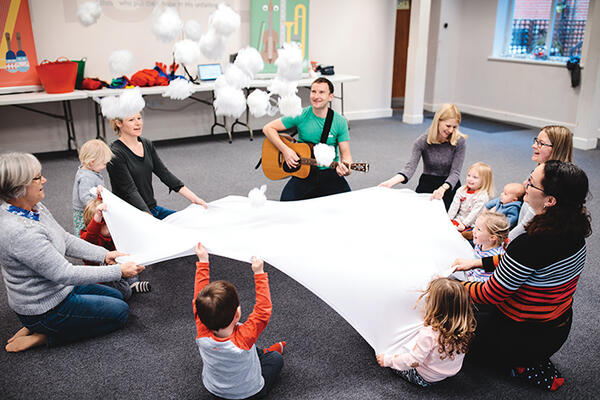 Published on 3rd January 2018
You may have heard of a phenomenon called the Mozart effect.
It's the theory that listening to classical music may not only help soothe a baby, but possibly even make them smarter. The Mozart effect was born in 1993, when scientists at the University of California at Irvine found that pupils who listened to one of the composer's piano sonatas before an examination came out with better results.
In the following years, the impact of the Mozart effect on a child's development was occasionally exaggerated, to the extent that the Governor of Georgia ensured that a classical music CD was given to the parents of every newborn baby!Whilst studies since don't substantiate the theory that classical music will necessarily make a baby smarter, music itself can certainly have a positive impact on a young child's mental and physical development, particularly in terms of improving concentration and self-discipline.
Classes run by Horsham-based company Little Notes uses music to enhance a child's development, working with parents to create a fun, interactive environment. Here, Mark Bradbury - who founded the company with wife Lou - explains why so many families are making a big song and dance out of Little Notes...

Getting started
"After the first of our three daughters was born, Lou attended a music class for toddlers and wondered where the musicians were. All the parents were singing along to a CD and it didn't have the heart of real music making. We felt we could offer something that had a more positive impact, so Little Notes was formed in 2005. Lou and I both trained at the Royal Academy of Music and have performed in a wide range of chamber choirs, ensembles and professional companies. Lou has vast educational experience whilst I have sung at venues such as Glyndebourne. We felt we had the skills to create an authentic family bonding experience through music. We held our first Little Notes sessions at The Capitol in Horsham, thanks to fantastic support from Michael Gattrell, who was the theatre's general manager at the time. More than 60 people turned up and we knew we were on to something."

The right spark
"Lou was running the classes initially and I became more involved as popularity grew. We created a programme where instruments and singing were at the heart of each class. Lou plays piano, flute and is a professional recorder player. I play the flute and guitar. When you're running the classes with live music, you are always in control as your pace is not dictated by a CD. You don't have to wait until the end of a track. Instead, you develop a repertoire of material that allows the musician to read the room and be flexible. If you see children aren't engaged, you can do something else. You can get them up for a dance, lie them down for a sleep, play a game, bring out the puppets or engage them with instruments. This requires a very different skill and it can take time to learn. It's one thing being able to play aninstrument, but quite another to engage young people. It requires the right people with the right spark. If you have it, it is the most rewarding job. I love the fact that I could be in a professional theatre production one night and the next morning be jumping around a room playing the flute!"
The sound of music
"We play a mix of musical styles as it has a positive impact on brain development. A study by the Institute of Education shows that listening to classical music can improve listening skills, whilst music and singing helps children be more expressive with speaking and reading. We might play something by Haydn and put some words to it, but the children have no idea it's highbrow music. Other times, we might listen to rock music or a little bit of jazz as we create a journey with each class. There is a piece of music by Bach that we return to every now and then, playing it on the harpsichord. We have a spider theme that the piece is perfect for and the children create a spider's web whilst listening to it. We use music as a tool to develop a child's imagination and you can see the effect it has, even on babies. We also use props to help feed a child's imagination. For example, in December when some of our songs took on a Christmas theme, we used shower wash balls as snowballs!"
From lullabies to choirs
"We have a range of classes to suit different ages. Our lullaby lounge is perhaps the most special class, because we are working with babies under the age of six months. In this class, we encourage parents or grandparents to sing along too, and it always ends with a relaxation time and a lullaby. At the other end of the spectrum, we have some broader classes for people at pre-school and even a school age class.These tend to focus on more complex music-making and imaginative play. In between, there are classes for 12 - 24 months and 2 - 3 year olds, which tend to involve lots of stories and games. Over the course of 10 years, we have developed a programme that continually alters to suit the time of year as we have masses of material to work from. We also launched a Big Notes choir at the request of several parents. We have a great time with the choir and work alongside a brilliant pianist, meaning I can just put my singing hat on."

A family experience
"With all Little Notes' classes, it's vital that parents are engaged. Our aim is to develop the relationship between parent and child right from the very start. Recently, a mother at our lullaby lounge class said she was moved by the experience as she felt she had engaged with her baby in a different way. The class gave her the opportunity to just relax and look in to her baby's eyes for a while. Often, parents are so busy that we cannot find the time for something so simple. The classes allow for that special time, away from distractions like mobile phones and television screens. We do encourage the parents to be a bit daft sometimes too and for many of them, the class is a highlight of the week for them as well as their child."

Accessible for all
"At Christmas, Little Notes was involved in seasonal events organised in the town by Horsham Churches Together. Lou and I attend church, but we're careful to ensure that there is no religious content to Little Notes classes as we want it to be accessible to all.We have a few friends who we knew from the church that are very good musicians and they kindly gave up their time to perform on the bandstand with us. Natalie Loveless, the vicar of St Leonard's Church, was playing the trumpet alongside me on the guitar at the Christmas event."

Expanding Business
"We always considered the possibility of establishing Little Notes classes outside of Horsham. A fantastic cellist, who also studied at the Royal Academy of Music, started a class in Dorking. When she moved to Cardiff, she continued to run Little Notes classes there, whilst Lou and I took over the Dorking class. Since then, we've put everything in place for people to take on a Little Notes franchise. A weekly class is also held at Chichester Festival Theatre. We have high hopes that a new class will soon be launched in Amsterdam as well as others in Brighton and Tunbridge Wells. These have been collaborations with musicians we know and trust, who have joined us for the journey. Having held our Horsham classes in the Studio at The Capitol for a couple of years, space became an issue, so we changed venues and now meet at the Christian Life Centre. The last few years has been a learning curve. We've developed the classes and passed on our knowledge to others and Little Notes is still evolving. We're growing from something very local to something that is developing to an international level whilst still maintaining its roots."


For more information about classes and the benefits of music for young children, visit the Little Notes website at www.littlenotes.co.uk
This article was published on 4th April 2016