BRØD + WOLF IN HORSHAM'S CARFAX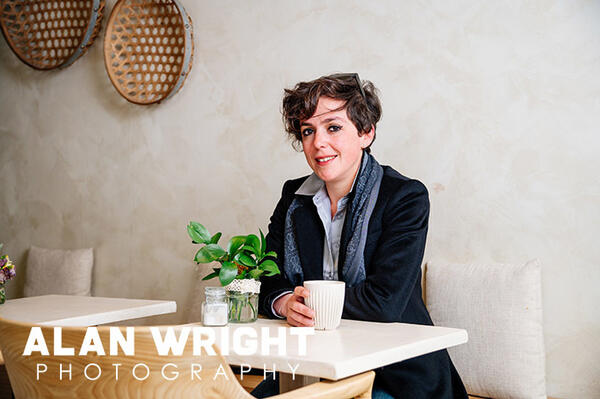 Brød + Wolf is one of Horsham town's most exciting new businesses. Since opening in the Carfax in November 2022, the café and organic bakery has expanded, hosting popular wine evenings, while its inaugural supper club planned for June. AAH spoke to owner India De Silva to find out more…
What is Brød + Wolf?
Brød is the Scandinavian word for bread, while Wolf derives from Wolfox Coffee, an organic roastery that first established Brød + Wolf as a micro-bakery. So, the name combines two elements of what is offered: bread and coffee. Our ethos is inspired by a Scandinavian concept of refined simplicity and we use good quality, fresh, organic ingredients to create authentic flavours.
This is not the first Brød + Wolf then?
The first Brød + Wolf opened in Brighton and since then two more have opened in Hove. The founder of Wolfox, Fabio Lauro, has grown the brand to include not only the coffee roastery and bakery, but also restaurants, Japanese vegan sushi bars, and even a boutique hotel. It's a very exciting company, and having been involved in its growth as the former Director of Operations, I was keen to establish the first Brod + Wolf outside of Brighton right here in Horsham.
Why Horsham?
While searching for a home of our own, my husband and I moved temporarily to Horsham. We fell in love with the town, as it has something for everyone. We live near Chesworth Farm, which offers beautiful countryside trails, yet within a few minutes we can walk into the centre of town. I'm originally from Portugal and JJ is Sicilian, yet we met in Bournemouth and have settled in Horsham! We've been amazed by the support we've received from the community. There is an incredible camaraderie, particularly amongst the independents in the Carfax, and we find that lots of people want to support small businesses.
Are you an independent business?
Very much so. Although we have adopted the Brød + Wolf name, JJ and I founded Operation Wolf Ventures to run this venue in Horsham independently and we're determined to make it a success. Although this is the first Brød + Wolf outside Brighton, many people in Horsham are familiar with the brand as it has a great reputation, so using the name helped us to hit the ground running. Naturally, we're conscious of the need to maintain the high standards of the brand. We're fortunate to have a brilliant team working alongside us, including our manager Lauren Willett, who will sadly be leaving us soon but has played a key role in our success to date.
What do you serve?
Organic, sustainably sourced coffee, as well as a range of fresh bread and pastries. As well as Brød + Wolf's own organic bakery, we also work in partnership with Sødt, an artisan bakery in Petworth that operates with a similar ethos. Our pastries include cinnamon buns, almond croissants, pain aux raisons, artisan sausage rolls, macaroons and a selection of brownies, cookies, biscuits and cakes. Our freshly made sandwiches have been very popular, especially the chicken, basil and mayonnaise sandwich, one of JJ's creations! Most of our sandwiches are familiar favourites served with a modern twist, and people appreciate fresh artisan bread filled with good quality produce.
You have also launched a wine bar...
Since April, we've hosted wine evenings on Thursday, Friday and Saturday, from 5 – 10pm. This is new for Brød + Wolf and has proved so popular that after only a month, it's already necessary to book ahead. At various points in my career, I have been very wine-focused and trained as a sommelier to further my interest and knowledge. Running a wine bar at Brød + Wolf is something I've wanted to do for a long time, and we're working in partnership with The Horsham Cellar, which provides the wine for the evenings.
Do you serve food in the wine bar?
We have a range of 'nibbles' including olives, brød, baked cheese, rillettes du porc, and burrata. There's also a range of cheese and charcuterie platters, with several of our cheeses sourced directly from small French producers, while the saucisson is from Carmela Deli in the Carfax. Our organic salad bar has been very well received too. This is predominantly gluten free and vegan, with the options changing with the seasons. There are some very good restaurants in Horsham serving some great food, but we're offering something a little different, which is great quality produce, served with beautiful presentation in a casual environment.
What's next?
We have recently introduced an outdoor enclosure, giving us additional seating in the Carfax. This is a lovely boost for us and the town, with customers able to enjoy a glass of wine, a beer or coffee in the summer months. In June, we will be hosting our inaugural supper club. This involves collaborating with a leading chef, the first being Chef Swann on 7 June. Guests will enjoy a six-course menu, as well as bread, amuse bouche and a welcome cocktail, all in an intimate setting with only 20 covers. If it goes well, we hope to make the supper club a regular feature. When Restaurant Tristan in East Street closed, the town lost a special dining experience. Although we're not a Michelin-starred destination, I do feel that some people are looking for dining out experiences with a difference and by welcoming chefs working at a high level, that is something we hope to offer.
Any more ideas on the horizon?
The Carfax has a great tradition of music and events and that is something we want to contribute to in future. We're also looking at new ideas to provide our customers with an experience, so watch this space!
Words: Ben Morris / Photos: Alan Wright
Further information:
Visit Brød + Wolf at 18 Carfax, RH12 1EB.
@BrodwolfHorsham
This article was first published in AAH on 1st June 2023.