CUCKOO BOUTIQUE, HORSHAM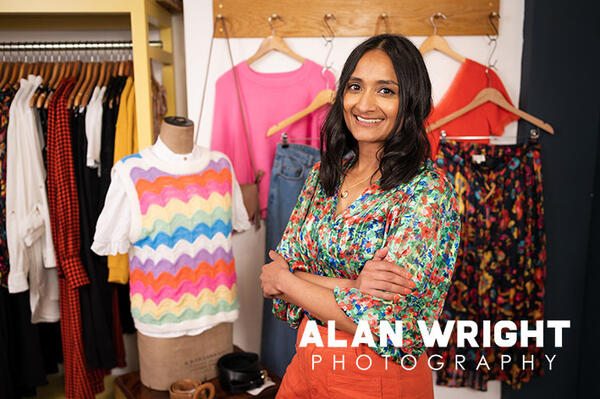 Published on 1st May 2022
Cuckoo is an independent women's fashion store in Horsham's Carfax. Despite having been founded while the nation was recovering from the pandemic and at a time when high street shops are increasingly impacted by online retailers, owner Jaishree Parbat has enjoyed a successful first year. AAH met Jai to find out more...

Why Cuckoo?
It seemed to fit in with the whole idea of opening a fashion shop in the midst of a pandemic. I liked the name immediately, as it's snappy and fun.
Is this your first shop?
Yes. I previously worked in insurance and had vague plans of becoming a counsellor before my mum, Ranjan, was involved in a serious car accident. Her story was featured in an episode of 24 Hours in A&E on Channel 4 (Series 18, episode 13). At the time, mum was running her own shop, Orchid, in Horley. While she was recovering, I helped look after the shop and really enjoyed it.
So, your family has retail experience?
It's in my blood. My dad, Pravin, was a market trader in Crawley for many years. He would sell whatever was in vogue at the time - even shell suits! Later, with other relatives, he ran a shop in Horsham's Middle Street called Abigail's, where Ryman's is now. Even when I was young, I would help out when required and these experiences gave me ideas and inspiration for what I would do with my own shop.
You've gone in a different direction though?
My parents predominantly dealt with fast fashion. But times have changed and I wanted to slow things down and offer something modern. I like fluid fashion, which isn't aimed at a particular age group and can be worn by someone who is 21 or 90. Modern fashion is so broad. There used to styles that defined each generation, but it's so diverse and individual now. Designers take inspiration from the 60s, 70s, 80s and beyond, so entire decades can come back into fashion within a year. This wonderful amalgamation of styles has made fashion more diverse, which is great as people can wear clothes they feel confident in.
What brands do you sell at Cuckoo?
We have several Scandinavian designers, as well as French and British brands, suiting a wide range of tastes. We have beautiful print fabrics by Sugarhill Brighton, which can be quite off-the-wall sometimes. ICHI is a vibrant and energetic Danish brand, while Nümph and Soya Concept are two other Danish labels offering classic items with a contemporary touch. Grace & Mila is a French brand known for affordable but good quality clothes. I spent a lot of time in Horsham, looking at what women of all ages were wearing. This only confirmed how broad our tastes are, so my focus has always been on quirky yet functional clothes. I like colour and individual style, but designs need to wearable and affordable too. We also have a small selection of jewellery by Big Metal London, Hot Tomato, Wolf & Moon and Sarah Verity Parham (SVP), another independent business. I chose items that complement the clothes we sell.
The shop is well organised…
We have wooden hanging rails, which were made especially by my partner Adam, a carpenter by trade. Clothes are arranged predominantly by colour, making it easy for people to pick out items that complement one another. This co-ordination is mostly down to Jo Paone, who's a magician! She has many years of retail experience and I'm lucky to have her working with me!

Is it true that some people know Cuckoo from the doggy in the window?
Toby, my Bichon Frise Pomeranian, often sits amongst the mannequins and is so still that people aren't sure if he's real! We also have a puppy, Teddy, who is sometimes in here too.
Why choose Horsham?
Adam saw this unit when it was vacant and thought it would be perfect for a boutique fashion shop. He knew of my desire to start my own business and has supported me every step of the way, even organising our first viewing. I immediately loved it, but still couldn't imagine running my own shop. It was only when I spoke to mum and she encouraged me to follow my heart, that I decided to go for it.
There are several other fashion boutiques in town…
Iwas a little intimidated by them, in all honesty, because they're beautiful and do what they do very well. Before I opened, I looked at what they offered and what I could do to complement them. I want to contribute to Horsham being a hub for stylish fashion boutiques, rather than detract from what the town already has, especially as some of these shops have been here for many years. I hope Cuckoo has its own niche.
How have things gone in the first year?
We celebrated our first anniversary on 17 April and it's going very well. People have built an appreciation of the shop and we've had some lovely customers from the beginning. They are starting to return and some have fallen in love with Cuckoo!

WORDS: BEN MORRIS & PHOTOS: ALAN WRIGHT
Further information: 33 Carfax, Horsham, RH12 1EE