Gobsmack Comics in Horsham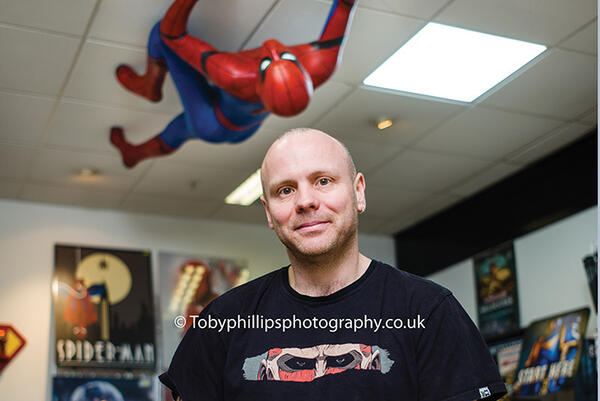 Published on 31 January 2018
Horsham has a comic book store?
It does indeed. Gobsmack Comics was established by Drew Dewsall in 2014 and for two years the store has been in Swan Walk.
Sounds a bit mainstream!
The dark and dingy stores, like the one run by Comic Book Guy in The Simpsons, are a thing of the past. Drew said: "A shop like Gobsmack Comics would never have survived in a shopping centre 15 years ago. Comic shops used to have a strange atmosphere and the person behind the counter didn't care if he sold any comics. I didn't want my shop to feel intimidating for those who don't know about comics. So I went for more of a boutique style. People love the design, with Spiderman crawling on the ceiling and R2-D2 in the window."
Comics are still nerdy, right?
Perhaps not as nerdy as they used to be. The global success of film adaptations, particularly by Marvel (Spider-Man, Hulk, Captain America, Iron Man, Wolverine, Daredevil, Thor, Black Panther) and DC Comics (Batman, Superman, Wonder Woman, Green Lantern, Aquaman) has generated billions of dollars at the Box Office. However, there's been a downside. Drew said: "Initially, the films helped the comic book industry, as people wanted to find out the history of characters they loved on the big screen. Now, they've saturated the market with superhero movies and people are fatigued by it. I think Iron Man has now appeared in a dozen movies. Therefore, it's not generating a cult culture."
So, superhero movie fans are not becoming comic book lovers?
That's right. Whilst memorabilia – especially posters and T-shirts - sell well, the comics industry hasn't experienced a significant boom. Drew said: "Some of the big names are struggling to put a decent series of comics together."
What's the point in visiting Gobsmack Comics then?
Fortunately, there's a lot more on offer than Batman and Spider-Man. There's an incredible and largely untapped range of graphic novels which cater for everyone from young readers to adults. Drew said: "If you like any form of literature, you will find a comic that suits your interests. Some people simply don't like books with pictures, but if you appreciate stunning artwork and a good story, there's something for you. There are many history or science fiction themed novels, whilst others are built around social issues and can be great for teenagers. Films like Kingsman, Scott Pilgrim and Kick-Ass all stem from comic books too, so it's worth taking the time to explore."
Drew's a bit of a comic books expert, is he?
Actually, he admits to having a limited knowledge, at least compared to some. Drew said: "Comic fans can be quite obsessive and have incredible memories. They come in and say, 'On Page 3 of Batman issue 612 where Batman does this' and I have no idea what they're talking about! I still try to read as many first issues as possible, so I can recommend them to customers."
First issues?
New comic books are launched all the time. They start with #1 and if people enjoy it, they can subscribe to the whole series. Usually, comics are created with limited runs, often six issues. They can potentially continue for years or even decades. Action Comics, which launched Superman, ran from 1938 – 2011 with consecutively numbered issues, reaching #957 before a re-launch. Detective Comics, which launched Batman in #27, has racked up over 900 issues. Batman himself has been the star of his own comic since 1940.
Some of these old comics are worth good money, right?
No. If you have one of these comics lying around, bring them down to the AAH offices and we'll give you a fiver for the lot. Saves you a trip to the dump.
Really?
No, not really. There's huge value, especially if they're in pristine condition. Action Comics #1, featuring Superman lifting a VW Beetle above his head, sold at auction for $3.2million. Other comics to have sold for more than $1million include Amazing Fantasy, featuring Spider-Man's first appearance, and #27 with the first Batman cover. Rare comics do exist here in Horsham, including one of the most collectable in the world. Drew said: "Recently, a gentleman came in with his daughter and she was wondering if he needed his comic book collection insured. He had some old comics that he'd kept in good condition, including X-Men #1. I pulled up a picture online to check if it was the right one and he nodded. I told him that comic alone was worth at least £20,000. He had such a valuable collection that I didn't even want to touch them. My insurance wouldn't come close to covering any damage that could possibly occur!"
Depressing for all those who threw out their old comics?
That's something Drew often hears. "When somebody comes in and tells me which comics their parents threw out, I don't have the heart to tell them what they would be worth now. But that's the reason the few that survived are so valuable."
Presumably first issues aren't all so coveted?
That's right. If you've got the 1992 Bucky O'Hare #1 protected in cellophane, it's barely worth its original cover price. Those collecting new toys and comics may also find the long term gains minimal. "When Star Wars: The Force Awakens was released, people were buying armfuls of figures in the belief that they'll one day be worth a fortune," said Drew. "But they won't be. With the original toys, nobody thought to collect them. Children just opened the packet and played with them. Now, they're made in such high numbers that they not going to be worth huge amounts."
Gobsmack Comics does still sell Star Wars merchandise though?
Yes. In fact, Drew's a good person to chat to if you want to understand why so many Star Wars fans didn't like The Last Jedi. It was Drew's love of Star Wars as a child that drove his passion for science fiction and later comic books. In what has become the busiest day of the year for the shop, Drew's friends at Iconic Legion visit the store dressed in authentic Star Wars movie costumes. On 3 February, shoppers will see Darth Vader, Storm Troopers and a 7 foot Chewbacca in Swan Walk.
How was Gobsmack Comics born?
The business was formed in 2014 when Drew started selling at comic book conventions in his spare time. He bought a job lot of comics from eBay and it grew from there. He then signed up to be part of a pop-up shop in Swan Walk for a month and received such good feedback that he quit his job at a telecoms company and looked for a small unit. He found the ideal location in Piries Place, and opened the shop in October 2015. Initially, Drew hoped that the change of career would give him the time to complete his own comic, but running a business has been more demanding than he anticipated.
Tell me about this comic…
Along with a local artist, Chris Hazard, Drew has been putting together a graphic novel called Dark Fractions. Drew said: "It's taken a long time to complete and there are still parts that need re-writing. But it looks fantastic as Chris is a great artist. It would be nice to have something published."
Why did Drew leave Piries Place?
When it was announced that Piries would be redeveloped, Drew found a new location in Swan Walk. "We lost our independent shop feel by moving into a shopping centre," says Drew. "On the plus side, we have much higher footfall."
And how is business?
After two years in Swan Walk, Drew admits that it's tough but he is still seeing growth and loves the job. Whilst comics might not be flying off the shelf, merchandise including posters, a range of Warhammer items, Pop Vinyl figures, action figures from films and TV shows ranging from the A-Team to The Terminator, official Game of Thrones memorabilia and Pokémon cards draw in customers. Drew said: "Pokémon is still popular and every other Sunday we have a swap day in store. Some schools have banned Pokémon trading because it was causing problems on the playground, so they come here with their parents and trade instead."
What does the future hold for Gobsmack Comics?
There could be a major development soon (keep an eye on the AAH News Round-up section in the coming months) as Gobsmack Comics is hoping to evolve with more of a community focus. Drew said: "We'll be bringing in some retro video game arcades and trying to create a community hub. As part of that, I'd love to host art and writing workshops for children and introduce them to good comics. We're also hoping that an excellent artist, who works on special effects for Hollywood films, will host a workshop. That is ultimately the aim - to be a truly community-focused store."

WORDS: BEN MORRIS
PICTURES: TOBY PHILLIPS
If you are interested in finding out more visit Gobsmack Comics in Swan Walk, call (01403) 257310 or visit https://gobsmackcomics.co.uk