The Yoga Garden: A Union of Body & Mind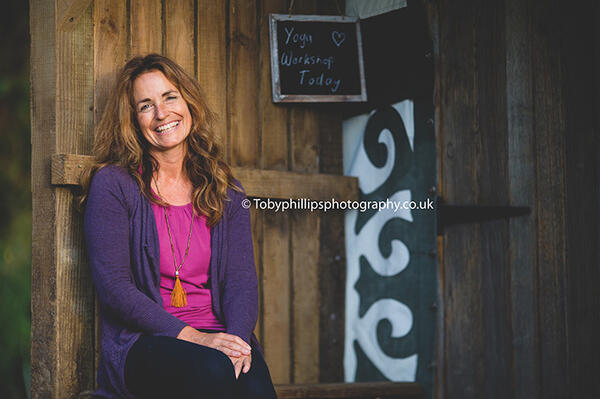 Published on 5th December 2016
When Nina Fowkes moved to Storrington, she couldn't find an ideal location to pursue her passion for yoga. It didn't feel right practicing in the village hall, so in 2009 Nina established The Yoga Garden in her own back garden.
"Autumn was coming and I thought it would be nice to set up a space outside around the pond and trees, where I feel a connection with nature," said Nina. "I liked the idea of using a yurt which could also accommodate my massage therapies. So we started the business in the garden with two yoga classes a week."
It transpired that many other like-minded people also felt that village halls didn't conform to the ethos of yoga, as gradually more people enquired about Nina's classes. After only six months, The Yoga Garden was hosting 15 classes a week. "The garden made for a beautiful and peaceful setting," said Nina. "With the business expanding, I moved the yurt to a new site on land belonging to a racehorse trainer in Sullington. Whilst there, we introduced new treatments and added a second yurt for teacher training courses."
A UNION OF BODY & MIND
Through its 200-hour yoga training courses, usually held over weekends during a six-month period, The Yoga Garden was even able to offer certified qualifications for instructors.
This has enabled Nina to help introduce people to several new yoga styles and disciplines. "I like representing diversity and different cultures through various forms of yoga," said Nina. "Our classes are not all focused on Bikram, Ashtanga, Iyengar, or other more common styles of yoga. Each one has its own benefits. Some styles may be more dynamic, whilst others involve more meditation. The physical side is just a fraction of what yoga is all about. It's a union of the mind and body, so we bring in different schools so that visitors can have a deeper and more fulfilling experience."
Many people visit The Yoga Garden for fitness and health reasons; occasionally, yoga is recommended by a doctor as it can offer respite from a hectic daily life and reduce stress.
Whatever the reason for their initial interest, people can be increasingly attracted to the philosophical side of yoga, says Nina.
"Gradually, people become more focused on meditation and start integrating yoga into their daily lives, which can have a hugely positive effect, both physically and spiritually. From a teaching point of view, the beauty of yoga is in influencing that transformation in people."
BEING AT ONE WITH NATURE
After three years at Sullington, Nina decided to look for a new home so that The Yoga Garden could offer retreats. Having been asked by many
students and teachers if she could offer accommodation on site, providing a place to stay became a key focus for Nina. She found exactly what she was looking for in the heart of the re-wilding project on the Knepp estate in Dial Post.
"Yoga is about forming a connection with nature and the environment. What is beautiful about Knepp is that the Burrell family, who own the estate, have spent the last 15 years healing the land and turning it back over to nature. "The people who step in to our yurt certainly feel that Knepp is a special place with a positive energy."
Since June, The Yoga Garden has been located next to the Knepp Campsite and Safari. Now, many people practice yoga in the 24-foot yurt every week.
One of the teachers at The Yoga Garden is Jacqueline Wigglesworth, who studies many styles including Vinyasa Flow, Yin Yoga and Mindfulness and Restorative. Jacqueline said: "I believe yoga gives people a much more positive outlook on life. You let go of the outside world and find out more of what is important to you. A yoga class can offer time away from certain situations and release some of the pressures of life."
BRINGING BALANCE TO THE FORCE
The Mongolian-style yurt is warm in winter, thanks to a wood burning stove, with the felted wool lining keeping it cool in the summer.
With a wooden floor and ethically-sourced organic yoga mats, bolsters and blankets, it's the ideal setting for people to practice yoga in a natural setting. The Yoga Garden also offers therapeutic oil massages and specific remedial treatments through several therapists, as well as occasional guest practitioners and healers.
Nina said: "There is always something going on here. We are running about 18 classes a week and our teachers have their own style. Some classes may involve poetry or inspirational quotes, some lean towards posture, others towards meditation.
"We have one class which has a different style of yoga from a different teacher every week, so the students come in with an open mind."
A POSITIVE IMPACT ON YOUR LIFE
In addition to the classes and therapies, The Yoga Garden hosts regular charity events where students raise funds and awareness for charitable causes including an anti-trafficking organisation in India.
Nina says that with a wide range of courses for men and women of all ages, The Yoga Garden offers something for everyone.
"Whatever happens to you along your journey and whatever life throws at you, there is always an element of yoga that can be a support to you," she said. "Yoga brings balance to a person's sympathetic nervous system, which makes it a good exercise for stress reduction. It's good for the cardiovascular system, the respiratory system, the lymphatic system, and the body in general. It can have a positive impact on your life in so many ways."
For more details about the classes, therapy treatments and teachers, call 01903 892459 or visit the website https://the-yoga-garden.co.uk