Bee Cosmetics more than a Sting Operation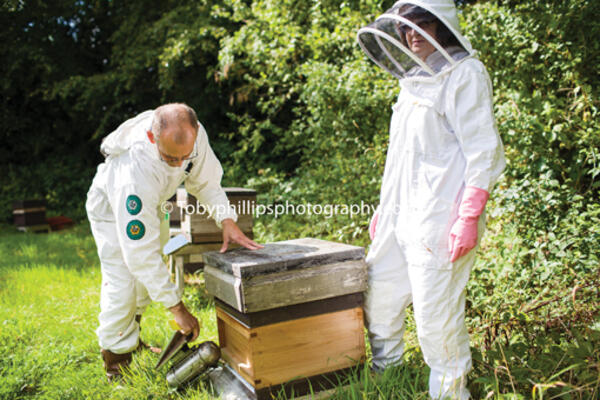 Twelve years ago, Derek and Elizabeth Ready were walking through Horsham town, when they happened upon a beekeeper removing a swarm attached to a lamppost on the edge of the Carfax.
As Derek has always shown an interest in bees, his wife convinced him to go over and talk to the beekeeper. A day later, Derek had bought two empty Langstroth hives and embarked on a hobby that would grow considerably over the next decade.
Now, as well as producing honey, Elizabeth uses honey, beeswax and propolis to create her Bee Cosmetics range of natural skin care products.
Derek said: "I bought the hives but it really fell into place after I saw an advert for an Open Day at Wisborough Green Beekeepers Association. I went along and at my first meeting, a call came in about a big swarm near
Loxwood and the members went along to collect it.
"I had new hives in my garden in Horsham, so volunteered to take the swarm on. I've always found bees amazing because of what they do. The first time I actually looked into the hive I was mesmerised - it was like a city in there. To begin with, I was looking inside my hives every couple of days, which I shouldn't have done, but I just couldn't get enough of them!
"I went straight in at the deep end, which is not really how you should do it. Ideally you would have a National hide rather than a Langstroth hive. "It can be expensive. A hive can cost about £200 and then you have to buy a bee suit, smoker, gloves and all of the rest of it."
Derek on Caring for Bees...
'I now teach beekeeping with Wisborough Green Beekeepers Association (WGBA) and I occasionally do talks, including at the South of England Show.
It is quite a big association, with over 200 members. We meet every 10 days during the summer and the aim is to promote quality beekeeping. My son, Joseph, used to come with me and his handling skills are better than mine. He was only nine when he started and was the youngest demonstrator the association has ever had, but he is now at University.
WGBA has moved several bumblebee swarms this year. There is one type of bee which takes over bird boxes, so I now have several bird boxes in my garden! Because of the demise of some species being reported in the media, people don't want to kill bees anymore, so they call us instead of destroying a hive.
I think in this country we are more focused on caring for bees, as opposed to production of honey. We concentrate on teaching good handling and how to manage disease, and we aim to go through a colony of bees without killing a single one. There is a lot more to think about aside from taking honey.
There are over 250 species of bees in this country, but we just use one honey bee, Apis Mellifera. Our initial swarm was a prime swarm, so would have been at least 30,000 strong, but at their peak in the summer you may have 60,000 in a national hive or perhaps up to 100,000 bees in a double chamber hive. Our apiaries are at Weston's Farm in Itchingfield, New House Farm in Roffey, Ghyll Manor in Rusper, Tanhouse Farm Shop in Rusper, and at a farm in Newdigate.
At Tanhouse, there is a river running through the field and during the floods last year the hive was carried along by it, totally submerged, with just the roof above the water. The water rose so high that the hive could not go under a bridge, but the farmer saw it and dragged the hive to the side on the bank. He called me and I could see that some of the bees had migrated to the roof, as the Propolis (a resinous mixture that honey bees collect from tree buds) helped the hive to float down the river. I opened it and saw the Queen, and knew we had a chance of saving it. We moved the hive and it's still thriving today!'
Elizabeth on Bee Cosmetics
'The business idea just sort of crept up on us. I had started using beeswax to make soap just for personal use, as I have quite sensitive skin.
I realised how much it helped me, so I learnt a lot more about cosmetics and started creating a small range. However, I did have the products tested and verified, so I could sell them if I wanted to. I had considered turning it into a business and when redundancy was looming a few years ago, I decided to take it a little further, and set up a website.
My recipes use honey, beeswax and oils which are good for skincare. Once the combination has cured and hardened, it has the same pH level as skin, so it is very mild. I like to use simple, natural products and only use an ingredient if I know it is good for skin. After a while, I started expanding my range, using different essential oils, all free of preservatives and chemicals. Next, I'll be creating some new face and body scrubs as well as an Aloe Vera cleanser.
All of the cosmetics are for sale online, but we also sell them at New House Farm, Camelia Botnar Homes and Gardens, Rushfields in Poynings, and Billingshurst Creatives. We go to a lot of markets too. We find that once people see and try our products they are often very interested in buying something, as they like our ethos.
We have a lot of repeat customers as people benefit from the products, but one of the disadvantages for me is that I don't put water in the mix, so the soaps last for a long time! Still, the cosmetics side of the business is
certainly growing and now the range outstrips our honey sales.'
Derek on Honey
'The production and type of honey you have depends on the weather and the location of the hive. At Weston's Farm we took probably about 40lb of honey from the early crop, which would have been oilseed rape, and then the summer crop produced another 50lb per hive.
I have about 40 hives in all, but they are not all producing honey. Some I am just bringing on, perhaps preparing for a new Queen, which is a difficult process. If you take the lid off a hive without a Queen, the buzzing sound will be very intense and frantic, whereas when you take the lid off a hive with a good Queen inside, it will be far calmer, as the colony is working as it should be.
Honey bees are not out to sting us. They are out to collect as much honey as they can for the survival of the colony. I can stand in front of a hive of thousands of bees and most will fly around. Some will crash into me, but they will not sting me.
It usually takes them about 30 seconds to recover and be able to fly after they fly into you, but this is when people panic if the bee lands on them. You can start waving your arms around, just as a natural reaction, so you have to learn not to do that. It does take some getting used to, but there isn't anything to be afraid of.
Because we have five apiaries and they produce two takings a year, they will produce 10 different tastes of honey over the year. The honey produced depends on what crop the bees are feeding on. So, for
instance, they grow oilseed rape at Weston's Farm in the spring, and the sugar in the nectar is 85% glucose, so produces a creamy honey. The summer honeys don't contain so much glucose so will be a runnier honey.
There is a huge difference in the quality of honey too. If people think they've tasted good honey from the supermarkets, they haven't! You wait until you taste one of these - it is totally different, and each one has a massive variation. There is one crop at New House Farm, a field bean, which leads to a nice tasting honey as well.
The farms encourage apiaries as pollination helps the crops. Often, the farmers approach beekeeper
associations as they know the benefits. Tanhouse approached us, and at Weston's we just went on a tractor tour and the next thing we knew we were setting up there. It's good for everyone!'
For more details visit www.beecosmetics.co.uk