BEE COSMETICS IN HORSHAM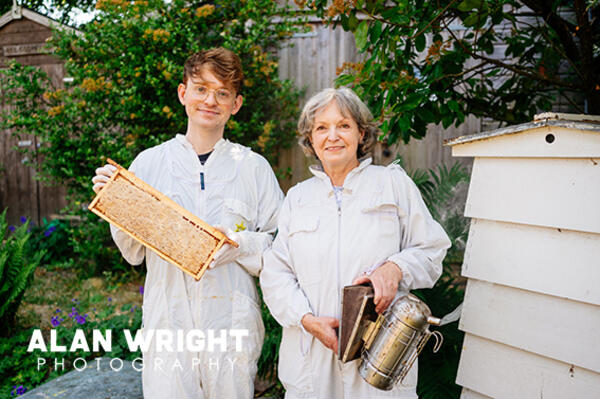 Article published 1st September 2023.
Bee Cosmetics was founded by a Horsham family of beekeepers. Their award-winning range of face, body and spa products utilise beeswax, honey and propolis sourced from local hives to protect and soothe the skin. AAH met founder Elizabeth Ready and her son Joseph, who is helping to boost the family business…
MINIATURE CITIES
It was a chance encounter that first set husband and wife Elizabeth and Derek Ready on their beekeeping adventure. While shopping in the Carfax, the couple stumbled upon a beekeeper removing a swarm from the town centre. Having had a long yet unfulfilled desire to care for his own bees, Derek struck up a conversation which would lead to the kindly beekeeper donating two Langstroth hives. After attending a Wisborough Green Beekeepers Association (WGBA) open day, Derek took on his first colony, triggering a family passion that would eventually evolve into a business.
Elizabeth recalls: 'It happened very quickly. We managed to find some bee suits and a smoker (used to calm the bees) and looking after the colonies took up most of our free time. Derek would be outside every day and Joseph would rush home from school to help. We were all mesmerised by the hives, as they're like miniature cities, with thousands of bees going about their business.'
ANCIENT EGYPTIANS
Through his involvement with the WGBA and other associations, Derek would demonstrate beekeeping at rural events, including the South of England Show. As the family's interest and knowledge grew, so did the number of hives, providing them with a steady supply of honey. They would produce different varieties over the course of a year, ranging from creamy honeys rich in glucose to runny honey in summer. However, it was a skincare range developed by Elizabeth that led to the creation of Bee Cosmetics.
Elizabeth said: 'I was in a job that I didn't enjoy, but it at least gave me weekends off. I used the time to make soap from beeswax. From the start, I wanted to make a traditional, hand-made soap that would offer a natural solution for dry skin, using beeswax and honey from hives, as well as essential oils and other oils, all with anti-viral and anti-bacterial properties and free of preservatives and chemicals. It wasn't a new idea, as the ancient Egyptians used honey as a natural moisturiser and for skin protection.'
'For a long time, I was only making small batches. Then in 2012, I quit my job and gave myself six months to focus solely on Bee Cosmetics, hoping we could gain a foothold in a competitive market. I gained an advance diploma in natural and organic skincare formulation and have been happy ever since, as I'm doing something I love with the support of my family.'
COMPLICATED FORMULA
The range has expanded, with about 30 products for men and women, including facial creams and serums, moisturisers, face scrubs, beeswax soap, lip balms, hand creams and body butters.Last year, the business won two 'Free From' Skincare Awards. Its Organic Frankincense & Rose Facial Serum received a silver award, while the Foot Reviving Balm won bronze.
Elizabeth likes to experiment with oils and scents to create new products, with recent additions including a Rejuvenating Facial Cream in two essential oil blends. One is Frankincense & Rose (matching the facial serum) and the other Rosehip and Jasmine. Also new is a Macadamia & Pomegranate Hand Cream, with nine active ingredients to hydrate and soothe hands.
Elizabeth said: 'We've had fun developing the products, as they're more complicated than our previous formulas. I've been making moisturisers for years, but they were comparatively simple, combining beeswax and honey with coconut oil, shea butter and coconut oil. What we wanted to do this time with the Rejuvinating Facial Cream was to make an anti-aging moisturiser using organic ingredients, to target fine lines while hydrating and rejuvenating the skin. It took about 18 months to perfect.'
'With our new hand cream, the macadamia oil helps moisturise the skin, while pomegranate oil - rich in antioxidants and omega-5s – protects it. it comes in two essential oil blends: cedarwood citrus and sweet herbaceous. Balancing scents and oils is a challenge, but we're delighted with the results. We trialled them both and tweaked the formulas based on feedback we received, before finally coming up with the perfect combinations.'
SOOTHING PROPOLIS
One of the more unusual products in the range is Propolis Ointment. Propolis is collected by bees from buds, saps and plants and performs several functions in a colony. It can act as a form of glue, filling in gaps in the hive, and also helps create a clean bed on which the Queen can lay her eggs. Propolis is also used to 'mummify' animals that might sneak into a hive to prevent disease spreading.
Elizabeth said: 'Most beekeepers scrape propolis away, but it is a highly effective skincare ingredient, with anti-microbial, anti-oxidant and anti-inflammatory benefits. Even a small amount can help soothe and protect sensitive skin. We can't make bold claims as to what it can do, because it hasn't been medically verified, but people with sensitive skin and conditions like eczema do find it soothes their skin.'
ORGANIC PRODUCE
Joseph works full-time in marketing, but thanks to a four-day week, devotes one day to helping the family business. While his mum possesses the knowledge when it comes to making products, Joseph is making more people aware of the brand's sustainable ethos. He said: 'People love that we're independent and family-run, and regular customers know how much goes into every product. Nothing we make is mass-produced as we control every element, from sourcing the honey, beeswax and propolis, to blending the essential oils and scents, to labelling and packaging every product. The skincare industry is hugely competitive, but people appreciate quality and we do everything the right way.'
'Sustainability is important, so we use environmentally-friendly packaging wherever possible and organically certified oils throughout the range. Several products are certified 100% organic, including the Organic Jojoba Cleansing Oil. To be labelled an 'organic' product, it must have at least 95% organic ingredients. We have some products below that, such as the Foot Reviving Balm, which is 82%. However, that's because our beeswax and honey hasn't been independently verified organic, as it would be too costly for us to do as a small business at this time. But we know the quality of our ingredients!'
NEW HEIGHTS
The Ready family no longer use their own hives for the beeswax and honey, instead using that produced by beekeeping friends locally, although they still have their own stock of propolis, collected during the past 20 years. A recent rebrand has helped inspire a growth in online sales, with about 80% of orders now coming through the website, although products are also available at local outlets including New House Farm, Horsham.
On the back of recent awards and other accolades, including several nominations in Natural Health's Beauty Awards, Elizabeth hopes the business can take another step forward. She said: 'The rebrand has given us a contemporary look and encouraged us to launch new products. It's great to have that injection of enthusiasm and now we're looking to add even more products to the range, including a clay mask and a toner.'
'Running the business has been a wonderful thing for our family to do, and has brought us closer together. I'm not hugely ambitious, and want to keep the business at a level where I can maintain a good work/life balance. However, Joseph has finished university and might have different aims! We hope that he will gradually take a lead on the production side too, as he has always had a passion for beekeeping, and perhaps take Bee Cosmetics to new heights.'
Further information:
Email: info@beecosmetics.co.uk
WORDS: BEN MORRIS / PHOTOS: ALAN WRIGHT