Silver tip Films and the Film Festival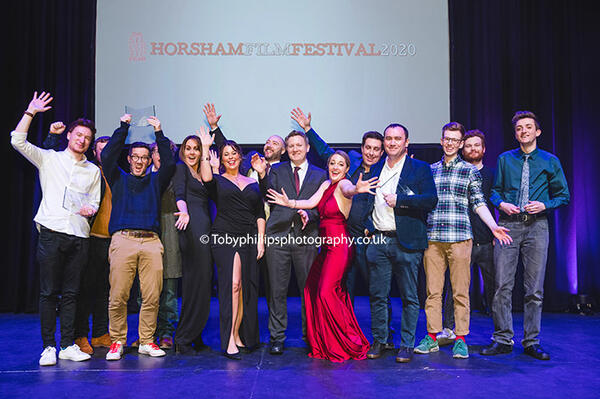 Published on 1st March 2020
The Horsham Film Festival was held for the second successive year at The Capitol Theatre in February. The festival is organised by production company Silvertip Films, which produces corporate video, event coverage and promotional content for clients both locally and further afield.
AAH meets Director Geoff Cockwill and Corporate Video Producer Mike Watts to find out more about the business and the film festival…

Starting Out
Geoff founded Silvertip Films in 2005, adopting the name he had used while shooting several low budget short films after university. These included Attack of the Lobstermen from Mars, a homage to B-movie monster films, which Geoff wrote and made with a friend.Initially based in Cranleigh, much of the early professional output revolved around live music, with films focused on a tribute act and a girl band leading to similar commissions. The business moved to Godalming and later Horsham, evolving to include corporate and video marketing content.
"Much of our professional work now is promotional videos," says Mike. "There's a wide remit, as it might include interviews with company directors, customer testimonials and case studies, product and venue promotions or even safety videos. Most are produced for websites or digital advertising."
Silvertip Films has - on several occasions - partnered with Horsham District Council to capture the atmosphere at popular events, including Piazza Italia and AmeriCARna. Promotional videos of the fictional Symes Family visiting Horsham events and businesses helped boost the town's profile on social media.

Experience Pays
The social media boom has created new demands in video content and consequently the work of Silvertip Films is always challenging. Content aimed at Facebook would typically require short clips, with a fast turnover of images and bursts of music or interviews to keep viewers stimulated. However, product reviews on specialist websites normally require in-depth descriptions and lingering visuals.
Whatever the client's demands, Geoff believes that the need for professional expertise remains important. "Every business can benefit from video in some way. If you're looking to reach a new audience unfamiliar with your brand, it pays to aim for a high standard and hire professionals. When people are already invested in your business, it's more acceptable to produce self-shot videos for social media, perhaps interspersed with the occasional professional video."
"We use Facebook Live and it works for us. However, when we want to demonstrate all that we can do, we shoot and light the scenes properly and bring in Emily Beach (vlogger and actress) to present it.""And it's not just about the quality of the production. With experience, you learn ways to tell a story, develop interview techniques and various ideas for getting a message across. A phone might give you good images, but that doesn't mean you can craft a good video."

"Certainly, the video industry is growing online and if you're not taking advantage of that in the coming years, it will in my opinion be detrimental to your business."

Film Festival
Geoff has dreamed of forming a film festival for many years and it was the Horsham District Year of Culture 2019 that presented a chance to make it happen. With their application for a YoC grant approved, Silvertip drummed up interest, initially fearing they might struggle to attractsubmissions. But the entries flooded in, allowing them to present awards in several categories. After the success of the inaugural awards in 2019, it was natural to stage a second event.
"It was intended to be a one-off," says Geoff. "But we had so much support beyond our partnership with Horsham District Council that the festival took on a life of its own. We had strong backing from sponsors and media support from The District Post too, while General Manager Nick Mowat and all of his team at The Capitol have been fantastic.
"If we were driving it on alone, the festival wouldn't have happened this year. As it transpires, many people are enthusiastic about independent film and willing to help rising talent. By coming together to provide a glamorous night with a red carpet and experienced hosts, we are inspiring film-makers. It's a thrill for them to see their film on the big screen and encourages them to keep going."

Quality Productions
The number of submissions was slightly down on 2019, due to the introduction of a small entry fee of $10 ($5 for U18s). This deterred some from entering spam or crude films and increasing the overall quality. However, awards are not necessarily handed out to those demonstrating the best technical ability. "When judging, we appreciate that some elements might not be as good as others," says Mike. "Often the sound is poor, particularly if it has outdoor scenes. We know that, as we face the same issues and overcoming them is part of the learning process. But we don't ignore somebody justbecause they don't have access to good sound or camera equipment. Our focus is on the story, as you can achieve an emotional response whether shooting with the latest equipment or a VHS recorder."
Silvertip Films also recommend that up-and-coming directors make happier productions. "A lot of independent films are dark and tend to end on a depressing note," says Geoff. "Perhaps it's an attempt to be taken seriously, but it's important to remember that people go to the cinema to escape from real life and be entertained.
Silvertip Films would like to thank the businesses who supported this year's event, with prizes for film-makers coming from Manfrotto, Dorling Kindersley and Michael Weise Publications, as well as local companies including Freeman Brothers Funeral Directors, Chesworth's Estate Agents, Smith and Western, Horsham Bedding Centre, Cocoa Loco, Mac Man, South Lodge Hotel and Spa and the Firebird Brewery.

For more information on Silvertip Films and the Horsham Film Festival, visit: www.facebook.com/silvertipfilms