Maverick Are Publishing Top Guns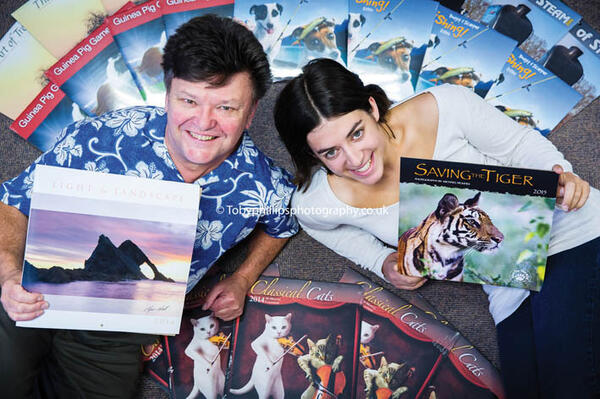 There's an old saying, that I can't exactly recall, but it's roughly the concept of never forming an opinion of reading material based solely on its outer sleeve. But recently, I did exactly this, enticed by a picture of three terrified young children cowering in the corner of a room, as the shadow of a huge carnivorous beast looms menacingly over them.
As in all good horror stories, the monster mercilessly devours several children, before it is split clean in half by an axe-wielding grandma hell-bent on revenge.
Whilst it all sounds moderately chilling, this was actually a children's book called The Fearsome Beastie, written by Giles Paley-Phillips.After a string of positive reviews, it picked up a winner's award at the People's Book Prize, and is in the process of being turned into an animated short video, with Brian Blessed voicing the child-eating monster.
The book could well become a significant commercial success for its writer as well as its publisher, Maverick Arts Publishing, which moved to new offices in Brighton Road, Horsham, in July.
Their other published titles include The Black and White Club by Alice Hemming, Grandma Bendy by Izy Penguin, The Jelly That Wouldn't Wobble by Angela Mitchell and The Dog Detective series by Fin & Zoa.
As well as publishing leading children's books, for almost a decade the company has created some of the country's most loved animal calendars, including The Guinea Pig Games and Extreme Meerkats.
Now, Maverick Arts Publishing is looking to expand its services into the world of website and video production, by linking up with a number of Horsham businesses and creative individuals.
Steve Bicknell, Managing Director at Maverick, said: "We are always working on new children's books and calendars, and we have some exciting projects lined up for the New Year. We will be publishing a new book called Hedgehugs, which was initially being home-published by a husband and wife team. A leading buyer had seen it and felt that it needed a proper publisher to take it on, so we did.
"Initial response has been excellent and we're hopeful that we can stock the book in supermarkets. But in addition to this work, we are looking into new areas of creative design.
"Over the years, we've made a lot of creative contacts in print, layout, website design, video production, illustration, social networking and PR, as our calendars and books are sent to leading reviewers across the country. We now want to share this knowledge and experience to local businesses.
"When you put a children's book together, or a calendar, it needs to be striking and creative, and I don't see that putting together a website or a video is a lot different. I think we can build great websites as we are good at picking up the heartbeat of a business.
"In children's books, you need to pick up on the passion and personality of an individual, and that's no different when you're creating a business website or a brochure. I like to think we are pretty good at understanding what makes a business tick."
"We have a network of creative minds and we're expanding that in Horsham, where we are lucky to have a creative community. We want to be part of that and we want people to know that we are here so they can talk to us.We've already met a very good video production company in Horsham, Take One Productions, and that may lead to a working relationship.
"We are looking to grow our talent pool, as it is important to work with local people and businesses."
Despite its impressive output, the business only began life in 2004, when Steve founded a company called Icarus at a farm building in Pulborough. He had previously been a successful corporate photographer for many years, but decided to move into the calendar and greetings card markets.
The company enjoyed early success, with clients including the RNLI, Kensington Palace and the Natural History Museum. But Steve's ambitious plans for the business almost proved costly.
He said: "We were turning over £500,000 a year, but we were not actually making any money. I wanted Icarus to become a three or four million pound company, but that is a very difficult thing for a small business to do.
"In order to make the jump to the next level, we decided to approach major retailers like Clintons.
"As it turned out, that was a mistake, as we lost our independent business and our best agent left us too as we isolated our customers. It was bad news for us, and we needed to ensure the business didn't go backwards.
"So I started to draw away from greetings cards and focus on calendars with Icarus. I also became interested in
illustrations, so launched a sister company, Maverick Arts Publishing, to publish children's books."
"Maverick was designed to be the young, fun, funky side of the company."
Maverick has not looked back since. Steve brought in a graduate designer, Kim Nye, to develop the children's book side of the business, and eventually incorporated the calendar side of the operation into Maverick. Much of the success for the calendars is down to the West Highland Terrier.
Steve said: "I was trying to grab the attention of the Calendar Club, as they are one of the major outlets. I asked them what their most popular dog breed was and they said it was Westies. So I thought 'what can we do to grab people's attention?'
"I came up with the Water Skiing Westies calendar for 2007. We sold 30,000 copies in the first year, 70,000 in the second year and nearly 100,000 in the third year. We had one order from Tesco for 40,000 copies. Such an order is fantastic but can give you sleepless nights. You only need to have one date wrong and you'll have a product recall, and a recall of that size would send you bankrupt.
"We then produced the Guinea Pig Games calendar in 2009. The first draft actually had pictures of battles between guinea pigs and hamsters. I took it to Calendar Club and the buyer said 'I love the idea, but I don't want the hamsters!' I said 'Don't worry, the hamsters are history!'
"Photos from the calendar were featured in a double page spread in The Daily Mail and after that we shifted thousands of copies. We also have a number of landscape and wildlife titles, including Spirit of the Wild by wildlife photographer Steve Bloom."
But it took a little while longer for the children's books Maverick produced to attract the attention of major reviewers and retailers. Steve's initial efforts were, he admits, of 'modest quality', but gradually things
improved.
Kim said: "The first thing we did was develop our website so we could attract reviews and submissions. We identified a few illustrators we liked and gradually our reputation has grown as the books we produce look great.
"It now feels we like we are going to have more commercial success. It's hard though, as there are an awful lot of
children's books out there, so you have to really fight to get a book known.
"We receive about 4,000 submissions a year, so we've stopped taking them for now. We have several thousand Twitter followers and the reviews list is a mile long, so at the moment we need to focus on the books we have published.
"The Fearsome Beastie could be a classic and has won two awards already. The author, Giles, has really worked hard and we have now done two books with him, with a third on the way. But you never can tell if a book will be successful as there are very rarely any overnight successes, unless you're Julia Donaldson.
"It took ten years before they started marketing The Gruffalo as a brand.We're making The Fearsome Beastie into a seven minute fully-animated short 3D film with Brian Blessed. That will then hit the festival circuit and be shown to industry experts, and we hope that could go on to do great things.
"We always try to do the best we can on every job, be it a calendar, a book, a jigsaw or a greetings card.
"It'll be the same as we expand into creative design and websites. If we are going to do a website, we want it to really work for them, make them money and bring them new business."
For more details on all things Maverick visit www.maverickartsdesign.com