Knepp Camping: A Truly Wild Experience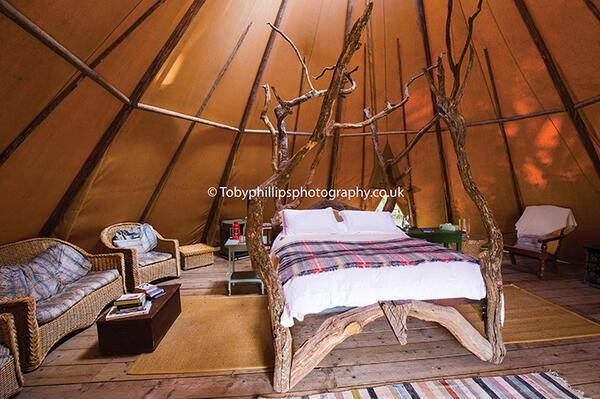 Published on 4th October 2016
With bed frames made from 'stag head' oak inside huge, 10 metre diameter tipis, you could argue that the Knepp estate is taking 'glamping' to a new level.
Yet whilst the tipis, yurts, tents and shepherd's huts are lavished with antique furnishings and natural fibre mattresses, it is the campsite's integration with its natural surroundings that attracts visitors.
As highlighted in the safari feature, Knepp - which covers a 7km stretch of land from the southern tip of Southwater, through Shipley and on to Dial Post – has been handed back to nature in one of the country's most significant re-wilding projects.
The Burrell family, who live at Knepp Castle, has also created a small campsite on a wild meadow at the southern end of the estate at New Barn Farm, Dial Post. Here, visitors can enjoy the wild, tranquil surroundings and stay in accommodation named after animals found on Knepp.
These include the Tamworth Hut (named after the pigs that roam the estate) Exmoor Hut (wild ponies are here too) Little Owl Tipi, Turtle Dove Yurt, Nightingale Bell Tent, Purple Emperor Yurt (after the extremely rare species of butterfly) and tents named in honour of resident bat species, Barbastelle and Bechstein's.
Rachel Knott, who manages the campsite with partner Ryan Greaves, said: "Charles Burrell and Lady Isabella were looking for another way to engage the public with the re-wilding project, as it's been relatively well hidden for such a big estate. So they created a campsite to run alongside safari tours.
"The campsite has been running for two years. Ryan and I arrived in February 2015, having previously worked at Sussex Wildlife Trust with Penny, the ecologist at Knepp. The focus of the campsite is to peacefully observe nature. It's a fantastic location, as we're little more than an hour from London and 30 minutes from Brighton, yet you are in another world. We are in the middle of a wild-flower meadow at the heart of a re-wilding project. You can truly relax and feel involved with nature."
OUTDOOR BATHS & CHOCOLATE
The accommodation may be in the heart of a meadow, but they are not without creature comforts!
Whilst each possesses a degree of quirkiness, the shepherd's huts have double beds whilst the tents, yurts and tipis have king-size beds, with Egyptian cotton bed linen. Other touches include candle lanterns, and in some instances sheepskin rugs.
For those who prefer a more humbling camping experience, there is an area for tent pitches too!
Rachel said: "Our guests can use The Go Down, which has modern showers and bathroom facilities, as well as a shop selling local produce, including chocolate by Cocoa Loco, based on the estate, and pasture-fed meat from our Longhorn cattle.
"We have a lovely camp kitchen providing a sheltered area with tables and chairs, and The Bathenon, an outdoor bath house where guests can enjoy a heated shower or bath. There are only ten units here, as we want everyone have to have space and feel like this is their own little haven.
"Visitors can sit in The Glamping Kitchen or around a fire pit as the sun goes down, looking out for birds of prey and owls, and in the morning are woken up by birdsong. When the Nightingale is here, in April and May, they sing all through the night! It's a wonderful site, and through word-of-mouth it's becoming really popular."
The Knepp campsite is open until the end of October, during which visitors can enjoy deer rut safaris, before closing over winter. For details on the campsite and safaris, call 01403 713230 or visit www.kneppsafaris.co.uk
REPORT: BEN MORRIS
PICTURES: TOBY PHILLIPS