BEESWAX ANTIQUE RESTORATIONS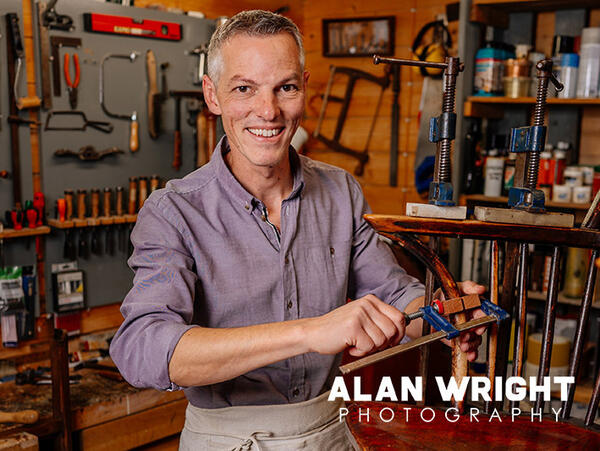 Published on 1st November 2023
Joseph Barr learned the basics of furniture restoration from his father while growing up in Cyprus. Now, he runs his own Horsham-based business, Beeswax Antique Restorers. Fresh from an appearance on BBC's Bargain Hunt, Joseph describes his life-long passion for furniture…
FAMILY TRADE
Antique restoration runs in my blood. My dad, Jim Barr, first trained as a carpenter while serving as an engineer in the Army. Later, he launched his own business that covered furniture restoration, re-upholstery, curtains, carpets and flooring, gradually expanding his workforce. However, recessions hit the industry hard and in 1988, my parents decided to do something completely different. We moved to Cyprus, a place my dad knew well from his time in the military, and renovated a Venetian house to live in.
Furniture restoration was my dad's passion and eventually he established a new business in Cyprus, Beeswax Antiques Restorers. He employed me and my brother, Jon-Paul, when we were still teenagers, and gradually we learned the trade. We worked mostly with Turkish pine, very different to the English period furniture my dad was used to, and this helped us all to develop a broader range of restoration skills. My mother was an artist and taught me how to restore gilding work and repair porcelain and glass too, and these additional talents have served me well.
Eventually it was time for me to pursue my own career. I lived in Canada for four years, where I specialised in restoring modern furniture. Most of the work was carried out on-site, so I would visit a customer's home to repair or polish a piece of furniture. With on-site projects, you are usually working with furniture that is in continual use, such as a farmhouse kitchen table. They pick up scratches, cracks and other signs of wear and tear, so need to be polished every couple of years to protect the wood, making it more durable and also restoring its natural shine.
FRENCH POLISH
When I first came back to the UK, I worked for a Sussex-based furniture restorer renowned for working with high-end, period pieces. It was great to handle beautiful French furniture and helped me to further my knowledge of different types of lacquers, varnishes and veneers, while also becoming more proficient in the art of French polishing. Most period pieces are used as decorative pieces, as they have value and history attached to them, and French polishing helps restore their original beauty. However, when you are working with modern furniture that serves a regular function, it is better to use a water-based polish or lacquer, as they provide more durability and protection.
One problem of focusing solely on high-end furniture is that you're exposed to recessions and fluctuations in the market. When the price of antique furniture plummets, the work dries up. So, I wanted to start a new business that covered the whole spectrum of furniture restoration, from fixing a broken lock or chair leg to complete restorations. I spoke to my wife, Isabelle, and in 2010 we launched Beeswax Antique Restorers – the name my dad had used in Cyprus 25 years ago. It was tough, and I needed to take on occasional work for antique dealers and my previous employer to help pay the bills, until I was in a position to focus solely on my own projects. I started in a small shed but gradually more work came in and I now have a purpose-built workshop at our Horsham home.
SENTIMENTAL VALUE
I have been fortunate to have worked with clients all around the world, on a variety of period and modern furniture. The majority of the work is on furniture that has sentimental value to customers, rather than monetary value. It might be that they have inherited a piece that belonged to a grandparent and want it restored, so that it remains a quality piece of furniture but retains the memories. Recently, I restored a Parker Knoll chair that had belonged to the customer's brother. She wanted the chair re-upholstered in the same fabric to maintain the emotional connection to her brother, while ensuring it remained a functional piece of furniture.
Some people like to buy things at antique fairs or auctions, where they can be picked up cheaply. By having them restored, these pieces of furniture can become focal points of a room. I have had customers who have bought chairs at auction for £10 or £20, as they loved the piece and couldn't find anything like it new. When it has cost so little to purchase, it is worth spending a bit of money to have it restored. I do most of the re-upholstery myself too, but when I need additional expertise, I work with CMD Interiors, another family-run business.
DO YOUR RESEARCH
Every piece of furniture is different and therefore research is vital, especially when it comes to furniture with age or provenance. You need to know exactly what wood you are working with, as well as the colours it has been painted or treated with in the past. Treatments applied years ago react in different ways to the materials applied during restoration, so you must be wary of what lies beneath.
Sourcing timber, fabrics and other components is rarely as easy as you'd like it to be. It is incredible how many antique pieces have locks with missing keys! These keys are becoming harder than ever to find, so when we do come across them at antique fairs, we buy as many as we can afford, as you never know when they'll come in handy!
BARGAIN HUNT
I was interviewed by presenter Eric Knowles for a segment on the BBC show Bargain Hunt (which aired on 2 October). The teams were attending an antiques fair in Ardingly, and the producers wanted to speak to a furniture restorer to complement the theme. It felt great to be able to highlight the traditional skills of the trade. The dawn of 3-D printing may present challenges in future, as it means that replacement parts can potentially be made in a wide variety of materials. However, I find most customers still prefer to employ an experienced craftsman who uses time-honoured methods.
When I started working for my dad at the age of 15, I wasn't sure if furniture restoration was something I could see myself doing in the long-term. There are occasions – like when I'm working on 10 identical chairs – where the job can become a little repetitive, but overall I find furniture restoration extremely rewarding. I invest in the sentimental value of a piece and enjoy taking the time to bring furniture back to life. Sometimes, I cover up a piece for a dramatic unveiling, and it's always nice to receive a positive reaction from the customer!
WORDS: Ben Morris / PHOTOS: Alan Wright
Further information: www.beeswaxantiquerestorers.co.uk