DIY ALCOVE CABINETS IN RUDGWICK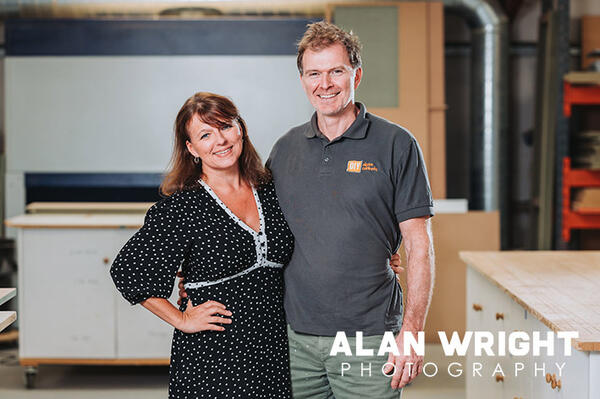 Published on 1st November 2023
DIY Alcove Cabinets, a family-run business based in Rudgwick, was among the winners of the Ideal Home Awards 2023. AAH visited the workshop and met Managing Director John Graham about the company's recent success and plans for the future…
When did you establish the business?
I started a company called Quality Fit in 1995, specialising in designing and installing kitchens, bedrooms and cabinets. I had actually trained as an aircraft engineer and discovered that making furniture not only utilised my technical skills, but also provided me with a creative outlet. Quality Fit remains successful after more than 25 years. However, we became particularly known for bespoke alcove cabinets, which led to us forming a sister company, DIY Alcove Cabinets.
What is the difference between the two?
At Quality Fit, we make fitted cabinets, bookshelves, wardrobes and other furniture for the home, including bedrooms and kitchens. We provide a completely bespoke service covering the design, build, installation and painting of your project. For some, this is perfect, as they might not have time to do the work themselves. However, some customers wanted bespoke furniture but asked us if there were ways to save money. One way of reducing the cost is to paint the furniture themselves, as it's labour-intensive. Going a step further, you could supply furniture as a flat-pack kit, so they not only paint it, but build it. This is what we offer at DIY Alcove Cabinets and over recent years, this side of the business has become very popular.
Where is the demand coming from?
DIY Alcove Cabinets has nationwide appeal. Whereas Quality Fit serves customers mostly in Sussex and Surrey as it requires our fitters and painters, we can send pre-cut, pre-drilled flat furniture to customers across the country, with step-by-step instructions on how to fit it.
Why focus on alcoves?
There were many companies offering bespoke furniture for kitchens and bedrooms, but not alcoves, even though they're everywhere! An alcove is any recess in a wall and they are particularly common in Victorian houses, often either side of a fireplace. They can be all manner of heights, widths and depths, and often have awkward shapes through sloped ceilings or angled walls. So, filling the space properly requires made-to-measure furniture. Bespoke and affordability are not usually words spoken in the same sentence, but we can offer that, as we don't have high street branches, salespeople or glossy brochures.
How do you reach customers then?
We have developed a user-friendly Price Calculator on our website. Customers enter the dimensions of their alcove and choose the type of cabinet or wardrobe they need to fill it. They pick the style of doors they require, as well as drawers, shelves, edging patterns, knobs, handles and other fittings. They can add additional touches such as lighting and paint priming too. Prices are clearly listed, giving customers complete transparency. There are no hidden costs and we provide instant quotes, so customers can stay within their budget. Customers can contact us directly by telephone or email to receive a quote for other made to measure furniture such as dressers, media units, bookshelves and doors.
Is it a high or low price point?
We pride ourselves on offering a premium product at an affordable price. I often see people post pictures online of poor-quality cabinets that are either made with low grade timber or are badly fitted, and I always find it hugely frustrating! If they had come to us, they would have had not only a better product, but probably saved money too! We work with trade partners who provide high-quality MDF and fittings too. Often, we are approached by suppliers offering inferior products, but we don't see the point in sacrificing style and quality just to save £20 on an otherwise beautiful cabinet.
Do you also get business from tradespeople?
A lot of work comes from carpenters. Sometimes, one of our customers will employ a carpenter to install their furniture, as they find they can still make a saving this way. Often, these carpenters will later become a customer our owns, as they see benefits to their own business. For example, for carpenters who don't have workshop space, or who find themselves behind schedule, we can provide an alternative option by supplying kits for them to simply fit. However, supplying to those in the trade has its challenges; we try to turn around all orders within six weeks, but any delay can cause difficulties for a carpenter working to their own timescale, so we need to work to strict deadlines.
How do you make bespoke furniture affordable?
By investing in state-of-the-art machinery. We use Computer Numerical Control (CNC) machines that cut, embed, drill and engrave shapes into the wood. We input dimensions into the computer and the machine carries out the work accurately and efficiently. There are carpenters using traditional methods, and there will always be a need and demand for their talents, but for us, the CNC machine is less labour intensive and means we can make cabinets at an affordable price. Global furniture companies have machines that dwarf ours and handle an extraordinary workload, often producing cheaper, lower-quality furniture. That isn't something we are looking to replicate, although we do plan on investing in another CNC machine that offers us even more flexibility.
Do you have plans to expand the warehouse in future?
We started out on a small site in Shalford, near Guildford, before moving to Rudgwick. We've already had to extend the workshop once and we hope to do so again in the near future to cater for new machinery. We have seen considerable growth in the past few years, thanks mostly to my wife Samantha, who looks after marketing. We have been featured in several publications and in one instance, we built a kitchen for interior designer, journalist and founder of madaboutthehouse.com Kate Watson-Smyth. Kate praised us in Red and The Metro as well as to her thousands of followers on social media, which led to a flurry of orders. Also, we will soon be updating the website, giving customers even more choice for alcoves, whilst also offering a similar service for kitchens and bedrooms.
Finally, we must mention your award…
We won the title of Best Living Room Storage Solution at the Ideal Home Living Room Awards 2023. Some big brands were nominated for awards including Next, Little Greene Paint Company and Barker and Stonehouse, so it means a lot to have been recognised by such a prestigious magazine. It's nice to have the trophy on the shelves in the office and reminds the team that their hard work is not only appreciated by us, but recognised by others.
WORDS: Ben Morris / PHOTOS: Alan Wright
Further information: For more information and a gallery, visit www.diyalcovecabinets.co.uk