RED RIVER SOFTWARE IN HORSHAM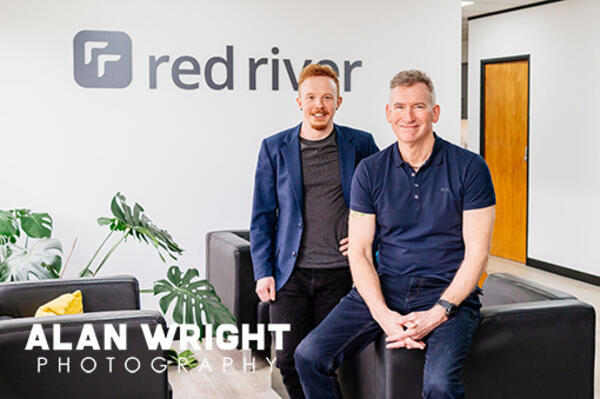 Published on 1st May 2023
Horsham-based Red River Software celebrates its 15th anniversary in 2023. The innovative business creates its own digital platforms to help clients from an array of industries meet the technological demands of modern life. AAH met co-founders Simon Pringle and Kieren Johnstone to find out more…

Special TalentTo trace Red River's origins, we need to go back 20 years, when Simon was a Director at another Horsham-based software company. It was here that he first met Kieren, then only a Collyer's student. Simon recalls: 'He walked off the street and asked if we had any work experience placements, so we invited him to spent a couple of weeks in the office. It quickly became apparent that he had a special talent for coding. He made me feel old, as he could find solutions to problems that I considered complex. We've worked together ever since.'
Subway Plan
Simon and Kieren recognised the need to form a company with their own ethos. Kieren said: 'We went to Subway and wrote a list of all the things we wanted our business to be. The key factors were taking care of our employees, so that they felt challenged and valued. We actually wrote down that it was important for people to want to come to work on a Monday morning! Another factor was to create inspiring software solutions that provided our clients with added value.

Play TimeThey named the fledgling firm Red River, after a river that runs through the town. Initially, it was based at The Courtyard on Worthing Road, where it gradually took over several other offices before moving to Albany House in the Bishopric and later Springfield House, in the former office of the West Sussex County Times. Now with 30 employees, Red River has remained true to its original ethos.
Simon said: 'We're constantly learning new things as the industry is continually evolving. So, we allow for creative play time where staff can experiment with new tech. Kieren leads a tech breakfast at Bill's Restaurant too, where they talk about the latest developments.' 'Software developers love new things. It's like a game they want to play and master. They get bored doing the same thing every day, but here, we work with a wide range of clients in many industries. They all require a fresh approach, so we're constantly inventing new things that challenge our staff.'

Digital Disruption
Red River has worked with several large businesses and organisations, including the NHS. However, its niche is partnering with Small and Medium Sized Enterprises (SMEs). Clients cover a wide range of industries, from funeral directors to waste management companies, and include Airbus, Nuffield Health, Veolia and local businesses such as C.P.J Field. They also have international clients, with Red River software handling some £450m of transactions annually, across 162 countries.
Simon said: 'Although we work with some large businesses and recently picked up our first client in the UAE, our sweet spot is partnering with SMEs. We excel in taking businesses with an established route to market and bringing digital disruption to their world. My background is in product design and I love to immerse myself in different industries. I can become quite obsessed with the finer details, as it's important to fully understand a client's processes, know its competitors and its long-term goals. We have a team of talented coders who make things possible, but we also have outstanding product designers and communicators too, which is why we make such a good team.'
Mind Map
In order to provide software solutions for businesses in different sectors, Red River has created its own digital frameworks. By operating its own Intellectual Properties (IP), it can adapt to an ever-changing technological landscape. These two frameworks – called Cinnamon and Saffron - use Silicon Valley-level tech to create seamless automation. They can incorporate Artificial Intelligence (AI) and create Apps for the benefit of a business. Kieren has also created a remarkable monitoring tool called InfraRed, which works like a virtual mind-map, showing performance and functionality across all aspects of a client's business and highlighting any issues that require troubleshooting.
Kieren said: 'We challenge our clients to think like a software company. Introducing any new software is never easy, but it's especially hard to come up with an idea that will make a significant difference to how a business operates, and that's what we aim to do. We listen to clients' needs to understand what they want, but we are a critical partner when we need to be, as we want to provide the best solutions.'

Generational Change
Sometimes, this can reap huge rewards. In one instance, Red River created a prototype software that helped streamline asset management in the aviation industry. It proved so successful for the client that it saw its market value soar, leading to investment and an eventual buy-out. While some companies work with Red River to create its own IP that might make it more appealing to investors, for others the focus is on improving the way it engages with customers.
Whatever the aim, Kieren says that businesses cannot afford to ignore digital platforms. 'Technology is developing rapidly and AI is going to affect us all in one way or another. It is the most significant software development for a generation and it's happening right now, with software like OpenAI's ChatGPT, which can interact with people, coming on to the market. In my opinion, for a business to survive, they will need to be strategic with technology and place value on offering a good user experience.'
Skills Shortage
While there was a downturn in the UK economy last year, the software industry grew substantially, highlighting its growing influence. Red River's turnover has increased by about 25% in each of the past three years, as more industries look to automation in the wake of Brexit and Covid. Simon said: 'It isn't like the 1970s and 80s, when there were concerns that machines were taking jobs away from people. It's more a case of there being a shortage of people able or willing to do certain jobs, making automation essential. Coding and software skills are becoming more vital, so we do a lot of outreach work, hosting robotics clubs and games workshops at colleges and schools, while providing work experience too.
'Collyer's now offers a T Level (equivalent to three A Levels) in Digital Production, Design and Development, and we have welcomed some of those students already. We have also helped to establish an apprenticeship in software engineering at the University of Chichester. All of this nurtures talent and attracts people to the digital world, which in future is only going to have more influence on our everyday lives.'
Words/Interviews: Ben Morris Photos: Alan Wright