PETER CHRISTIAN IN PARTRIDGE GREEN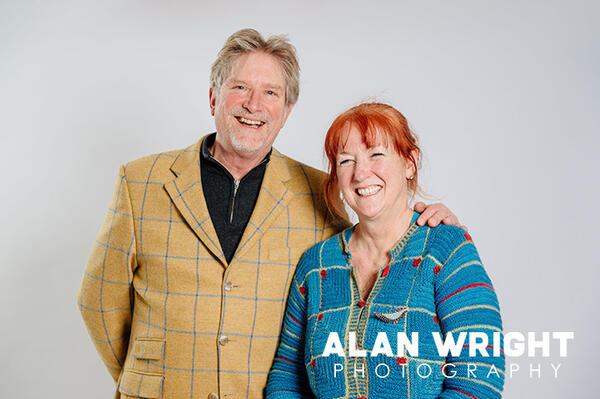 Published on 1st March 2022
Based on the Star Road Industrial Estate in Partridge Green, Peter Christian is a growing brand in the world of online men's fashion. Founded by Nicholas Alderton (known as Lord Trousers) and wife Miranda, the business is now making waves across the pond. AAH paid a visit…
Nick, when did you start the business?
We were previously involved in a menswear business with relatives, but disagreed on the company's direction. So, in 2003 we decided to go it alone, with Miranda responsible for buying while I oversee the marketing operation.

The Alderton family has a long association with gentlemen's fashion…
The family mythology is that Samuel Alderton walked from Suffolk to London and was offered a job at an East End tailors after unpicking his waistcoat and re-stitching it. He founded his own shop in 1860 and the Alderton's name grew, opening branches across the city. But one night during the blitz, all eight shops went up in smoke. At one point, there was also an Alderton's opposite King Alfred's in Brighton, as it was a naval station and officers could get their uniforms fitted there.
Why didn't you call your business Alderton's?
When we started out, we wanted to advertise in national newspapers, which involved putting up a large deposit that we couldn't afford. Peter Christian was a family-run firm in Ormskirk, Liverpool. They were struggling to make it work but already had a national marketing campaign. At the time, it made financial sense for us to buy the business, which at the time focused on shoes. Having been as successful as we have, of course there's some regret we didn't revive the Alderton's name, but it wasn't viable at the time.
What were your initial aims?
We didn't know shoes like we know menswear, so we switched our focus to men's clothing. When I was growing up, there were independent gentlemen's outfitters in every town. They were always immaculate with polished parquet floors and mahogany cabinets with gleaming glass tops, where old men in suits would fuss over you. I loved these shops, but gradually they were pushed out, first by department stores and later by the online market. I look back with nostalgia at such times and wanted to recapture that magic.
How can you do that online?
We offer the same traditional service in a modern way. Rather than fussing over customers in a shop, we do it online or on the phone. Our sellers know the stock very well and impart that on to the customers.
What do you sell?
Everything you'd expect of a top gentlemen's outfitters. Trousers in a range of materials, from tweed to chinos, as well as suits, waistcoats, jackets, knitwear, shirts and shoes. We also have accessories including leather baker boys' caps, Sherlock Holmes-style Deerstalker Harris tweed hats, velvet smoking caps, berets and paisley scarves. Some of these items don't sell in vast quantities, but they're a bit nutty and there's plenty of nutty people out there! Peaky Blinders did us a huge favour. We already offered 1930s driving style caps, but the programme helped other caps become popular.
Miranda, are these Peter Christian's own designs?
We do sell clothes and accessories by some hand-picked brands, such as Geox, which makes insulated jackets, complement our range, like Ben Sherman shirts, or make specialist accessories, such as Dents driving gloves. However, most of what we sell is labelled as Peter Christian, which is good quality, made-for-purpose clothes accessible to everybody.
Where are the clothes made?
Our clothes are made from fabrics that we've chosen at trade fairs and made at overseas factories to our specification. Our clothes are made using comfortable and durable fabrics like moleskin, chino, corduroy, cotton, wool, tweed and khaki. They often have hidden waistband extenders for extra movement and comfort.
How often do you replace the range?
Menswear hasn't changed much in decades. Men still love wearing corduroy or moleskin trousers, tweed jackets and woollen scarves. High-end fashion is constantly evolving, but most men stick to fabrics and colours they know and love, and I don't think British style will ever go out of fashion. One of the reasons customers return to us is that we maintain consistency, so when it comes to replacing corduroys bought five years ago, it's not a problem.
Have you ever sold women's clothing?
We tried and we failed a long time ago, before we established Peter Christian. We didn't appreciate that women shop in an entirely different way.
Tweed remains popular…
We buy a lot of Harris tweed and have built up good relationships on the Scottish island, where the cloth is handwoven. I've been there several times myself. It's good to have established partnerships, as there are only a handful of mills and yet Harris tweed is in demand all over the world, especially America. Once, an Afghan man turned up at our warehouse with his driver and bought four Harris tweed suits!
How did you fare during COVID?
We thought everyone would go into survival mode and shut down, but that's not what happened. We closed when we were supposed to, but customers kept calling. Amazon was still selling clothes online and we couldn't see the difference between them and what we were doing. So, Nick and I started processing orders. It ended up being a productive period, as people were stuck at home and had a genuine need for new clothes, as shirts were frayed and socks were holed.
Nick, are men becoming more adventurous with clothing?
In terms of colours and patterns, they are. When we started out, we introduced bold new colours which drew customers who were fed-up of only having beige, brown, navy or black to choose from. There's always been a perception of brightly-coloured trousers being exclusively for older men. Michael Portillo is one example and I myself have the nickname Lord Trousers. But bright trousers are now popular with young people too, while style is returning to weddings again. For too long, men would just hire a black or grey suit and white shirt, but now they want distinctive styles with tweed waistcoats and lavish cravats.
You have your own distinct logo...
Our logo features two boxing hares. I've only even seen boxing hares once, in my teens, but it had a profound impression on me. So, we commissioned an artist to produce it. It has been worth every penny as it features heavily on our branding.
Do you have celebrity customers?
A well-known chef buys from us and we have great fun spotting our clothes on the Antiques Road Trip. We once received an order for eight pairs of corduroys from an F. Coppola and it turned out to be the film director. We now call him The Cordfather!
He contacted you from America?
Our son Max came into the business to focus on e-commerce, as that's something his dear old dad didn't understand. He had ambitions to break the American market, so we gave him some room to play with and it has been a huge success. Just a year ago, it was about 15% of our market and it's now double that and growing. Marketing to a worldwide customer base requires money though. We spend eye-watering sums on print advertising in publications such as the Wall Street Journal, and every day it's a battle to be top of the Google rankings. It's worth it, as it brings in customers, but we're not riding around in our own helicopter yet!

INTERVIEW: BEN MORRIS / PHOTOS: ALAN WRIGHT
Further information: 01273 493393 www.peterchristian.co.uk