Resin-Inspired Work by DAMA Designs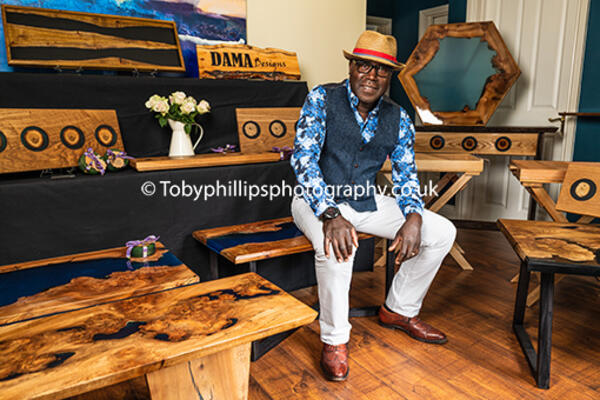 Published on 1st October 2020
TThroughout a long and successful career in corporate marketing, Ayo Daramola-Martin maintained a passion for woodwork. Since turning 60 during lockdown, he has created a new company to sell his beautifully-crafted and eye-catching range of furniture and homeware. After a productive summer spent mostly in his Ifold workshop, Ayo hopes his unique products will resonate with discerning buyers...
Martin, you've had a dramatic change of career, then?
Absolutely! My background is in marketing and business development, working with blue chip businesses in London. About ten years ago, I founded my own company to help small and medium-size businesses in the property and construction sector. I had a memorable experience working in the Olympic Village alongside the Olympic Delivery Authority (ODA) in 2012. That business is still going, but lockdown has given me the chance to reflect on what I most enjoy. I reached a significant milestone in April and feel the time is right for a reinvention.
Why woodwork?
I've been making furniture as a hobby for years, as it helps me relax away from the pressure of work and I love the creative aspects of design. The house is full of furniture I've built! I realise that transforming a passion into a profitable business will be hard. However, I've used my marketing experience to build a website and launched social media pages to promote DAMA Designs too.
What's behind the name?
My ancestry is Nigerian, although I was born in England and raised by a white English family. The business name is a combination of my Nigerian and English surnames, Daramola and Martin. I suspect my interest in furniture is built into the fabric of my DNA, as there's a strong craft culture in Nigeria.
What is the creative process behind your work?
I enjoy visiting the wood yard with my wife, Rachel, finding interesting pieces to work with. I look at the wood's shape and form and think, "What can I do with this?" A design is always dictated by the wood. I use hardwoods from sustainable sources – local, where possible. I like working with Scottish elm and ash and occasionally American walnut. I have bog oak that has been carbon dated as 5,000 years old and am thinking about how best to use it. I spend a lot of time considering every piece, sketching designs and bouncing ideas around with Rachel. I've almost built the item in my mind before even entering the workshop.
Resin features prominently in your furniture…
The resin effect is well known, particularly in North America, where Canadian furniture makers have mastered 'river tables,' where the resin runs through the wood. It's an interesting, organic effect and presents many possibilities. Sometimes, I add merely a hint of resin, with patches scattered like small pools, but it depends on the contours and shape of the wood. Some people don't like the resin effect and purists may argue that it spoils a nice piece of wood. Personally, I think the juxtaposition of timber and resin creates fascinating furniture. People are captivated by it, running their hand across the resin to feel it.
Is adding resin difficult?
You need to be patient and thorough in creating your moulds, prepare the wood properly, and give thought to colour pigments. You can create different effects by manipulating the resin – even turning the river into rapids by swirling it. But I prefer the calmness of one consistent colour. I use blue, black, purple and emerald resin, as everyone seems to have their own preference. The furniture I've made so far is intended to inspire people, as customers often have a design or colour that would suit their own home.
Would you describe your work as traditional?
I think it's quite contemporary. The designs often appear simple, as ultimately it needs to be functional furniture. But there are often more than 40 processes involved. Simplicity can be complicated!
You also make houseware items?
I sell charcuterie boards, Ottoman trays and coaster sets, all combining wood and resin. Some charcuterie boards are made from oak sourced from our own garden.
What impact has Covid had on your new business?
People aren't going to furniture shops like they traditionally have. Instead, they're looking for new channels and businesses must find creative ways to reach them. As well as the website, we're using sites such as Etsy, which is popular with craftspeople. We also hope to attend craft shows and fairs, as post-pandemic there will be a growing demand for such events.
What are you ambitions for the future?
Ultimately, I'm looking for new premises, as my wife doesn't want the house to be cluttered with tables! I'd love to find a unit that I could share with other artisans. The size of my furniture is currently limited by the size of my workshop, and it would be good to offer more variety. Looking ahead, it would be great if I could immerse myself fully in DAMA Designs.


Further information at www.damadesigns.com