Leather Mark 69: Going Hell for Leather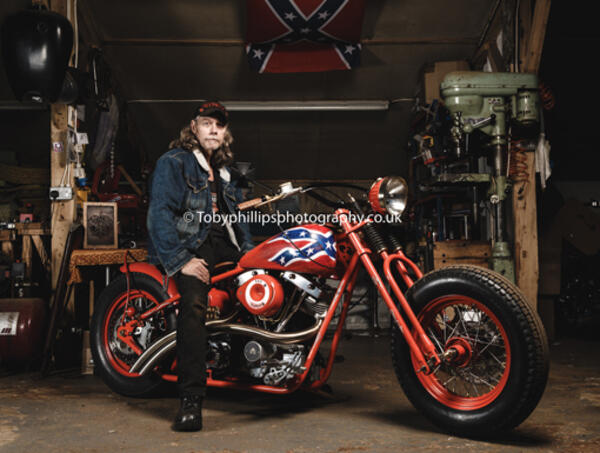 Published on 4th July 2015
Wearing a Harley Davidson T-shirt under a denim jacket, Mark Peckham tools a small piece of tanned leather. He is wearing a 'Redneck' cap, whilst the confederate flag adorns the ceiling, and the fuel tank of his motorcycle.
It might not surprise you to know that Mark is a fan of Neil Young's music, 80s TV show The Dukes of Hazzard, and occasionally heads out to America to cruise the highways and enjoy week-long rodeo festivals!
The southern states of the USA may be Mark's spiritual home, but his successful leather tooling business is actually based in Coolham!
Since establishing his own business, LeatherMark69 (The 69 is from a biker group Mark rides with in Horsham), Mark has forged a growing reputation for detailed leather tooling. Most of his work comes from the custom bike industry, with tank covers, handlebar grips, side bags and seats being amongst the most commonly requests.
However, Mark also makes leather handbags, wallets, handlebar grips, mobile phone cases, tankards, gun holsters, belts and saddlery items.
CRAZY DAVE STARTED IT
Mark started tooling leather in 1991, shortly after leaving the Navy and buying his first Harley Davidson motorcycle. He joined the American Motorcycle Owners Club, where a lot of members were customising their bikes. The go-to man for personalised leather work at that time was 'Crazy Dave'.
Mark said: "I was interested in trying leather tooling, so Dave gave me a few pointers. I bought some tools and it went from there. I made a leather seat for my Harley, engraved with Celtic knot work, and riding friends at
various bike clubs asked if I could create something similar for them.
"Gradually, the word spread. One person wanted a leather guitar strap and another asked for a wallet, so I built a repertoire of work using primarily Celtic patterns. There is a floral-type pattern commonly used for gun holsters and saddlery in the south westerly states of the USA. This also became a favourite pattern of mine."
At that time, Mark was working as an engineer for Rediffusion, a flight simulator company based in Crawley, and the leather tooling was a hobby. When Mark was offered the chance to take redundancy six years ago, he took the opportunity and launched his own leather tooling business. For four years, he has been based at RBK Customs in Coolham.
He said: "Russ (owner of RBK Customs) is a great custom bike builder and I get a lot of work through him, which is fortunate as I'm not very good at selling myself. Dave Batchelor at P&D Custom Bikes in Slinfold has also recommended me to some of his customers looking for leather tooling, and through Dave I have created pieces for Guildford Harley Davidson."
A TRADITIONAL PROCESS
Mark uses a specific type of vegetable tanned, full grain leather, sourced from a tannery in the Midlands.
He said: "They basically supply me with a huge slice of tanned cowhide and I use that as the base leather. Initially, I need to rehydrate the leather before I transfer the design with a stencil using a marker tool. "This creates a light impression and you can then carve into the design on the leather, using a swivel knife, and make
impressions through stamping techniques or by delicately using tools to create different effects.
"Tooling leather has been around for centuries and I adopt a very traditional method that hasn't really changed."
In America, there is a big demand for leather tooling in the equestrian industry In the UK, it is not so common, but Mark does receive the occasional request for saddlery.
As a member of a club that recreates Western-style action shooting, Mark also enjoys working with guns. "The club I go to is associated with the Single Action Shooting Society (SASS) in America," said Mark. "We promote the sport of cowboy action shooting, which basically means that we dress up as cowboys once a month!
"It is actually quite a competitive sport, and as well as being good fun, I do get business from it. I have made gun cases, holsters and belts too. There are a lot of sporting clubs and associations relating to firearms and members often require holsters and things like ammunition pouches. Much like the custom bike world, leather work is a big part of it."
THE THINGS PEOPLE ASK FOR
When customising a bike, individuality is vital. Mark said: "It is like tattooing because somebody will have an idea and I have to offer a solution that will work in leather and still please the customer.
"I have a lot of requests for Celtic and floral patterns, skull and crossbones, and as a member of Mythago Morris I have made a lot of tankards, often depicting the mythical green man. A friend of mine has the green man on a leather-backed waistcoat!
"Faces are a bigger challenge. Somebody wanted a portrait of (prohibition-era gangster) 'Machine Gun' Kelly. More often, people request mermaids, sometimes with a shipwreck scene. It's always nice to have a challenge."
In recent times, there has been a topical challenge for the customised bike world; the use of the Confederate flag.
The flag was used during the American Civil War, triggered when seven southern states rebelled over Abraham Lincoln's anti-slavery legislation.
Supporters of the flag view it as a symbol of ancestry and heritage. But for some Americans it is seen as a representation of slavery and white supremacy.
Mark admits it is a concern. "It is one of those symbols that you see everywhere in the custom bike world, as bikers associate the rebel flag with freedom. For me, it says that I can ride my bike and be free. It represents a spirit to rebel against whatever constraints people see in their lives.
"But there are negative connotations too, and I understand that. It is a big dilemma because the rebel flag is very common in the custom car and bike world. It would be a shame if we could not take back control of the flag and see it in the spirit of what it is meant to be."
THE REBEL HARLEY
A huge amount of work has gone into Mark's 1982 Shovel Head Harley Davidson. The frame was built by RBK Customs, whilst mark employed two other companies on the same Thornhill Court estate in Coolham to add their expertise.
Finish First painted the bike in a striking orange, whilst Hi-Spec Coatings created Cerakote, satin black parts.
Mark created his own seat, referencing Neil Young's'Southern Man' , with empty brass bullet cases adding decoration to the fuel tank. The pin-striping comes courtesy of Nefarious, a talented artist based in Farnborough.
Work commitments and the weather mean that Mark doesn't ride the bike as much as he'd like, but when he does, it is a real head turner!
"Everywhere you go, people notice the bike and want to talk about it. I do try and go to the occasional custom bike show, because they are a good opportunity to showcase work. That is why I have perhaps gone a little over the top with the leather tooling and the paintwork, because it's a way of advertising my business.
"Generally though, people are more conservative with their own requests. What is interesting is that the age range of people riding bikes has changed; it is basically the same people riding now that were riding 25 years ago! But it's still a lovely group of people and when you all meet at a show or rally it feels like you're part of a big family."
You can find out more about Mark's customised leather goods by emailing leathermark69@hotmail.co.uk
or visit the website at https://www.leathermark69.com/