Virtual Flight Centre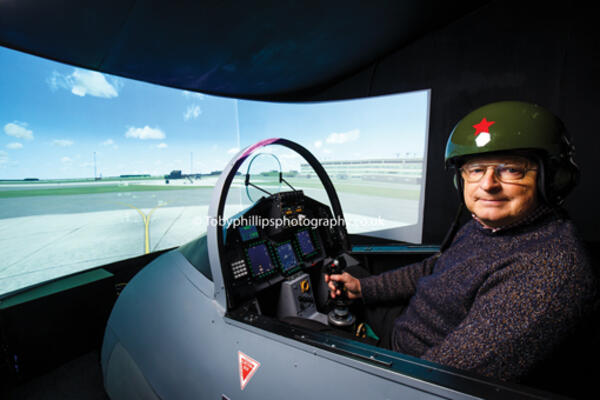 Published 6th October 2015
THE BUSINESS: Experienced aviation engineer Kevin Saker established Virtual Flight Centre at Thornhill Court, just off the A27 in Coolham, with two other experienced directors in 2006. Initially, they had only one simulator, a Boeing 737, but over the years they have added light aircraft and two Typhoon jets.
Originally, the idea was for a training centre with the simulators being used for commercial training. Pilots could gain Civil Aviation Authority (CAA) certification for flying the Boeing 737 as well as light aircraft, thanks to the Piper Seneca PA34 and Cessna 152 simulators.
Whilst commercial training still takes place today, the simulators are increasingly used by individuals, groups and corporate clients for entertainment. Kevin said: "Initially, the centre was regularly welcoming airlines training pilots. But during the recession, fewer pilots were being recruited so we looked at other avenues."
THE REAL THING: The Boeing 737, Cessna and Seneca planes are very much the real thing. All are retired aeroplanes with full aviation histories, and the Boeing comes complete with a section of passenger seating too.
The only 'mock-up' simulators are the two Typhoon jets, as the fuselage for retired jets are not made available to commercial buyers.
Kevin said: "There was a time when passengers could visit the flight deck and talk to the pilots, but airlines no longer allow this for security reasons. So now it is only simulators that give people the opportunity to come down and have a look around the cockpit of an aeroplane. When people come here, they are always thrilled to learn that they are flying a real aeroplane."
THE SOFTWARE: The simulators rely on satellite photography based on Google Earth, and the software is then given added layers with terrain and all manner of avionic and navigational instruments. Kevin said: "The software is continually updated. Now, we have things like weather radar and terrain displays. Another recent creation is TCAS (Traffic Collision Avoidance System) which informs you if there are any aeroplanes likely to be in conflict with your plane."
THE TYPHOON: The Centre decided to bring in two Eurofighter Typhoon jets, as there were very few places in the country where people could experience flying modern, fast jets. It is hoped that this latest addition to the
centre will be a hit with military jet enthusiasts. Learning to fly them can take time, as the jets are very quick and sensitive. But the Typhoons use fly-by-wire systems, meaning that in many ways they are easier to control than a light aircraft.
Kevin said: "It's great fun, because you wear a proper helmet and because we have two planes you can fly in formation in the skies over Wales! The simulators even have a conflict setting so the two Typhoons can fly against each other and shoot each other with Sidewinder missiles and guns. We do have some more space in the building and would like to introduce another two jets so people can form aerobatics teams, or even fly with a wing man against opponents."
THE 737: The 737 plane used by the Virtual Flight Centre has a unique flying history. It finished its flying career with Ryanair and was the only one painted in the colour and emblem of Jaguar.
The plane had reached the end of its commercial lifespan. At this stage, some of the key components, such as the engine, are taken away and reconditioned. But the fuselage is either scrapped, or bought at scrap metal price to be turned into a simulator.
Kevin said: "We bought the first 25ft of the 737 and brought it down to Coolham on a trailer. You can't beat having the real thing, and it's exciting for customers as they can look up 'Jaguar Boeing 737' on the internet and see videos of that exact same plane flying, and say "I've landed that!"
LIGHT AIRCRAFT: Because of the authenticity of the experience, pilots use the centre for commercial training.
Kevin said: "We see people who perhaps already have a pilot licence but are going for a job with a commercial airline and people also come here to renew their light aircraft licence too. The CAA visit every year to check that the instruments work and even small things, such as positioning of runway lights, is correct as the simulator needs to be close to the real thing for it to be acceptable for training."
This authenticity has also meant that the centre has featured in several films and documentaries. Some scenes in thriller A Dark Reflection were filmed in the 737 and accident investigators use the same simulator during some
investigations.
THE FUTURE: Whilst some operators run single simulator centres, very few cover the range of experiences offered at Virtual Flight Centre. Whilst there may already be light aircraft, commercial jets and military jets all under the one roof, in future it is hoped that a helicopter might be added too.
Another area in which the centre hopes to expand is in corporate events. Kevin said: "Businesses come along for a half day or full day as we can accommodate groups. They can use the briefing room to divide into teams and then move around the simulators. They enjoy it as there is a degree of competition involved and it's a good team building exercise. We are in a nice rural location where there is no problem with car parking either. So it's just a nice day out in the country."
For more information call the Virtual Flight Centre in Coolham on 08456 800 737 or visit www.virtualflight.co.uk