Wakefields Jewellers, Horsham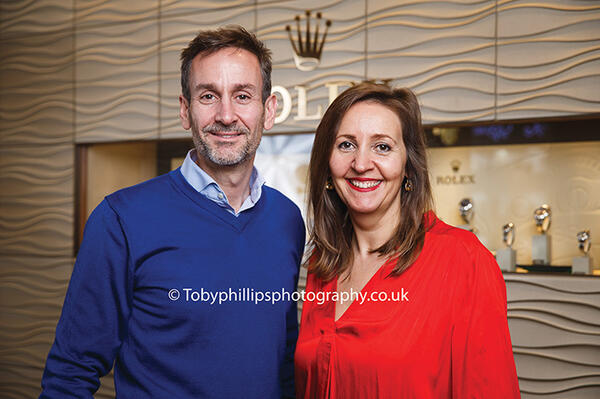 Published on 1st May 2018
There are some watches so lavishly decorated that they command extraordinary sums of money.
There's the extravagant Hublot Big Bang, which contains more than 1,280 diamonds and counts musician Jay-Z among its owners. The other-worldly Louis Moinet Meteoris reputedly contains fragments from an asteroid, a meteorite, the moon and Mars, while the Patek Philippe 1928 Single Button Chronograph is embellished with 28 different jewels.
But for generations, one watch maker has been more revered around the world than others: Rolex.
Its status was proven once again in 2017, when Paul Newman's engraved Rolex 'Daytona' became the most expensive wristwatch in history, going under the hammer for $17,752,500. The sale owed more to the enduring prestige of the brand and the iconic perception of the Hollywood actor than it did the value of the watch's decoration. Put simply, there's nothing quite like a Rolex.
When the Swiss watch maker was looking for an official partner retailer in Horsham, Rolex fittingly opted for a business that had also been in existence for more than a century and has a comparable reputation, albeit on a more local scale. Wakefields is a name synonymous with Horsham, having been founded in 1911, six years after Hans Wildorf and Alfred Davis founded Rolex in London.For Wakefields, it was a pivotal moment in the history of the West Street shop.
Having first opened its doors the year before the Titanic set off on its doomed maiden voyage, the jewellers has seen countless changes. Yet itremains a family-run business, owned and managed by the great-grandchildren of its founder.Melanie Wakefield, who runs the business alongside brother Dominic, looks back at its origins and explains why Wakefields has survived two world wars, eight recessions and 20 different British prime ministers.

Riding into Town
John Wakefield, Melanie's great-grandfather, is said to have ridden into Horsham on a Penny Farthing in about 1890, with five pounds in his pocket. He found work as one of five watchmakers in the basement at Jury Cramp's shop on West Street, eventually advancing to senior watchmaker.
He married Sarah, who was working at the sweet shop at 59 West Street, buying the shop when the owner, Mrs Jupp, retired. John opportunistically bought the butcher's shop next door too, making an offer while the owner was suitably inebriated, and turned it in to a gentleman's outfitters, which also survives to this day. Melanie said: "John opened the jewellers in direct competition to Cramp's, so they fell out. Initially, Wakefields was located in the alleyway that now runs alongside Costa.
As well as watches, clocks and jewellery, the shop included an optician service and sold all manner of gifts and oddities, from silver cutlery sets to barometers. During The Great War, munitions shells were made there, with women employed to polish shell cartridges. The shop then moved to its current location at Number 11 in 1935."
Café Culture
The Wakefields dominated Horsham town for decades. In addition to the sweet shop, outfitters and jewellers, the family ran a China shop in East Street. Wakefields also operated a huge café, running from the current Clarks shoe shop unit, all along the first floor to the current Wakefields jewellers site. The cafe offered shoppers a chance to relax, eat and drink. It also catered for wealthy clients at private residences, including the Queen at Windsor, and was among the country's largest importers of Mumm Champagne.
Jim Wakefield took over from his father at the jewellery shop and gained a reputation as being a stickler when it came to maintaining high standards. Customers could even smoke in the shop, using crystal ashtrays. Graham Wakefield, Melanie's father, joined in the mid-1960s, working alongside Jim for many years.
Melanie said: "When my dad started out, he was still having to go to homes and cut rings from the fingers of people who had died, as the family wanted to retrieve the jewellery. "He faced some scary situations in his years here, including being pistol whipped. During another failed robbery, someone tried to escape the police by jumping through the glass at the front of the shop!"
Jewellers Endures
Gradually, the other Wakefields businesses fell by the wayside. Changing fashions for dining out meant that the café's popularity waned in the 1970s. Others closed as relatives wanted to pursue careers away from the High Street. The gentleman's outfitters was bought about 25 years ago, although it retained the Wakefields name and survives to this day.
Melanie began working alongside her father and grandfather whilst still a schoolgirl in 1984, before joining the business properly four years later. Whilst not much has changed on the outside – the restored clock over the shop is still a reliable time check – a willingness to evolve and introduce new brands has ensured continued success.Melanie said: "We've always been passionate about people and our products. We're always looking forward and not back, and that's why we've survived.
"We have new designers coming in soon, including Rachel Galley and One More from Belgium, as we're always searching for high quality new designers. "We know it's important to have entry-level fashion items alongside more prestigious brands, for our jewellery range and our watches."We've introduced brands to attract a younger clientele, including Daisy and Links of London. When we sold Pandora, footfall went through the roof. We passed on the opportunity to continue selling Pandora as we're now appealing to a different clientele by working with Rolex."
Archers Time
Becoming an official Rolex retail partner was a defining moment in the shop's history. It was only achieved after an arduous bidding process. Ultimately, it was the commitment to customer service that impress Rolex, with the first watches arriving in 2012.
Whilst some of the more historical aspects of the store remain, including cabinets that were part of the Boots that the jewellery shop replaced, Wakefields was extensively refitted to accommodate the new brand. Staff are also required to complete a two-day course at the Rolex service centre, where they learn how to handle and present the watches.
Melanie said: "It's an amazing place; like a Charlie and the Chocolate Factory for watches, and the makers are the Oompa Loompas. They service the watches in absolute silence, as they're working on intricate components. They wear eye glasses with various magnifying loops, so it's fascinating to see them work. Some listen to Radio 4 through headphones and their feet start tapping when they hear the music to The Archers being played. The whole place emits the great heritage and history of Rolex and it's obvious everyone is proud to be a part of it."

Second-Hand Boom
As well as offering new Rolex watches, including Submariner, Lady-Datejust, Cosmograph Daytona, Oyster Perpetual and Yacht-Master, Wakefields offers pre-owned watches.
Melanie said: "Pre-owned items come in and go out very quickly, as there's huge demand. It's the biggest growth sector in our industry, as people are investing in watches in the same way they invest in art."Some can be worth double what they were bought for originally. The Daytona, for example, is highly sought-after.
"People didn't used to hang on to a good watch because they didn't appreciate how valuable they would become. So, those that remain in good condition are in demand. We recently had a customer come in with a 'Double Red' Sea-Dweller Submariner, which wasn't in the best condition, but it re-sold within minutes. We are still learning about old models and need to research those that come in, as their value varies greatly. We always need to ensure that all the parts are genuine, because in the past some Rolex watches were fixed with non-genuine parts.
"Styles come in and out of fashion too. The new grey dial models have been hugely popular, but fashions change and the watch industry moves with it. "In the UK, we've traditionally bought items to last forever, so watches have never really been considered as a fashion accessory. But they are. The millennial generation are more appreciative of that. They are grasping that not only is Rolex iconic, but the new models reflect changing styles."

Tudor Resurgence
However, not everyone has yet caught on to Tudor, despite the company being created alongside Rolex back in 1926 by Hans Wildorf. Tudor watches were created as a more affordable alternative to Rolex. However, because of the skill of the watchmakers, Tudor became renowned for creating superb tool watches, with professional divers and military personnel often using them.
The brand was relaunched in 2009 with new models including the Grantour Chronograph and the Heritage Chrono, inspired by the Montecarlo from the 1970s. Melanie said: "You cannot buy a watch as complicated as Tudor for the same price. They are just amazing. From a sales perspective, they're a slow burner, particularly in the UK where the brand is perhaps perceived as a poor man's Rolex. But that's not the case."

No Apologies!
There are many things about Wakefields that haven't changed. Jim Wakefield used to have a team of three clockmakers in the shop and even today, Wakefields employs a highly-skilled team to repair the 200 jewellery items that come through the shop each week.
As well as selling a wide range of rings, necklaces, bracelets, earrings and watches from designers including Brown & Newirth, Links of London, Clogau, Shaun Leane, Bremont, Bering, Tissot and Longines, the shop also offers pre-owned jewellery, with the market remaining strong for pieces with a story. However, getting though the door has become more daunting since extra security measures were introduced with the arrival of Rolex.
"I know the shop is intimidating to some," confessed Melanie. "We used to have an open-door policy, but we're not able to do that now. We ensure the staff on the door are friendly, but I appreciate that it's a barrier some people don't want to go through. Sometimes, people come in and apologise for what they're wearing, which we don't want. I couldn't care less what people are wearing!
"When you stop to look around the shop, there's an informal atmosphere. It's bright, there's music playing and the staff are warm and friendly. "We want to appeal to everyone, but we appreciate that's difficult. We don't want people to perceive us as a snobby jewellery shop, as we're not. We sell watch straps, children's earrings and small gifts for teachers or friends from just a few pounds. We offer ear piercings, engraving, re-threading and we have an extensive repair service, as we have done since the store first opened in 1911. We're still a shop that serves the whole community and we hope that'll continue for many more years to come."


WORDS: BEN MORRIS
PICTURES: TOBY PHILLIPS

Visit Wakefields at 11 West Street, Horsham, RH12 1PF, call (01403) 264001 or visit https://wakefieldsjewellers.co.uk