SEOFON BUSINESS SERVICES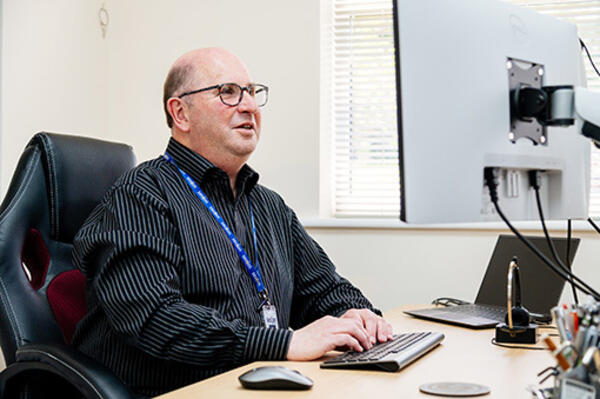 Seofon has evolved from a small start-up run from the dining room table, to a leading provider of services to small businesses and organisations in Horsham. Director Chris Cooper has also become well-known for fundraising for good causes. Here, he describes his business journey...
SUPPORT SYSTEMS
In 2008, I had become tired of corporate life. I needed a change, as I was working myself to near exhaustion, so after talking it over my wife, Linda, I retrained as a bookkeeper. We established a small business in May that year, at the peak of a global financial crisis, but I enjoyed it and steadily we increased the number of clients. In the early days, we were called Sum Services and essentially ran the business from the dining room table!
After four years, we had the idea of offering more than bookkeeping and payroll services. Our idea was to expand the number of services we could offer to create a multi-faceted company. If a business needed admin support, we could help. If it needed mentoring, credit support, HR support, accountancy or even things like a corporate photographer, they could rely on us. That was the concept behind Seofon Business Services.
Four of us co-founded Seofon in January 2012. Linda and I were joined by Caroline Klamm, who remains a Director, and Hilary Humphrey, who came up with the name. Seofon is a medieval word for 'seven', and was perfect as we offered seven key services. We took a small unit at Blatchford Road Industrial Estate, then expanded into a second unit as our in-house team continued to grow. Eventually, we moved to Planet House on North Heath Lane, which is a fantastic location as it is close to town and has free parking for clients. Last year, we celebrated our 10th anniversary, which was a great milestone for us, and we now have a brilliant team of a dozen people.
Naturally, there have been tough times, most notably during Covid. Our business dropped about 60%, but we didn't put anyone on furlough, as work still needed to be done. Everyone rallied and that served us well in the long run, as we were there when clients needed us most. During the pandemic, Linda stepped away from Seafon to look after grandchildren, while Hilary fulfilled a long-held desire to focus more on medical support.
Caroline continues to help grow the business and this year we have returned to pre-Covid levels. We found it took longer to get things done when everyone worked from home. There is value in us being in the workplace together. In terms of what Seofon does, we have an excellent in-house team that manages payroll, business mentoring, bookkeeping and other aspects of financial assistance, such as disaster recovery planning. Melanie Gillman-Davies leads our admin support team. Mel had her own business and was looking to grow her client list, and has been able to do that as part of the Seofon team.
In addition to our in-house team, we have built connections with accountants and tax professionals for businesses of all sizes. When people use our payroll or bookkeeping services but have their own accountant, we work with them to ensure the accountant's job is as simple as it can possibly be.
When we started the business, you would still often see the red ledger books that most accountants used. Now, accounts must be submitted to HM Revenue and Customs online, and some people are still adapting to the new technology. Software programmes such as Sage and QuickBooks are great, but some struggle to use them, especially if they're not computer-literate. We have become known as 'fixers' as we help people get it right. We teach them how to use it properly and avoid the pitfalls.
BURNING EMBERS
In recent years, we have also become known for fundraising and supporting community schemes. I heard about the work of Chestnut Tree House Children's Hospice and wanted to raise money for them as my final act as Chairman of the Billingshurst and Horsham Chamber of Commerce. I didn't want to do anything too clichéd, so somebody suggested I have a full body wax. I went for it, teaming up with another local company, Beauty Works, and raised about £750. Over the past few years, I have completed several other fundraisers for good causes.
I have roped others in along the way! Amanda Wright, one of our financial assistants, joined me for a fire walk in aid of Horsham Matters. Unfortunately, a burning ember lodged itself in-between my toes, burning me a little before I could douse it in wet mud! The most challenging was abseiling down the side of Arundel Castle, as I'm afraid of heights. The longer I was standing at the top, the worse it got! It wasn't easy to stay upright either, so I came down horizontal and ended up on my back on the ground, which was very amusing for those filming me!
I don't have a bucket list of what I'd like to do, but I am prone to seeking out a little adrenaline. For my 60th birthday, the team bought me a flying lesson and I'm looking forward to that!
As a business, we support charities and organisations too. We provide bookkeeping services for Horsham Rotary Club and admin support for the Chamber of Commerce. We also sponsor local events, like the Horsham Film Festival. We have provided free mentoring through the Let's Do Business group and given presentations as part of a scheme to encourage new start-ups, run by West Sussex Library Service in association with NatWest. We love seeing new businesses succeed, so do what we can to help people on the way.
Networking has helped us grow our list of contacts in the community. Through meetings of Billingshurst and Horsham Chamber of Commerce, we have formed partnerships and links with many other local businesses across a range of industries, and there are opportunities to develop more local connections as we grow. Horsham has a wonderful business community and it's a pleasure to be a part of it and help people find the services they need.
Words/Interview: Ben Morris Photos: Alan Wright
Further information:
Tel: (01403) 588639
Email: info@seofon.co.uk