KJF Clothing in Horsham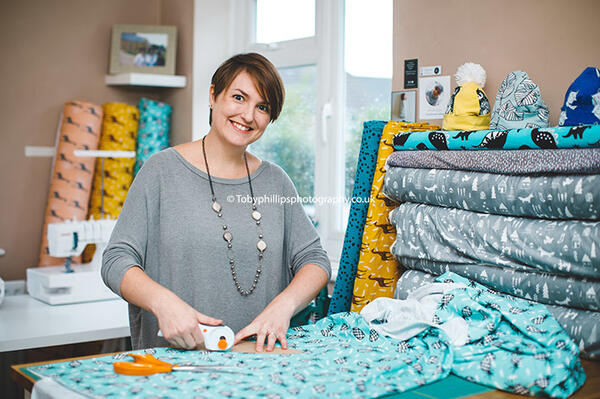 Published on 4th Sept 2018
I formed KJF Clothing in April 2016, after the birth of my daughter. The idea had been there for a while, but I wanted to wait until I had children of my own, to give me a better understanding of what parents were looking for. From the outset, it was a priority was to create clothing that could accommodate cloth nappies.
Cloth nappies?
Disposable nappies contribute hugely to landfill waste, so parents are turning to cloth nappies. People are increasingly concerned about recycling and are more conscious of what goes into their bin, especially in these times of fortnightly collections. That brings environmental issues to the forefront. So, my clothing caters for a cloth nappy.
In what way? The clothes are baggier with a harem-style drop crotch to accommodate the bulkier cloth nappy. This helps children move more comfortably and yet high street shops tend not to cater for that market. I make clothing for children aged up to six. Most of my customers don't use cloth nappies for their children, but they like the style as it offers freedom of movement, particularly with the rompers.
Rompers? They are an all-in-one item, with a top combining with shorts. I also make T-shirts, dresses, shorts and accessories,including sun hats. I also make bibs backed with a sustainable bamboo fabric. I'm committed to running an ethical and sustainable business, so all our materials are certified to ensure they comply with our ethos and ensure everyone involved, from the cotton farmers to those involved in making the fabrics, are treated and paid fairly.
Why? The fashion industry doesn't have the best reputation when it comes to the environment and human rights. Fashion is an easy industry for people to be trafficked into and I want to support the fight against that. So, I donate 50% of KJF Clothing profits to things like A21, a charity that supports people caught up in human trafficking. Eventually, I would like to train people who find it difficult to get into work, such as refugees who have settled in the area. By providing training, we can help them take the first step. But that's a vision for the future!
Small steps…It's only two and a half years since I launched the business, initially making blankets and other items that were easy to do. My background is in accountancy and business management, which has helped me in certain ways. But when it comes to making clothes, I've developed my skills as the business has grown. I'm now in a position where I am creating fresh designs.
Featuring what? KJF Clothing is known for bright colours and quirky designs. Our summer range included fabrics with pineapples and giraffes. People love dressing their children in animal outfits, so items with pandas or dinosaurs are popular too. I source fabrics from the EU, primarily Finland and Sweden, but certain things I haven't been able to find. So, I created my own! My new Christmas fabric has a woodland theme with foxes and fir trees.
Must be expensive? The quantities that I need to make that financially viable are greater than if I buy through a designer that has the scope to supply fabric to different clothing companies. Currently, only about 30% of my items feature my own designs, but I hope to increase that figure in future. All my designs are quite simplistic. The idea is that the range embraces childhood, as they're under pressure to grow up so quickly these days and maybe my clothes help them have a bit of fun.
Are they unisex? There are some gender specific items, as many people still like pink for a girl. I am selective about what I choose for boys' clothing as the high street doesn't offer a great selection. There are many beautiful things that you can buy for girls, but shops tend to play it safe when it comes to boys' clothes. You are starting to see brighter designs is stores, but it's still mainly traditional. So, customers come to me looking for something different. Some parents even look for items for themselves.
Such as? Last Christmas, a parent asked me about leggings, so I made matching sets for mums and children, which have sold well. Lots of women enjoy Yoga and Pilates and are looking for something comfortable to wear. Why not make a statement with your leggings whilst you're at it? It's all hand made, so I only produce very small batches for select shows.
What shows? Having initially sold on Etsy, an online website which promotes hand-made items and crafts, I soon discovered that targeting the baby and toddler market was more successful for me. The first event I attended was The Bump and Baby Show in Brighton and that went well. Soon, I'll be attending the Babytodd event at the South of England Showground in Ardingly. A few of these, combined with online sales and social media, drive the business.
What's next? I've been fortunate in that I've been able to work around my family and my husband's work is flexible too. But I may have more time when my daughter begins pre-school. I may expand the range to offer clothing to older children, particularly as my daughter gets older, as I'll see what she likes to wear and what is missing on the high street.


KJF Clothing is on Facebook, Instagram, Pinterest and Twitter. You can also visit the website at https://kjfclothing.com