Quality Beef and Silly Moo Cider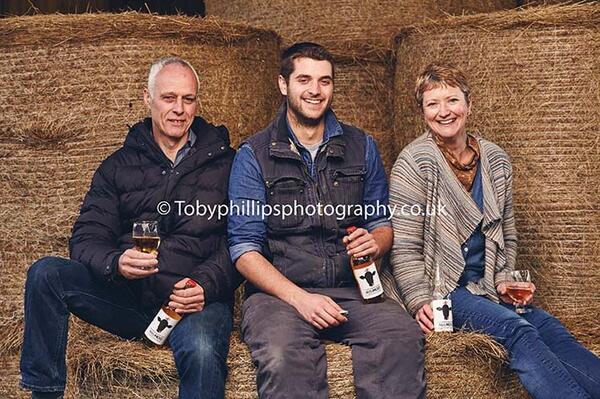 Before becoming farmers, Andrew and Joanne Knowles both worked in London.
Joanne was raising awareness on dementia therapy (a role she continues to perform in Sussex) whilst Andrew has spent the last 30 years running a successful City business. However, many years ago he studied agriculture and spent two years as a farm manager in Nottinghamshire.
Having talked about it for a long time, the couple made the decision to work their own farm. Andrew and Joanne are now settled at Trenchmore in Cowfold. The land has been in Joanne's family for half a century, with John Cork running a small scale farming operation. John is still involved, helping Andrew and Joanne as they bid to build a larger, more diverse farm.
Andrew said: "We are second career farmers. The idea is to combine a lifestyle with gainful employment, whilst doing something worthwhile. We were at that age when we were starting to think about changing the pace of our life, which was naïve, because the pace of our life has actually increased! Farming is very intensive."
The focus is on producing high quality beef at Trenchmore.
Rather than sell to supermarkets or larger chains, they sell beef to local chefs and farm shops.
Andrew said: "It is a tough time for agricultural commodities and very few people are making money in farming. You have to be big and spread your costs thinly in order to survive in this environment.
"Rather than try and compete with bigger farms, we wanted to find something distinctive, so we looked at breeding Japanese Wagyu cattle.'After researching extensively, we discovered that the red Wagyu finished better on a grass diet and they don't have to be intensively reared. So we took this option and now our beef comes from a cross between the Wagyu and the Sussex Angus."
Andrew and Joanne decided to go against the grain.
Rather than fattening up the cattle quickly on low-grade feed, at Trenchmore the cattle are slow growing, enjoying their summers out in pasture, and the result is "generally happier beef."
To help ensure that the cattle receive a consistent diet, a new hydroponic hut is being constructed to grow barley feed.
Andrew said: "The barley grass allows us to maintain consistency, which we know is good for the cattle and we have learnt is also important to chefs. We initially spoke to Stephen Crane, head chef at Ockenden Manor in Cuckfield, and he gave us some great feedback.
"He said it was important that the beef he used in his kitchen was local and that cattle welfare was important too. He also emphasised that the consistency of the beef was key. Until then, we hadn't realised that chefs need a consistent product, particularly at the top restaurants, hotels and pubs.
"There has been a revolution in food, with more interest in produce that is local, healthy and delicious, and what we do fits in with that."
Part of this modern approach to farming concerns cattle welfare.
That is why, during the winter, animals are brought inside. A pen has been built that not only keeps them warm, but benefits from an innovative, award-winning design that promotes good cattle welfare.
The design is inspired by the work of Dr Temple Grandin, a Professor of Animal Science who is renowned for her papers on effective animal handling.
Joanne said: "The biggest shock for a calf is the moment you separate it from the mother. Our pen is designed for soft weaning. Rather than separating mother and calf suddenly, which causes a lot of distress that can last several days, we use a nose flap at eight months, so that the calf cannot get on to the teat.
"Our pens have a weaning gate in the middle, only big enough for the calf, so you can separate mother and calf for just a few hours a day, to gradually make the calf independent. Then one day, we close the gates, but by then they are relaxed and the circular design means they can see each other."
In addition to promoting quiet weaning, the design combats pneumonia with its scientific air flow system. There has not been a single case of pneumonia in four years at Trenchmore.
Trenchmore is starting to produce more beef.
The farm now supply Sussex Wagyu cross beef to South Lodge Hotel and The Crabtree, amongst others.
Now, Andrew and Joanne are talking to chefs about finding new interesting cuts of meat that may not have always been appreciated.
Andrew said: "As a default, people choose a fillet, sirloin or rump steak when they go out. I'm no different in that respect. But we are seeing a trend with chefs experimenting with other cuts, and diners are beginning to enjoy them.
"The flat iron steak is becoming very popular and there is even a specialist restaurant in London. The brisket steak is much maligned but if you cook it right, it is delicious. Chefs are discovering new cuts of beef, and we do hope that we'll be able to produce a wider variety of good quality cuts."
The idea for a cider was born before the idea for the beef.
The Knowles' had already bought the land next to the farm and planted an orchard when the opportunity to buy the farm came up too. It was an opportunity that they took, and recruited the help of son Oscar. Having recently graduated after studying Engineering, some of Oscar's skills have been valuable on the farm.
However, not so many of his engineering skills are required during the pressing and fermenting stages of Silly Moo cider!
The first batch was made last winter and has already sold out, whilst the second batch is hitting the shops soon.
But what of that name?
Andrew said: "When you press the apples, you are left with pomace, which tastes quite sweet but very dry. I thought that the cattle might like it, so after pressing the first batch, I walked over to the field with a bucketful of pomace and tipped it over the fence.
"The cattle weren't sure what to do when they first sniffed it, but after a few minutes they started eating it, so I went back for the rest.
"As I was coming back up the driveway with the second bucket, the cattle actually ran towards me. They go bonkers for it! Hence the name, Silly Moo.
The first pub to offer Silly Moo was The George and Dragon in Shipley.
The Fountain Inn at Ashford quickly followed suit, and it's also been served at The Crabtree in Lower Beeding. Bottles are also available at the Union Jack Farm Shop in Cowfold, as well as the new Hillier's Farm Shop in Horsham. Crates also stocks the cider, as well as Trenchmore beef.
With more growth planned, do Andrew and Joanne believe that their city background has some benefits in the world of agriculture?
Andrew said: "When you have worked in the City, you are not coached to be in the groove of agriculture. Common agricultural policy has been focused on maximising production and perhaps it has taken long time for farms to break out of that cycle and be more innovative.
"I think that one advantage of being an outsider is that you have an open mind, and you don't take that policy as gospel. On the other hand, I'm sure some local farmers would think that what we are doing is insane in comparison to producing cattle for the larger buyers.
"But we are trying to do something different. We want to be there at the beginning of the supply chain and be very close to the end user too. In London, you see everywhere the development of niche products for relatively affluent people who can afford to buy healthier, local produce.
"So in that sense, working there has changed our approach."
Read more about Trenchmore at www.trenchmore.co.uk
REPORT: BEN MORRIS
PICTURES: TOBY PHILLIPS