Quality Beef and Silly Moo Cider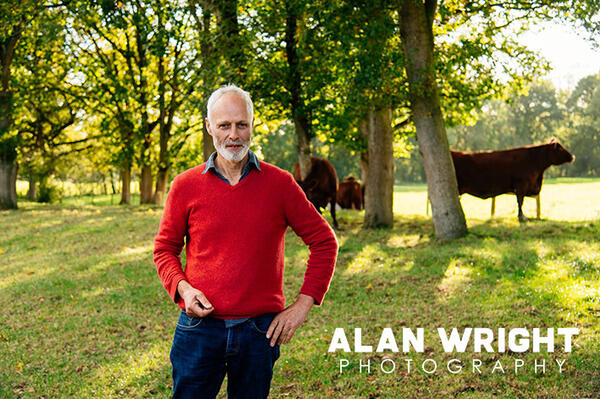 Published 1st November 2023
At Trenchmore Farm in Cowfold, Andrew Knowles checks on his herd of cattle. The cows and calves seen in the pictures above and below are Sussex cattle, a red beef breed native to the Weald. They are renowned for being a hardy breed that thrives on rough pasture, having been used to haul oak from local forests for centuries.
While these are pedigree Sussex, the vast majority of the 500-strong herd at Trenchmore Farm are cross-bred with Wagyu, a beef cattle originating in Japan. Sussex cattle provides good beef, but Sussex Wagyu satisfies an even more discerning palette while also promoting a healthier herd. Trenchmore is one of the few farms that has successfully managed to cross breed the two to produce a high-quality suckler beef.
Andrew said: 'Although the standard of beef production in the UK has improved, a lot of beef is still made through intensive feeding. Calves are often separated from their mother after only a few days and are fed milk substitute. They are kept indoors, rather than grazing in fields, as many farms operate on tight margins. Sustainability is very important to us, so we approach beef production in a different way. We produce suckler beef using natural, ethical farming methods. Our calves stay with the herd for six to eight months and grow naturally on a pasture-fed diet. Although they will soon come inside for winter, our cattle graze across 400 acres of land for most of the year. The result is a happier animal and – in my opinion – a better flavour of beef to the end consumer.'
STAR APPEAL
Sussex Wagyu has become especially popular with chefs in the south east and London. The reason behind this is the quality of the beef, which is most noticeable in the marbling. Marbling is the term given to the white veins of intramuscular fat that are visible within a cut of beef; these often provide an indication of the tenderness, moistness and flavour of the meat.
Andrew said: 'In the UK, we don't grade beef by its quality, as it's all dictated by price. In other countries they use quality bands, such as prime, select and choice in America. Only about 5% of beef is classed as 'prime' in the US, yet 40% of Wagyu cross makes the grade, as it produces good quality marbling. Sussex cattle doesn't provide that same standard of marbling as Wagyu, but the combination of the two is superb, and people are starting to appreciate the quality. It has taken time, but slowly we have grown by word-of-mouth.'
'London restaurants are an important market for us. If you are a top chef serving discerning diners who expect the very best, you need to source the best produce available. Chefs use Trenchmore as they can taste the difference in pasture-fed beef, and we provide a consistency that suppliers who source beef from different farms cannot guarantee. People also buy into our regenerative and sustainable approach to agriculture, using crop rotation to keep the soil fertile while also bringing benefits to the surrounding environment, providing hedgerows and other habitats for rodents, small mammals and birds.'
SILLY MOO
During the pandemic, Trenchmore sold its beef to local customers, with queues often forming along Burnthouse Lane on Saturdays. Demand has naturally tailed off since, but there are still customers who regularly order their beef online and collect it from the small farm shop. People also visit the shop for another reason – to stock up on Silly Moo, the farmhouse cider made by Andrew and his daughter, Rachel.
The orchard was planted in 2012 and 19 varieties of apples now grow there. However, the orchard alone isn't enough to meet demand for Silly Moo, which has become as important to the farm's revenues as beef. So, Trenchmore Farm works in partnership with other Sussex orchards to source enough apples to produce some 80,000 litres of cider annually.
Rachel said: 'Silly Moo was initially a fun side project, but it is now a massive part of the farm. We have many fantastic pubs in the local area that support us by serving our cider in bottles or on tap, and Horsham and Brighton have become real foodie hubs, with lots of people actively seeking out local, independent producers. We have thought about introducing new flavours, as demand is growing and other cider producers have released new products in recent years. However, we're limited to what we can do as a family farm; dad hardly ever takes a day off as it is! So, we are resisting the temptation to expand the range for the time being, focusing on making the best apple cider we can.'
APPLE SWAP
Trenchmore covers several hundred acres, but only four are given over to orchards. Consequently, most of the apples used to make Silly Moo come from other farms. Apple swap events held at the farm also brings in donations from the local community, with fruit traded for Silly Moo cider.
Jack Bailey, who works at the farm on weekends, was helping to mulch and press thousands of apples donated during an apple swap on 14 October. Jack said: 'The apple swap is hugely popular and we'll probably collect 1,000 litres of juice today. One farmer brings a trailer full of apples from his orchard and takes away several crates, as we hand out one bottle of Silly Moo for every 8kg of apples. We take any variety, as long as they're ripe and clean, except for Bramley apples as they're too acidic for cider. All the fruit goes into the mulching machine and is pressed to make the juice. The arrangement helps us, as we don't have to pay people to pick from the orchards, and it also prevents thousands of apples from going to waste, so everyone wins!'
RURAL COMMUNITY
The apple swaps have become popular family events, even expanding to include hot food stalls, a licensed bar and stands by other independent producers selling everything from honey wine to chilli pepper plants. At October's event, these included High Weald Dairy, which specialises in artisan cow, sheep and goats milk cheeses, and Cocoa Loco, producers of organic and fairtrade chocolate.
Clare Kennett, founder of Clare's Chillies, was selling chilli plants, which are grown from seed close to Trenchmore Farm. Her plants cover the entire chilli heat spectrum, from mild peppers that register only about 500 on the Scoville scale, to the giant purple reaper, a derivative of the famous Carolina Reaper, which has 1.6 million heat units.
Clare said: 'Nobody really eats the purple reapers, but they're popular as they make for a fun talking point! These events are good for my business, as it gives me a chance to advise people on how to grow the plants and which chillies might suit them. Some customers are now returning to buy their favourite varieties like the purple tiger, and also to try new chillies.'
Shane Pope sells Sussex honey from hives he maintains near Bolney. He extracts the honey directly from the hives without any additional treatments, ensuring the product is as natural as possible.
Shane said: 'The texture of the honey varies with the seasons, as it depends on the nectar that honeybees gather. Hives located near oil seed rape crop often lead to a hard-setting texture, but we are fortunate to have fantastic diversity in the crops and wild flora in this part of rural Sussex. Some buy local honey as it can help prevent hay fever, while for others it's about supporting local producers, as the honey on supermarket shelves is mostly sugar syrup and can be sourced from anywhere in the world. You can certainly taste the difference with our honey.'
HONEY & SUNNY
Continuing the theme, Danny Bacon from Loxwood Meadworks offered tastings of his honey wine. Danny established the business in 2018, working alongside his father Maurice, organiser of the Loxwood Joust. Initially formed to produce mead for the mediaeval festival, the business has since developed a selection of contemporary mead-based drinks and is beginning to make waves in the drinks market.
Danny said: 'A lot of people find traditional mead too sweet, so we have created a product that is lighter, fresher and better suited to modern tastes. Our methods are similar to those used by winemakers, although we use honey instead of grapes! We now have three products, including Stargaze 22, which is an English sparkling honey wine, with the second fermentation carried out in the bottle, like the Champagne method. Glow 21 is a mulled honey wine and Festival 18 is our signature honey wine. Some Michelin star restaurants are now selling our products, and stockists include Fortnum & Mason, so demand is growing as more people discover mead for the first time.'
SPANISH FLAIR
Susana & Daughters were also selling three products at the apple swap. The family business was founded by Susana Perez, initially to sell kefir, a fermented milk drink produced naturally from cattle on the Cowdray Estate. More recently, Susana & Daughters have introduced rice to their range, working in partnership with farms in Albufera National Park in Valencia. In Albufera, a freshwater lagoon provides the perfect conditions for paella rice. The third product is extra virgin olive oil from a family farm in Andalusia.
Susana said: 'For five generations, my family has been harvesting olives in Spain, in a region that has the perfect sunny climate for them to grow. We use early harvest olives for the oil, as they are rich in vitamins and natural antioxidants and give incredible taste and aroma. Olives are my passion, so to be here at Trenchmore, selling my own family's produce with my daughters Eva and Maya, and receiving support from the local farming community, makes me very happy.'
WORDS: Ben Morris / PHOTOS: Alan Wright
Further information:
The next event at Trenchmore Farm will be the Winter Market on Saturday 9 December, 11am – 4pm, with live music and festive farmyard fun. www.trenchmore.co.uk