NEWBRIDGE NURSERY SCOOPS TOP AWARDS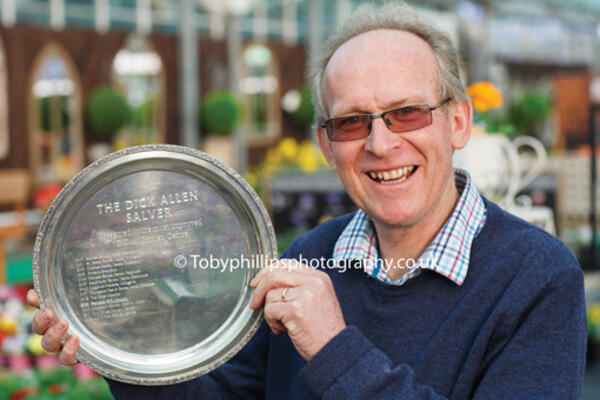 In March, a retail consultancy firm published a report on the garden centre industry. The report concluded that the sector had a 'bright future' but that too many retailers were not moving with the times. Some need to better understand their customers if they are to fend off the likes of Waitrose, Next, B&Q and Homebase, which are steadily increasing their range of gardening goods.
This consultancy report didn't give examples of how it should be done. But if it had, it may have highlighted the efforts of Newbridge Nurseries in Broadbridge Heath.
Newbridge was recently named the country's Most Improved Garden Centre by the Garden Centre Association. It was also recognised for its catering facilities and extensive range of indoor and outdoor plants. What is all the more remarkable is that this has been achieved during what has - at times - been a testing year at Newbridge.
The huge new Wickhurst Green housing development is right on the garden centre's doorstep.
It has meant that customers have had to negotiate long delays due to three way traffic lights and for a short time fewer parking spaces due to the building of a new access road.
Nigel Wait, Managing Director at Newbridge Nurseries, said: "The Dick Allen Award was established in 2000, and is open to garden centres from all over the country. It was a nice surprise for us to win, and to collect several other accolades too.
"I think what stands us out from other centres is the way we maintain everything here. We employ a lot of people, and as well as being knowledgeable about gardening, they also spend a lot of time making the centre look great.
"You visit some garden centres and you can see a lot of weeds and sometimes unhealthy plants, as they do not have the staff to constantly work against it. Here, the plants look immaculate, and that gives people faith in buying them here.
"Also, we know how important it is to maintain a focus on plants. Some of the 'destination garden centres' are losing that focus, offering more indoor products and subsequently are finding themselves in competition with home and living stores such as John Lewis.
"But at Newbridge Nurseries we have a phenomenal range of hanging baskets and outdoor plants, and other centres cannot compete with that. We refer to ourselves as 'the garden centre that grows.' That is because, although some shrubs and herbaceous plants are brought in from specialist producers, we also have our own nursery. That helps us a great deal."
This other arm to the family business is Barnsfold Nursery in Rudgwick. The nursery, which also scooped an award recently as Bedding Plant Grower of the Year, supplies many garden centres, with only 10% of its business coming from Newbridge Nurseries.
Nigel said: "My late parents, William and Isabel, bought an old derelict nursery in 1964, and cleared the land to make it suitable for growing wallflowers, chrysanthemums, strawberries, raspberries and a few others.
In 1970, they bought the neighbouring nursery and Barnsfold Nurseries has continued to grow. I was working there for my parents and I used to deliver bedding plants here in Broadbridge Heath when it was a small
nursery with parking for just a handful of cars.
"In May 1994, I offered to buy the nursery as the owners had said they had been through a tough season, but they didn't want to sell at that time. A year later, whilst I was making another delivery, they said things had gone from bad to worse. I told them that my offer still stood and they took it.
"We sold off all the old stock, bulldozed the site at the end of August 1995 and we were open again by the following Easter. The place needed a lot of work, as we had to level the ground because of a huge dip, and build everything from scratch. Nothing was worth keeping. ne of the local councillors was concerned that Broadbridge Heath would lose its little garden centre and that we would create a large new wholesale nursery.
But I met them and once they understood what we were trying to do, they gave us fantastic support and really have ever since. Ladies of a certain age are probably reading through this and thinking 'What about Stooks? How can the writer possibly have written one thousand words before even mentioning Stooks?'
Well, partly it's because we decided to angle the story on the awards. But also it was just to leave something good to the end! Stooks (named after a group of sheaves of grain, as seen on the 'K' of the logo) has truly taken Newbridge Nurseries to the next level.
Undoubtedly, people can spend many hours at Newbridge, trying out the outdoor furniture, admiring the craftsmanship of the garden sculptures by Masserelli, joking about the idea of having a 7ft metal giraffe in their back garden, browsing through the endless rows of bedding plants, or wondering which of their friends would really love the ee-i-ee-i-o animal sculptures.
But a primary reason why many people go to Newbridge Nurseries, rather than other local garden centres, is Stooks!
The large café veers away from the usual formula, with light bites such as the avocado, brie and bacon wrap, or the shakshuka with grilled focaccia. The bread is baked fresh every day by Stooks' own pastry chef, and you can enjoy wines from Nutbourne and The Bolney Estate.
It was Nigel's wife, Jane, who led the development of Stooks. She said: "Garden centre cafes have been the norm for a long time and not too long ago we were one of the largest garden centres in the country without one.
"For a long time we didn't feel we needed one, but then it reached the stage where we thought it necessary to continue growing, as you always must as a business.
"The disadvantage of starting so late is that you can't start small and expand gradually. We had to start with 150 covers with outside tables too, as the standard has been set that high. I researched other garden centre restaurants and found they were offering much the same thing; paninis, jacket potatoes and the same sandwiches. We wanted to create something fresh, with exciting salads, main meals with a Middle Eastern
influence, and cakes and pastries all baked on the premises.
"Our inspiration came from Yotam Ottolenghi's café in Islington. Everything was so fresh and nicely laid out, and that was along the lines of what we were hoping to achieve. Initially, we did have people asking 'Where are the jacket potatoes?' so we added a small selection to the menu. But in general people really liked what we were doing and Stooks just took off. Our choices have been vindicated.
"Now we are very busy all through the week and we get fantastic reviews online. We see a lot of 'ladies who lunch' but we appeal to families too. We often see people staying here all day, so we must be doing a lot of things right for that to happen!"
For more details visit www.newbridgenurseries.co.uk