Make-Up Artist Kimberley Louise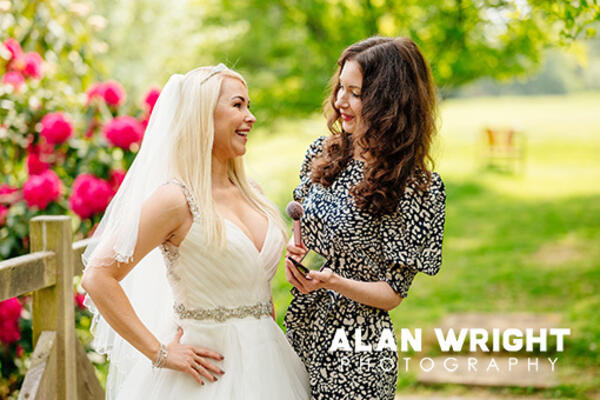 Published on 1st June 2022
Kimberley Louise is an award-winning make-up business based in Horsham. Founded in 2016 by Kim Wachnianin, the business has gone from strength to strength by using make-up to complement natural beauty. Here, Kim explains her passion for colour theory and ambitious hopes for the future…

When did you become a make-up artist?
I founded the business in 2016 and it has been growing ever since. Initially, I also worked as a Store Manager at Waitrose and the transition to becoming a full-time make-up artist has been difficult, especially with the disruption of the past two years. However, through positive word-of-mouth and a strong presence on social media, the brand has grown and in 2020 I was named South East Make-up Artist of the year at The Wedding Industry Awards, which was a huge honour.
What's the secret to your success?
My route into the industry was different to that of most people. I studied Business at Sussex University and that led to me joining the graduate scheme at Waitrose. The knowledge and experience I gained in a management position certainly helped me to create and market my own brand. I also have clear principles based around the concept of colour theory, which helps me create a look that complements each individual.
Colour theory?
It's the idea of matching make-up to skin tone. I attended a colour theory workshop to find out which colours suited me and found the concepts behind it fascinating. Tones are associated to the four seasons and make-up is applied to harmonise and complement them. As I have a winter tone, I suit contrasting colours like black, emerald green and scarlet. The workshop also demonstrated how make-up can have a negative effect, as using the wrong tones can make people look tired and washed out. We've all seen people wearing make-up that doesn't suit them (an olive tone doesn't complement colder skin, for example) and that's why in some cases wearing less make-up can make you look more radiant and youthful. Hair colour and clothing are also incorporated into colour theory, but at its heart is skin tone. This concept forms the foundation of my own business.

Is most of your business wedding related?
That's where most of the demand comes from, but I do make-up for special occasions such as anniversaries, birthdays and hen parties too. I also provide one-to-one sessions for people of all ages, so they can discover what works for them. It may be that someone is lacking confidence with skin conditions or allergies like rosacea, or a girl worried about acne on her prom night, or even a woman wanting to conceal a few wrinkles. We go through foundation techniques and find colours and products that complement them.

Do people often have their own ideas?
Of course. Certainly when a bride tells a make-up artist the look they want, they will usually get what they ask for. But if I think it's not right for them, based on their skin tone and texture, I'll advise them and present alternatives. Often when I demonstrate colours that truly complement them, they're amazed at the difference.
What happens if they don't like it?
That's why it's important to have a bridal trial before the wedding day! It's a chance to see how make-up sits on their skin, because it may look okay for an hour or so, but as the day goes on it could fade or become oily. Another reason to have a trial is to avoid allergic reactions to products. I have heard horror stories about make-up artists who have gone to weddings without a trial and used glue or latex sponges that have triggered an allergic reaction. A trial gives you a safety net to prevent anything major going wrong on the big day and peace of mind for the bride too.
Weddings must be stressful at times?
They can be and in the early days, I found it quite overwhelming. There are many things that can go wrong - like the flowers arriving late or the bridal car breaking down - and this creates stress. The atmosphere can change quickly and the job of the make-up artist isn't solely about technique. You need to manage stress and tension. It can be character-building at times, as somebody who was kind and lovely during the bridal trial might become rude and snappy because of a situation out of your control. It takes about two hours to do the bride's make-up and then there's bridesmaids and the mother-of-the-bride, so time is a key factor too.
Do you use certain brands?
I use Charlotte Tilbury, Hourglass, Dior, Chanel, Armani, Estée Lauder, Pat McGrath and other high-end products, because I offer a luxury service. When you do make-up for weddings and special occasions you need long-wearing, heat-resistant and water-resistant products that work for various scenarios.
How much influence does social media have on your trade?
Most people's ideas for how they want to look are based on social media and in some instances, it has a damaging effect. Many of the pictures you see of models on Instagram are filtered and retouched. You don't see skin tone and texture for what it really is, as images are airbrushed to appear flawless. When people ask me to recreate these looks, it can be hard to explain that these images don't represent reality. You can only do so much with make-up. I use authentic photos and videos to explain how they will look in natural light and that helps put them at ease. Certainly, we all look in the mirror and focus on what we don't like about ourselves and these insecurities are magnified on your wedding day. That's another reason why bridal trials are important.
Was it difficult to gain a foothold in a competitive marketplace?
I was very fortunate in that my sister's wedding took place when I'd only just started. That led to more work through family and friends and I built up my portfolio on Facebook and Instagram. With each job, I made contacts with venues like Brookfield Barn and with freelance suppliers including hairstylists, florists and photographers. Networking is vital in this business, as you can feel isolated as you don't see the same people every day. Also, there's no repeat customers, unless they get divorced! However, the business has snowballed to the point where I'm attending about 80 weddings a year.
You've been abroad too...
More couples are choosing to marry abroad. Sometimes, they ask for lessons so they can do their own make-up. However, I have attended several destination weddings in person, including in Italy and Croatia. It used to be hard for me to commit to these as I balanced my work at Waitrose, but now I have the flexibility to focus solely on my business as a full-time make-up artist.
What are your hopes for the future?
I would love to develop my own team. As a freelance make-up artist working independently, I turn away countless enquiries during the peak of the wedding season. If I could grow a team of make-up artists and stylists, that would allow the business to expand. Also, many people are looking for hair and make-up packages for weddings, as it saves the hassle of seeking out freelancers. So, to offer that service with people who I know are talented and reliable would be the next step. Another goal would be to launch an academy to support the next generation of make-up artists, as they often find doors closed to them when they're starting out. I'm also keen to run classes to help women suffering with chronic pain.
Is this something you have personally experienced?
I've had endometriosis since my teenage years and have needed three operations. It was after speaking to doctors that I realised I needed a less demanding work schedule, as I wasn't in the best health. Shift work as a Store Manager was impacting on my wellbeing and I needed a change. People with endometriosis can suffer from low self-esteem, so I've been in touch with a charity that helps people with chronic diseases, about running masterclasses. It think it can help, as make-up is fun and boosts people's confidence.

WORDS: Ben Morris
PHOTOS: Alan Wright

Further information: www.kimberleylmakeup.com
Editor's Note: AAH would like to thank Brookfield Barn, Mannings Heath, for kindly allowing us to use their venue for the photography in this feature.