Taylor Made Uniforms of Horsham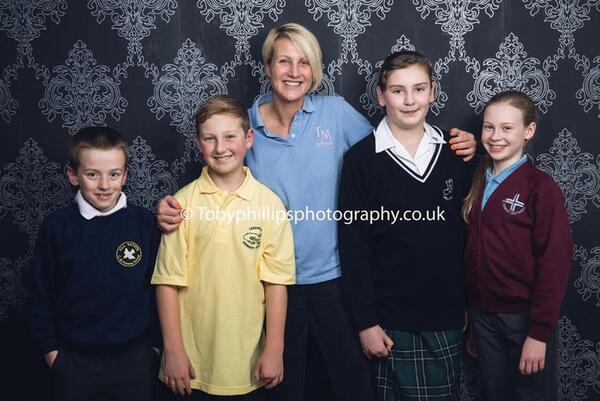 I first thought about supplying school uniforms when it came to buying clothes for my son, Zak. I didn't find the whole process very convenient for me, as a parent. Clothes were supplied by age range rather than size, and
delivery or collection didn't always fit with my schedule. I thought about trying to provide a service myself.
I registered Taylor Made Uniforms as a business in November 2009, and I initially started off by supplying just half of the clothes for St Robert Southwell School. Turnover for my first month was about £20.
The following year was very tough for me. I had to have a hysterectomy in March and three further operations because of various problems arising from that, and so I spent most of the year recuperating at home. This did, however, allow me to focus on the school uniforms.
I was able to hobble along to a meeting at Leechpool Primary and they agreed that I could supply pupils with uniform. It grew from there really, and it's great for the schools too as they receive money from commission on all orders.
I had to gradually build a rapport with the schools. I drive around all of the schools I supply every Friday, and you end up forming a relationship with them.
Initially, I started out with small piles of uniform laid out on a bed at my home. Now I have hundreds of items in stock, all properly stored. I supply All Saints C.E Primary School, Colgate Primary, Holy Trinity in Lower Beeding, Northolmes Junior, Rusper Primary, St Mary's C.E, St Peter's in Cowfold, Shipley C.E Primary, Millais and Leechpool Primary. I also supply several Crawley schools. In many cases, I am the only supplier, but there are other school uniform companies, and Broadbridges (in Piries Place) stocks uniform for some schools as well.
Schools supply me with a logo and requirements and I arrange the rest. I use one primary supplier in London, who produces good quality clothing. I go to Printz Charmin in Horsham for my printing and embroidery for bags and accessories.
I was contacting Millais School quite regularly, as I had some parents asking about me as there was only one outlet for the school's uniform. Eventually we had a meeting, and I took along a price list and outlined what I could do for them and they were very happy.
I try to offer a personal service. Every Wednesday evening, people in Horsham receive free delivery, and every Friday I deliver to the schools. I want to provide a service that is how I wanted to be treated as a mother trying to buy good school uniform.
Our accountant said after the first year, 'have you got a little hobby?' as our turnover was about £4,000. But we've doubled our turnover with each year, so we're growing at a good, steady rate.
As well as school uniform, we've started supplying various organisations. I provide T-shirts, vests and hoodies for Mungrel Muay Thai boxing club in Worthing and we also do the merchandise for The Matthew Russo Foundation.
Matthew died in a choking incident at his school in Crawley when he was seven. I received a call from his father, as he felt he was paying over the odds for poor quality hoodies. We now provide clothing for them, and the money raises funds to help and support children with special needs.
We won Retailer of the Year and the Readers Choice award at the Business Matters Awards, organised by the West Sussex County Times. I was really shocked about that. When I went up to collect the award from Fred Dinenage, I was in tears! Reading some of the comments people wrote about the company was unbelievable. It shows that my customers have faith in me.
I do hope to branch out, maybe to the south of the district and also in the Crawley area. But I have to do it in a gradual way so I can keep it all under control!
For more visit https://www.taylormadeuniforms.co.uk/