Lost in the Loft - The Memories Bank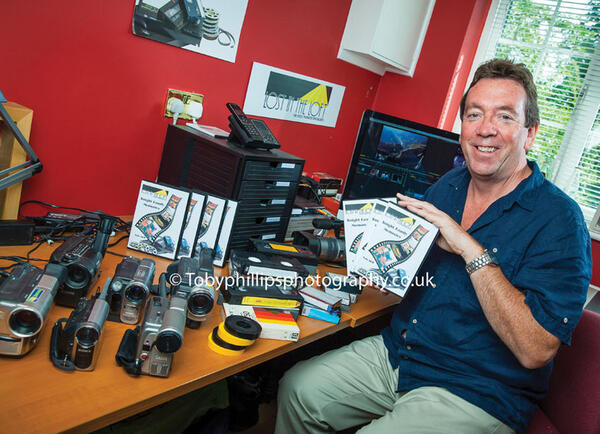 Chances are, in your loft or basement, there is a box marked 'Videos' which has been gathering dust for the best part of 20 years.
It depends on your age and personal tastes as to what is on the videos; Gremlins, Back to the Future; Top of the Pops…
But in amongst them there will, no doubt, be long-forgotten videos of family holidays, school plays, weddings, birthday parties, or your under-9's football tournament. Just occasionally, you might even catch a glimpse of your old 'Videos' box, when you're trying to find the Christmas tree or the box of fancy dress clothes that you think is still in the loft somewhere.
Then, fleetingly, you'll think to yourself 'I must dig out that video of our trip to America in 1987 and convert it to DVD'. But you close the loft and forget all about it...
A better solution would be to take the box to Vic Chase, who runs Lost in the Loft from his home in Southwater. Using broadcast- standard equipment and professional software such as Final Cut Pro and Adobe Premiere Pro, Vic is able to restore footage from VHS, Hi-8, Mini DVD and 8mm Cine Film.
Vic started Lost in the Loft five years ago, having worked in sales and marketing for Coca Cola for 20 years. He said: "In 2006, my wife was diagnosed with bowel cancer. We fought it for two years, but we lost her in 2008. My biggest priority then was to look after my three children.
"I had already started a small 'cottage industry', making compilation CDs for friends based on their old record collections, and it was natural for me move into video. A few years on it's going well enough, to the extent that I am looking at franchising the business."
Whilst many of us have videos about the house, they are in danger of eventually becoming unplayable, particularly if they are left in a spot where sunlight can affect the magnetic tape.
Vic said: "Some people give me videos that they think are in such a bad way that they won't play. But the equipment we have will balance it and produce a quality DVD recording. As well as editing the footage, our digitisers enhance sharpness, improve colour, and has time-based correction. Often what happens with old video is that the audio and visual goes out of synch, so the lip synch is out, but we can correct that.
"Some of the footage we see hasn't been seen by anyone for fifty years or more. So the biggest thrill for me is when I give the DVD back to the customer, as their reactions are incredible. I didn't realise how emotional the whole process would be. It may just be moving magnetic tape on to a piece of plastic, but it has a huge impact as it is reuniting people with their memories. I've had very emotional reactions from customers, as you are sometimes seeing people who are no longer with us.
"I can relate to that of course, as when I learned five years ago I was practicing on our own family movies, so my wife was walking, laughing, loving, being a mum. Compared to a picture on the mantelpiece, I found it really comforting at times."
In addition to converting the film, Vic adds a few personal touches, including adding music to Cine Film recordings. He also ensures that you only pay for the footage you want, at a rate of £10 per hour of recording. So you won't pay to convert a 1987 recording of Top Gun onto DVD!
Vic added: "Some businesses doing a similar thing charge a premium, but the problem with that is that people then have to cherry pick what they want. I'd rather people gave us the whole collection of memories, and we package them all up. It takes a long time to do, as old footage has to be played in real time. As a result, it sometimes takes a couple of weeks to finish.
"But when you've waited for 40 years already, it's well worth the wait!"
For more details contact Vic on 01403 734465 or visit www.lostintheloft.com