Horsham Youth Triathlon is a Success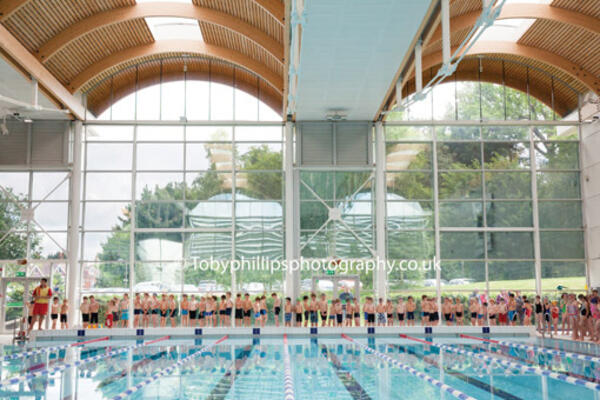 Winning is a wonderful feeling. But it is those that have battled, persevered and beaten the odds on their way to the top that truly become sporting greats.
It was this British love of the underdog that ensured that whilst many admired the technique and speed of the winning athletes, the biggest cheers from the crowd were reserved for the young triathletes who had to give their all simply to complete the inaugural Horsham Youth Triathlon on 23rd June.
Youngsters like Eddie Ragusa, who was cheered all the way through his brave but slow 25m swim, kept going to finish his event with the 11th fastest run of all 89 competitors in the 8-10 Novice category.
It was this Novice category that proved overwhelmingly the most popular event, with a strong representation of boys and girls out testing their swimming, cycling and running ability in a friendly but competitive environment.
Anyone who believes that children would sacrifice physical exercise for a game of Super Mario Kart might have changed their opinion had they seen the effort displayed by the competitors during what was an excellently organised and keenly contested event.
The young novices began at intervals with a 25 metre swim, one length of the Pavilions pool. Some, including a couple of Atlantis swimming club members, blitzed across the pool, whilst others prevailed through will power alone. After a quick dab with the towel, they made their way into Horsham Park to a transition area where their bike had been positioned ready to do the cycle leg. After riding 600 metres on a grass track, it was back into transition to put the bike back and then finish with a 500 metre run. After each event, competitors received a medal for their endeavours.
Consistency was the key for Horsham's Alex Merry, who came out on top top of the tree having not been in the fastest two for any of the three disciplines. But with a time of seven minutes and 52 seconds he came in well clear of Cameron Young from Partridge Green and Joshua Lea Clayton from Horsham.
Dorking's Zoe Ryan came fifth overall, 10 seconds in front of Horsham's Anna Templar, to claim the honour of top girl in this category. Brighton's Ella Witt dominated in the 11-14 year old novice category, in which the distances were double those of the young competitors. Ella finished in a time of 11 minutes 14 seconds, a whole 40 seconds in front of nearest challenger Dominic Easton from Godalming, whilst Southwater's James North was third.
Chloe Billingham was the star performer in a small field in the 15-16 year old novices.
Later in the day, more experienced competitors took on the greater distances in the 'Tristar' races. In the 9-10 year-old category, George Haskell from Horsham triumphed. He completed the course in an impressive time of 15 minutes and 14 seconds ahead of a trio of girls, Ethel Whyman from Slinfold, Isabella Hayes of Horsham and Montanna Horsell grom Wisborough Green.
Horsham's Evie Clarkewo took the honours in the 11-12 year-old category, alongside Bradley Burke from Mannings Heath. They both achieved the same time, yet were over a minute ahead of third placed boy Austin Emens.
Horsham's Edward Hundleby led the way in the 13-14 year-olds section, ahead of Worthing's Ben O'Connor. Top girl was Horsham's Gemma Cumber.
Competitors in the Under-18's youth category needed to negotiate 400 metres of water, 7200 metres of grass-based cycling and a 2500 metres run. Uckfield's Jamie Bedwell managed it in 37 minutes precisely.
Ian Ford, Sports Development Officer at Horsham District Council's Leisure Link, said: "I am very pleased with how it went and we've had some good feedback. There are a couple things people thought could have been done differently, but the comments were overwhelmingly positive. "We noticed that there was a lot of goodwill, and the competitors and parents were all supporting each other, and it was very nice to hear that aspect.
"Sport England is investing in the sport as a governing body, so whilst I was surprised at how many youngsters took part, it wasn't a total shock as the company we engaged to run the event have seen similar turnouts
elsewhere. Triathlon is a sport on the rise across the country, and it's one we are good at in this country. The performance of the Brownlee bothers at the Olympics has given the sport an extra boost too.
"But Sport England's focus is on the Over-16's so there is not a great deal of junior support for triathlons here in Sussex aside from these youth events run by Hegehogtri. Because triathlon involves three disciplines there is a lot of organisation involved, and when you are catering for children there is a lot of safeguarding that goes with that. That's quite a big barrier for some clubs to take on.
"Horsham Triathlon Club has only recently been established, and is based out of the Pavilions in the Park. It's only a small group, with 16 members, but they've been awarded a grant of £9,300 to grow the club. At the moment it is an adult-only club but it is recreational, so you don't have to perform at a high level in order to join. Hopefully in time they will develop a junior section as well. There is another club called Horsham Amphibians Triathlon and they tend to operate at a higher level."
Ian is hopeful that the Youth Triathlon could become an annual event. He said: "We're looking at holding it again next year. A lot of parents have said to me that they hope it will become an annual event, so we will sit down and talk about that.
"I'm keen but I don't want to say 'yes, it'll definitely happen'. My main role was to bring all of the parties together, as it needed the involvement of DC Leiure who run the Pavilions, British Red Cross, Horsham District Council, and Hedgehogtri. As well as that, Horsham Youth Cycling Club, Horsham Triathlon Club and Set4Success all provided the volunteers needed to run the event. All of that support cannot be taken for granted."
An estimated £2000 profit from the event will be going to the local Set4Success group which raises and distributes money to support talented young sportspeople in the Horsham District. You can read more about the group's latest awards after this report.The full results can be viewed at www.horshamleisurelink.co.uk