Horsham Snooker Club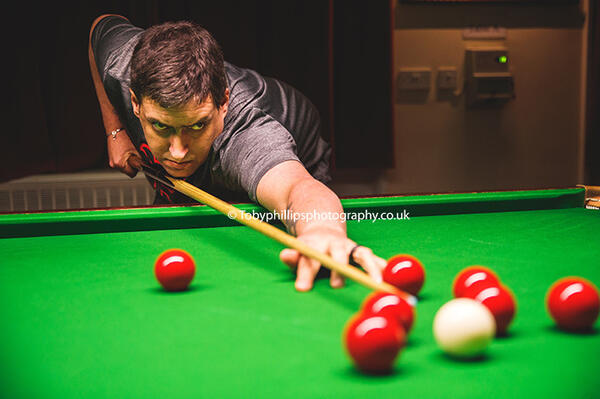 Published on 1st April 2019
The Horsham Club is a leading team in the Horsham and District Snooker League, winning Division 1 for three years in succession.
With the game's popularity waning, efforts are being made to encourage a new generation of players. We speak to members Dominic Wakefield, Dean Knight, Marianne Williams and Brad Harper to find out more...
Dominic: The Horsham Club was founded in the late 19th century and has historically been a social and sports club. There was a misconception of it being a Conservative Club, as its membership was mostly distinguished gentlemen. It had 500 members at its peak, but times have changed. Whilst there remains an Alternative Luncheon Club and an Investment Club, it is predominantly about snooker now, with a steady membership of about 120.
Dominic: The Horsham Club has been based in the Carfax for about 80 years. We used to meet within a Victorian building just around the corner. When it was converted into flats, we moved next door, above NatWest. This worked out well, as we have two snooker tables in one room with an adjoining bar, creating a more social atmosphere. Members pay an annual fee and can use the Club whenever they wish.
Dean: I'm one of several members who learned to play snooker at the Green Baize Billiards & Snooker Club near Littlehaven Station. It opened the year of the 'black ball final' between Steve Davis and Dennis Taylor. When I first went there with my brother, players would wait for ages for a table. It was like a ghost club towards the end though, which was sad to see.
Brad: I played at the Green Baize too. The popularity of the game has dipped since its 1980s hey-day, with the league gradually reducing from five divisions down to just two.
Dominic: The Horsham District Snooker League was formed in 1938 with five divisions, with at least 15 teams in each one. Big local companies used to have social clubs for its employees, so we had Ciba-Geigy Social Club (later Novartis) and The Wingspan Club in Crawley, run by British Airways. There were other venues too, like the Royal British Legion Club, which had two tables. Snooker is growing, but that growth is primarily in the Far East. It's a shame it's not growing in this country, as talent is out there.
Dominic: The league now comprises 29 teams across two divisions, with about 250 players in total. The Horsham Club runs five teams. Roffey has good facilities at the Sports and Social Club and enters several teams, whilst YMCA and The Holbrook Club are represented. Village teams have dwindled, but we still have Rusper, Balcombe, Pulborough, Loxwood and Warnham. Teams face each other both home and away, with all five players in the team playing a one frame match. It's essentially a best-of-five match. We hold competitions outside of the league for individuals, grand masters, over-60s and veterans. We also arrange Six Reds competitions, doubles matches and handicap tournaments. There are plenty of opportunities for beginners.
Dean: We have a good team and have won the league for the last few years. We've got a core group of league players, but you need a team of ten to fulfil all your fixtures, as people lead busy lives and cannot play every Monday, Tuesday and Thursday evening.
Brad: I recently returned to the game after a long break. In the early 2000s, I tried to turn professional. I was a three-time County Champion, competing against Top 50 players on the circuit. Snooker's governing body amended the rules, with only the Top 60 qualifying for the tour. Unfortunately, I was ranked 62. The fees involved in continuing at that level soared. Demoralised, I hung up my cue and didn't look at a snooker table for 12 years. But I missed it. When I came to The Horsham Club a year ago, it was nice to see old faces from the Green Baize days!
Dominic: There's a strong social side here. We are not a stuffy, gentleman's club. In fact, we're the only team in the league with a female player.
Marianne: I played on the UK Women's Tour until 2013. For a long time, we were largely ignored by the sport. The winner of the World Championships took home £1500, which is nothing compared to what the men earn. Yet the standard is very high. Reanne Evans qualified for the main professional tour and a young woman in Thailand has just recorded a 147 break. World Snooker is now paying attention, as it needs to increase female and disabled participation to qualify as an Olympic sport. I loved being on the tour, as players are supportive of one another. But the travelling makes it very costly; even a lot of the men find it difficult. So, there's work to do if snooker is to become more accessible to women.
Dean: We also need to encourage young players. The Northern Snooker Centre in Leeds still attracts young groups. We've lost that in the south, even at top venues like The Castle in Brighton. Parts of Horsham, particularly Roffey, have long been a hotbed of talent, but times have changed. You used to see kids at social clubs on Sundays, playing snooker or pool whilst dad had a pint and watched football. That doesn't happen anymore.
Dean: We want to make it easier for young people to play. There used to be more options, with more clubs and even individuals like Frank Sandell running coaching sessions. Several members of The Horsham Club are looking to become qualified coaches so we can grow a youth section. Hopefully, we can develop another team and encourage other clubs to do likewise. It's important, as the game needs new blood.
Marianne: I've always had a love/hate relationship with snooker. I stopped competing, but joined The Horsham Club two years ago to improve my game and maybe prepare for another go at joining the tour. One of the nicest things about this club is the social side. Everyone is welcoming and supportive.
Dominic: Personally, I think this is the best snooker club in Horsham. I don't say that lightly, as there are good clubs around. But we certainly have some of the best tables. They date back to the early 1900s, but we re-cloth them to a professional standard every year, to keep them running fast. That increases the chance of recording big breaks.
Brad: Having taken a long break, it feels good to be back playing. I look back with pride as I played the likes of Tony Knowles, Dean Reynolds, Tony Drago, and even Alex Higgins at Warnham Comrades Club. I can't play as much these days as I have a family, but the progress I've made since returning has been okay. In 1998, I shot back-to-back centuries in the individual final and I'm lucky enough to be the first person to make a ton in the league. I've hit a few 80+ breaks recently, so hopefully another century isn't far away!
For details about The Horsham Club, visit www.horsham-club.co.uk