Table Tennis: Making a Return?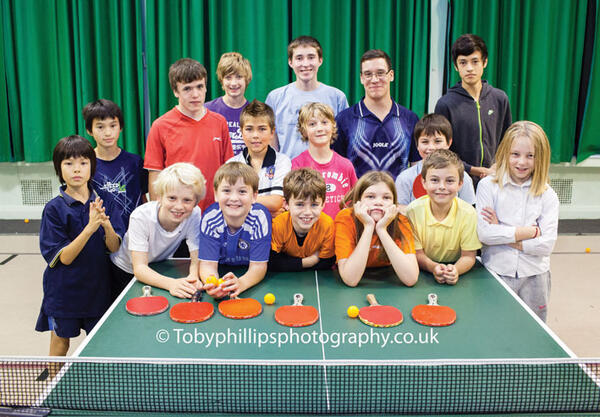 It would appear that one of the more unfashionable sports is making a comeback in this country. When Boris Johnson, in a typically flamboyant pre-Olympics speech said 'I say to the Chinese, that Ping Pong is coming home' it was all in good humour. After all, there was nothing to suggest that any of our home-grown players were going to deny China of gold.
In the end all four gold medals went to China. Nonetheless, all signs point to a revival of the game in this country. Oddly, the game has suffered a slide in popularity in the UK since it became an Olympic sport in 1988. China, Japan and South Korea have gone on to dominate the world stage, with Sweden and Germany consistently fronting the European challenge.
Now the game is taking off in UK cities, primarily through an increasing number of outdoor tables. The Ping Pong Parlour, a temporary table tennis café, has been launched in London and 100 tables have been installed in the capital as part of an English Table Tennis Association (ETTA) initiative.
Here in Horsham, the game is set to be boosted by the launch of a new Friday night table tennis club for all held at Collyers College. The scheme is funded by a £10,000 Sport England grant, which will pay for top quality tables.
Horsham Table Tennis Club is driving it, with strong support from other clubs including Storrington and Horsham Spinners.
Alex Morrison, Chairman of HTTC, said: "The perception of Table Tennis is changing but it's a slow process. It's really a sport that hit a peak in the 1970s and the 1980s. I used to play in London and a lot of banks had sports clubs, so there were a lot of business teams.
"Here in Horsham, we had Royal and Sun Alliance and they had their own club at Holbrook club. They tended to encourage employees to participate in sport, but a lot of that business participation has faded over time and that has meant there have been fewer facilities and opportunities.
"Leagues have tended to become smaller but now we want to reverse that trend, particularly after the Olympics as there is a bit more interest in table tennis. You are seeing outdoor tables– I saw several tables on Brighton marina recently and it was very popular.
"We want to be able to have something going on in Horsham which is much more informal. We want to be more like a golf club -you can play as a member or you can, if you want to, just turn up and have a go without any
commitment to play again. What we are offering through the college is the concept of 'come along and play'.You can turn up and the organisers will take a look at your game and put you into a team of two or three and we'll have little informal competitions. It'll be like a league night but without the formality. It's an easy first step into table tennis competition."
Ian Ford, Sports Development Officer at Horsham District Council, said: "Sport England have said, whether you agree with it or not, that they have improved sport participation amongst young people at primary school age, so let's switch the focus to retaining young people in sport. Therefore the 14-25-year -old bracket – of which colleges
are right in the middle of – is now the priority. That's where they are throwing their funding towards. We are bringing the game to them, rather than asking them to go and find it.
"There is a bit of a revival for the game. Lots of people have played it in the garage or back gardens in the past and it's getting a bit of a second wind. We want to tap into that."
Horsham Table Tennis – like the game in this country – is showing signs of improvement. It has maintained a high level at competition and continues to focus on its junior section.
The club was founded in the 1938/1939 season, as an offshoot of the Horsham Lawn Tennis Club. Over the years it has played in various venues, including the former Black Horse Hotel on West Street, the Albion Hall, the old Y.M.C.A, The Barn in the Causeway, and in 1972 the old army hut at Broadbridge Heath. In 2003 the club started to use Greenway School alongside Broadbridge Heath Sports centre and one year later moved all of its activities to the school. Horsham was instrumental in setting up the Horsham and Crawley League, in which it is well represented.
The Horsham Club has five teams in the Premier Division, and they play against four teams from Tilgate based club The Foresters, two Crawley community teams, Holy Trinity A and a separate club called Horsham Spinners, based at Forest School.
Alex said: "Traditionally the league has operated on a home and away basis but about four years ago we tried to change that and move the local table tennis set-up to a new level. So now on a Thursday night at K2 in Crawley we have nine tables and all the premier teams come together and play under one roof. There are 13 teams with
three players each, so we have to provide fifteen very good players each week.
"Everybody plays each other, so you each play three matches and each match is the best of five games to eleven points. Outside of the premier league there are another two divisions, and we have one team in the bottom tier. They play matches on the traditional home and away format. But it's great to play at K2. When you have your matches on one regular night you can plan everything else around that. You can plan your coaching schedule, and everything is more organised."
In addition to the local league, Horsham Table Tennis Club is represented in the Senior British league over four weekends of a season with teams in Division 2 and Division 4. The best cadet (under-15) and junior (under-18) players also compete at a number of events across the country over the season.
Over the years, the club has had some very good players connected to the club and were once as high as second in the premier division of the English league when the likes of Richie Venner were playing at their peak. Now, it is down to a Slovakian coach, Martin Jezisek, to develop the next generation of talent. He is supported by Sri Lankan Coach Amila Thilikarathne who has been in the top 5 of the Sri Lankan men's rankings.
Martin said: "I'm trying to bring everyone to their maximum potential. I'm teaching them what they can do and protecting them from themselves as well. You have to be quite strict but I am always fair, supportive and encourage them. Here in the UK, I think kids are more bubble-wrapped. Children are not brought up to fight for everything - they are used to being given things. If we are really thinking about champions, which I am always, never mind who I am teaching I always have the vision that I am looking for the one special player who will put everything into it and perhaps be a champion at some point.
"I'm not elitist as I am approaching everyone the same and always trying to get them up to their maximum potential, whatever their own personal limit may be. All I ask is that when they play they give their all."
Amongst Horsham's promising young players are Dan Barna who won his group in the Junior Open Singles (U18s) at K2 recently, and Holly Holder who won the Cadet Girls Under-15s Band 1 event at a major tournament
recently.
The club has also combined well with Horsham District Council over recent years to run table tennis based projects including coaching in residential homes (Silver Pingers project), activity in the Y Centre, running school holiday camps and providing coaching for people with learning disabilities. One person to benefit is 16-year-old Stuart Cutler, who has autism.
Stuart said: "I started off with the Aiming High group, which was a government initiative to get more disabled young people into sports, about two years ago. I found that table tennis helped me with hand eye co-ordination, and it's helped me to be active which is great. Now I come along to the normal club nights to play and last month I came first in a Reaching Higher competition."
But whilst the funding is in place and Horsham has a strong local club with a good committee, what the game could really do with is a role model to transform the game, as Andy Murray has done for tennis. Ian said: "We have two or three good players. Paul Drinkhall is the British Number One and he beat the World Number 54 in the Olympics, which was a great win. But the last real role model was Desmond Douglas and he was a world class player.
"But for us as a club it's an exciting time – we have a lot on the go. We've got big projects that hopefully can take us up a notch."
Alex added: "Table Tennis is a sport you can play from the ages of 8 to 80. It's a sport for life and because it's indoors it's ideal for the winter so it suits the UK climate particularly well. We have had a heavy focus on bringing on young players. It has been the ethos of the club for a long time and we hope with this initiative with Collyers we can widen the net further. It's an easy game to roll up and play. Whether the students like it or not, we'll have to wait and see - that's part of the challenge!"
There are two slots available - an early session (6-7.45pm) for juniors of all abilities and adult beginners, and a later session (8-9.45pm) for junior intermediates and above and adults of any level. For more details and to download a booking form visit https://horshamtabletennisclub.co.uk