Sussex Swim School at Beedinglee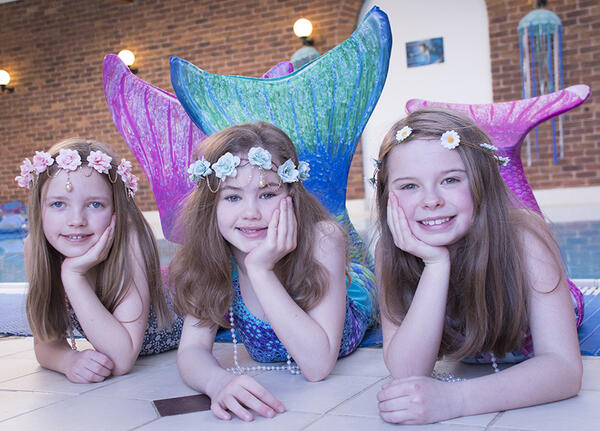 Published 1st April 2019
Hilary Silverman founded the Sussex Swim School to avoid going back to an office job after the birth of her son.
Now, the award-winning school introduces babies to water and turns them into mermaids! Hilary talks to AAH about the business...

We teach from newborn, as I believe it's important to introduce a baby to water as soon as possible. They have lived in their mother's womb for 40 weeks, so it's natural for them. The younger they start, the more relaxed and water-confident they are.
To maintain development, we follow the Swim England Duckling Awards before pre-school children work through stages of Swim England's National Teaching Plan. Because of the size of the pool (12m x 5m), those wishing to progress beyond Stage 7 move on to other swimming schools or clubs.
At Sussex Swim School, we have a maximum of six children per class. I have taught in places where the instructor must stay poolside and physical contact with the children isn't allowed. This makes it difficult to demonstrate to children how to improve. So, I make it clear to parents that we are hands-on and the teacher will be in the water.
We were thrilled to receive the ASA Silver Award as the Best Swim School in the United Kingdom in 2014. Our success is primarily down to experienced teachers. We are passionate, with competitive swimming backgrounds. But we also understand development. Glenda ran her own swimming school in South Africa and is excellent with pre-school children; Nick is a triathlete who has won medals at International level; Simon is our Junior Squad coach and has great experience with Mid Sussex Marlins. We have ten teachers and they're all outstanding.
Teaching aids are important, as they stimulate a child's imagination. We use bubble machines for children who are reluctant to do backstroke, as the bubbles act as a distraction and relaxes them. We also have an Action Man doll, who we call Tom Daley, to demonstrate stroke patterns.
The Mermaids class is hugely popular. Children must be able to swim butterfly leg kicks before becoming Mermaids, as they wear a mono-fin, so can't move their legs independently. This class helps children perfect butterfly technique, so it's not all about fun! By learning butterfly at a young age, children pick it up more easily. Too many progress through the stages believing that butterfly is difficult; if you engage them early, they'll master it.
Swimming has been a huge part of my life. When I was a baby, I had pneumonia. A Swiss specialist told my father to take me swimming every day, so that's what he did. We became a family of swimmers. I competed for Brent and became a Masters swimmer for Mid Sussex Marlins. I swam 18 lengths the day before giving birth and 20 years later, my son swims for Colchester University!
After becoming a mother, I didn't want to go back into office work, so became a swimming teacher instead. I worked at Pavilions in the Park, teaching large classes of mixed ability children. When it closed for pool repairs, several parents approached me for private tuition, as they wanted continuity with their child's development. That was how Sussex Swim School was born.
Initially, we used the pool at Handcross Park School. Later, I was introduced to Mrs Longley, who lives at Beedinglee, once part of Leonardslee in Lower Beeding. Her husband ran a construction business and built a swimming pool at his home for his family to enjoy. We use it for classes on Monday to Saturday, maintaining a warm temperature of 31.9˚ and keeping it ozone chlorinated, so it's safe for pupils with conditions like eczema.
It's a wonderful setting and a relaxing, safe place for families to come.

INTERVIEW: BEN MORRIS
PICTURES: TOBY PHILLIPS

For details, call Hilary on (01444) 474573 or email info@thesussexswimschool.co.uk
For class times and holiday courses, visit www.thesussexswimschool.co.uk
Read more about Harry's club at www.hawthgymnastics.co.uk