Horsham FC Opens New Ground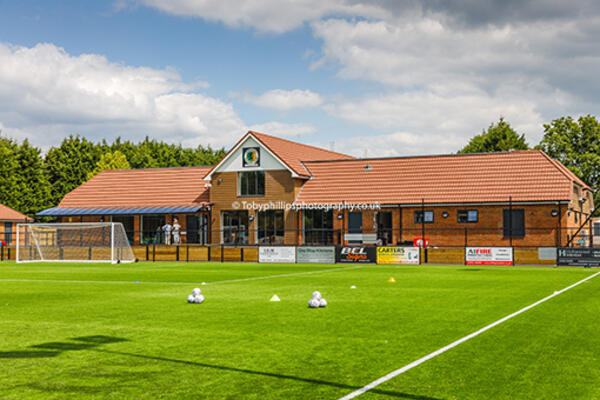 Published on 1st August 2019
Horsham Football Club has cause for optimism as it embarks on a new chapter following the opening of its impressive ground at Hop Oast.
A relatively modest crowd of 328 saw Dylan Merchant score the first goal at the Camping World Community Stadium, striking a sweet half-volley in the 27th minute to put the Hornets ahead in a pre-season friendly against Hartley Wintney on Saturday 13 July. Three days later, Charlie Harris and Chris Smith's penalty ensured another victory, this time against local rivals Haywards Heath. But it was the friendly against Crawley Town on Saturday 20 July that attracted the biggest crowd, with well over 1,000 fans flocking to Horsham's new ground.
There was a celebratory atmosphere when Horsham defeated their League Two opponents, continuing a string of good results as the club prepares for the league season. There was a minute's applause for former president Frank King, who would have enjoyed the football on show as Chris Smith and a Kieran Lavery brace saw Horsham win 3-1. Many fans remarked on the new facilities, but for those who have stuck by the Hornets through many challenging years, it's not before time...
"The stadium has been long in the making and yet it all came together very quickly towards the end," says John Lines, CEO at Horsham FC. "We've been running a timeline on the club's website, showing work from the first tree felled to the completion of the clubhouse, to where we finally have a home of our own. It's been far from plain sailing. We've had to negotiate choppy seas, but we've done that with great support from within Horsham District Council and our construction partners. Once we gained permission to build the stadium, there were very few snags until the point where we were handed the keys."
Horsham's 1st team were the first to try the new 3G pitch during a training session. A few days later, 100 boys and girls took part in a soccer skills day, part of the Horsham District Year of Culture. Crawley Town F.C have been regular visitors too, as the club is using the facilities four days a week. The team's professionals have given the high-quality artificial surface, created by Velocity Sports, their seal of approval.

Year of Consolidation
There are hopes that the stadium could launch a golden era for the club, hot on the heels of a fine run of form that led to the club's surprise promotion to the Isthmian League Premier Division via the play-offs. However, manager Dominic di Paolo is pragmatic about prospects.
"The Crawley game was amazing for the club," he told AAH. "A game like that - with such strong support - gives a boost to everyone involved.""We've waited a long time to have our own ground and it'll make a big difference. There have been a few teething problems, but it's a similar surface to what we've been used to at Lancing, so from a playing point of view it's been a smooth transition."
"In terms of expectations for the season, my aim is consolidation. For the first couple of months, we will gauge our performance level, but I have tried to put a squad together to give us a foothold at this level. There is a big jump between the divisions and we must deal with that." "Last year, we overachieved, as nobody tipped us for promotion. So, we need to cool expectations. We've made good signings and the new boys have the right attitude. Once we start to gel as a team after a few games, we will know where we are and there could be surprises. But for now, the aim is to have a stress-free season, so we're not scrambling in a relegation battle."

Great Support
As well as a main pitch and a second community pitch, there is a new clubhouse with a licensed bar, a kitchen serving up hot dogs (courtesy of award-winning local company Bangers Galore) and the Frank King suite, concealed behind folding doors. Football highlights and archive footage are televised to add to the match day experience.
The project has been well supported by local businesses, not least of all Camping World and Lines & James, sponsors of the stadium and first team shirts, respectively.Paul Osborne, Commercial Director at Horsham FC, said: "Support has been remarkable. It's not been difficult attracting businesses as it's a great story to be a part of. "Both pitches are close to being fully booked with only a couple of sessions available on the Community Pitch.
We have village teams coming for training, five-a-side leagues forming, Chesworth Rovers here on Saturday mornings and our own youth teams playing here too.""Crawley Town being here four days a week is important. The pitch is very expensive, so we need to make sure it offers value and having a League Two club here provides that. Even if Crawley were to decide to go elsewhere after a year, it will have given us a solid foundation on which to build on.""What we now need is for the people to vote with their feet and come and support the club. I have no doubt that they will."

One Club
Horsham has adopted a new 'One Club' motto and has invested in youth teams with renewed vigor. The new ground coincides with the development of an Under 23 side. In the past, it's been difficult for youth players to make the significant leap from the Under 18's to the 1st team. However, it is hoped the U23's will create a bridge and see more local talent able to make the step up.
Another development on the cards is a ladies' team. John Lines said: "That's definitely something we would love to have at Horsham. We must acknowledge that the Women's World Cup was fantastic and the game is growing rapidly. We have the facilities, so let's do what we can to support women's football.""There's a concerted effort to bring our youth sides here as well, to make this one club, as it's been fragmented for a long time. Women's football is key to achieving that."

Like the Old Days
There have been times when Horsham FC has galvanised the town and maybe, such days could be seen again. The play-off final in May was arguably the club's finest moment in 12 years. On that previous occasion, the club reached the FA Cup Second Round, with a late Lewis Taylor penalty earning John Maggs' Hornets a replay at Swansea. They lost the tie 6-2, but those who were at the club at the time hold great memories of those two matches in 2007. Swansea manager Roberto Martinez complained about the air-conditioning in the away team dressing room. It was an open window!
But there is renewed optimism at the club, reborn under the guidance of Dom di Paolo, as it embarks on new era. John said: "By creating this stadium, there will be high expectations for the coming season as the whole town is buzzing."
"We had a crowd of 850 at the play-off final in Lancing and it felt like the old days of Queen Street. Our average attendance at Queen Street was 500 and we'd be absolutely delighted if we could replicate that this year. We've maintained a fantastic loyal fan base who have been making the 70-mile round trip to the coast in recent years. Now we're back in Horsham, we're seeing new faces and old ones returning, which is wonderful."

WORDS: BEN MORRIS
PHOTOS: TOBY PHILLIPS (MATCH PHOTOS BY JOHN LINES)