Hoop Dreams at Horsham Hawks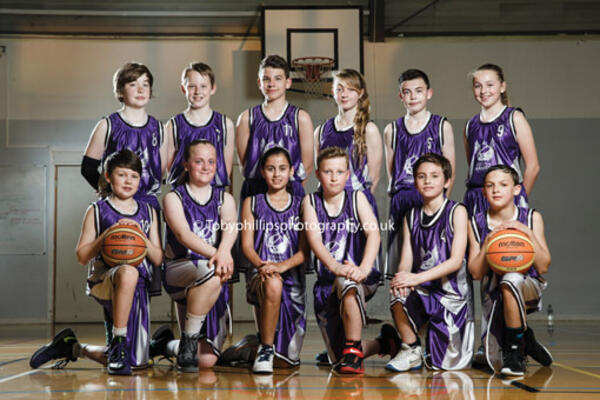 Admittedly, the boots can cost a lot of money. But if you're looking for a sociable, enjoyable and physically demanding sport, basketball takes some beating.
It was only in 2008 that Horsham Hawks, supported by Horsham Council Leisure Link, expanded from having one team in the Under-16 league to offering coaching to children as young as seven.
Seven years on, Horsham Hawks is one of the leading basketball teams in the south east., with the club's striking purple vests instantly recognisable to its rivals. The club currently has teams at under-11, under-12, under-14 and under-16 level, and as it did at its inception, has a strong contingent of girls in all of its teams.
Several of the players have gone on to play in national league teams, as well as representing the south east in regional competitions. However, the Hawks are always on the lookout for new talent. They hold community sessions every Saturday for school Years 8-11, from 2pm – 3.30pm, at a cost of £5 per child. The session is then open for children in Year 7 and under from 3.30pm to 5pm.
Hawks chairman Will Belfield said: "Some come when they are only eight or nine. You do see some children who really are still a bit too small, whilst others even at a young age have that physicality already, but the session is open to all who want to try it.
"There is no need to become a member of the club until you've attended a few sessions, juar to see if you like it.
"Even becoming a member doesn't mean you're going to make the team as it is hard work, but if you keep coming along on Saturdays and keep working hard, then there's every chance you'll succeed.
"Some people you can immediately see are going to make good players. Others you think are never going to get it, but they keep at it and I'm continually surprised by the progress they make."
If you'd like to know more about the club visit www.horshamhawks.co.uk or carry on reading to find out the views of club coaches and players...
DANI LOZZI (U-16's)
"I've been with Horsham Hawks for seven years. Playing basketball here is fun and there's not much pressure, as we are a relaxed, sociable club.
As soon as I reached the Under-16 level, it got harder for me to compete with the boys, as they are bigger and faster. In the first year of Under-16's I really struggled and some girls do leave for those reasons. It would be good if there were local girls' teams, but I don't think there are enough girl players to do that. Instead, we have to play in the National League in an all girls' team, which is a step up.
I play for Sevenoaks Suns and we are one of the best teams in England. Also, I'm in the team programme for England Under-16's. They picked quite a few players for the training camp and have now whittled down that figure to 17 players. They need to cut it down to 12, but I'm hopeful that I can be selected for the European Championships.
There is a possibility of a career in basketball for me, and if it wasn't for the Hawks it would never have
happened."
DAVE CLAYTON (U-12 COACH)
"This is my fourth year coaching the team now playing at Under-12 level. Some of the players are in their first full season with us whilst others have been here since they were seven.
The Hawks have always included a lot of girls and in that respect Horsham is the envy of the county as we attract so many girls to play basketball. They have shown they can hold their own against the boys and go on to achieve success in the game.
Every summer, we run a six week induction course to introduce young people to the game and that brings players in to the club. We also run a community session on Saturdays. This gives them to chance to learn the fundamentals of the game - how to bounce a ball, how to shoot and dribble and so on.
Many of those players are then selected for the Hawks and several have gone on to play for the south east
developmental team. Basketball is not a dumping ground for people who can't play other sports. It is extremely athletic, and the kids choose to be here because they love basketball.
As a team, we train every week and often play two games a week, sometimes 24 hours apart, so you need a good squad. We try to make sure that we give everyone minutes on the court too, to get their confidence up.
The standard and expectation is quite high but there are no egos and no cliques in this team, which makes them a strong unit.
For me, the most important thing is skills development and growing confidence. Sometimes you will win, sometimes you'll lose, but if you put the effort in and improve your technique, it will eventually pay off. Basketball may not be a major sport at the moment but it is still growing and the more children that we can get into clubs like ours the better."
JOSH LEA-CLAYTON (U-12's)
"I have been playing basketball for about four years. My dad took me to watch Guildford Heat and I really
enjoyed that, and the next Christmas I received a hoop that you can stick on your door.

I came along to Horsham to try playing, my dad became a coach and I've been here ever since. Since playing for the Hawks, I have also been picked for Sussex and the south east team. Now, I have been picked for the Under-13's National Select Team and am going to Gothenburg in May to play in the biggest tournament in Europe. I was
invited to go to the trials for the Select Team and I think they liked it that I was able to fit in quickly. They are looking for a good team, not individuals.
You don't have to be tall to play. The smallest player in the NBA was only 5' 6" and he could slam dunk!"
DOMINIC EVANS (U-11's)
"I have been coaching with the Hawks for two years now. I did play at a National League level for Brighton Cougars when I was younger, and my intention was to try and make it in America but it didn't work out.
So I came back and wanted to coach kids and pass on my knowledge to make them better basketball players. This year, the Under-11 team is playing well, but they have changed the structure of the leagues so there is not a league format for this age group. We play tournaments in Brighton every month and we have won two out of four so far, finishing as runners-up in the other two.
So it's going really well, and we are still in the cup competition too. We could do with a few more players though.
At this age, children will play sports that their friends play, so if their friends are playing cricket, football or rugby, they will probably try one of them rather than basketball. But if you enjoy the game and want to try it, we have the summer programme and Saturday sessions."
CHARLOTTE WILCOX (U-12's)
"I started playing basketball when I was nine or ten. I went to Sparks in the Park and saw the Horsham Hawks there and thought 'Great - basketball!'
I liked the game from a very young age but didn't know that there was a club in the town. To start with, I went to the community sessions on a Saturday, and I was then selected for the Under-11 team. My twin sister Amy also plays for the team and in our first year we jointly won the Coaches Award.
Last year, in the Under-11's - we had a really good season and were champions, and now we're hoping to win it again in the Under-12's. Our main rivals are Worthing D&D and Haywards Heath Eagles. Here at the Hawks, we are a mixed team as girls can be just as good. There are five girls in our squad, but in the teams that we play there are not as many.
This season, I was also picked for the girls' south east team, which was great fun as we went to Sheffield for a
tournament and won."
HARRY BAKER (U-16's)
"I only started playing basketball two years ago at school. I was quite good so I came to Horsham Hawks and settled in straightaway.
I was the first person in our team to do a slam dunk in a game. Adam O'Dell can also do it, but I just beat him to it! I have two years in this team as I'm one of the younger players.
We normally play games on Friday and Saturday and I also play Saturday and Sunday games with Worthing Thunder in the National league. Next year, I'd like to be selected for the England development team."
MOLLY LEA-CLAYTON (U-14's)
"Our Under-14 team is mixed and I think we are the only team in our league to have girls. A lot of the time the opposition underestimates us because we are girls, but some of us play at south east level and they don't expect us to be as good as them - we catch them out! I play in the National League with Worthing Thunder.
Most girls stop playing basketball in the local leagues by the age of 14, as it can get physical with the boys. That is how I got injured!
Last year, Horsham Hawks also took a team to our Twin Town of Dorsten in Germany to play their basketball team. We spent four days out there which was really good fun and we won too!"
INDIA BELFIELD (U-16's)
"I have been with the Hawks for about five years. I should be at Under-15 level, but there isn't a team so I play in the Under-16's. There are a few of us girls in the team, but there is a big difference from the Under-14's in terms of the physical aspects.
At this level, there are very few teams with girl players, as it is harder for us. At Under-14's, the girls are usually just as big as the boys, but by Under-16's the boys have grown a lot so it is harder for us to make our mark.
But we all get on very well in the team.
"As well as playing with the Hawks, I play for a team in the National league, but I broke my arm playing for them. We were hustling on the floor trying to rip the ball from each other and my arm got caught up and I heard the snap.
"I have been doing physiotherapy to build up the muscles again. I have a metal plate in at the moment but I don't mind too much. I do miss the feeling of the basketball and want to get back on the court and playing again!"
WILL BELFIELD (CHAIRMAN)
"My daughter, India plays for the Hawks and my son Ethan was one of the very first Hawks players.
John Dishington took the club on back in 2008 and he asked if I was interested in coaching. I took coaching badges and now I'm Chairman of the Hawks.
The club is very healthy because there is so much interest in the game, and many of our players have gone on to bigger things. Our Under-12 team are very good and next year they will step up to Under-13 or Under-14 level.
It is difficult when a team jumps up in the two year league format, as in those two years, you can grow six or seven inches. It can mean good players don't get as much court time as the players in their second year at that level, as they're that little bit bigger and faster.
Some kids can become disillusioned with the game as they don't always realise that the following year they will be in a better position.
We've always had a strong contingent of girls. As they get older, the number of girl players tends to dwindle but we're very proud of those girls that have come through to Under-16 level and reached a National League level.
If girls work hard they can go a long way in basketball as there is an increasing focus on the women's game."