Swim School Makes a Splash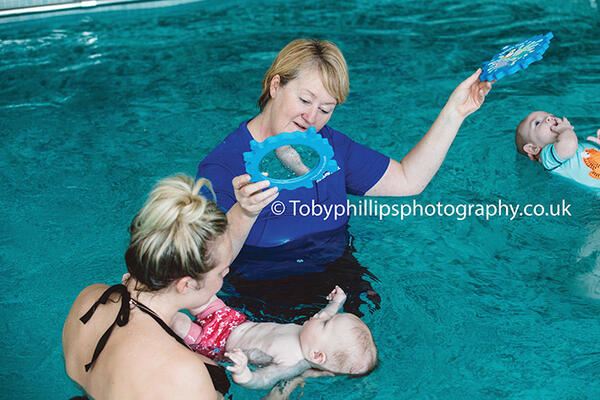 Published 4th November 2017
The swimming pool business based at home...
Horsham Swim School is unusual in that it utilises the pool of a private residence. Morriswood, perched in an idyllic spot overlooking the town from Old Holbrook, is the home of Tony and Jo Hogben. However, it has been used by various swimming schools and instructors for over 30 years.
Tony said: "The pool was used for swimming lessons long before I moved here and thousands of people have learnt to swim at Morriswood."Running a swimming pool is very expensive. The water and heating bills alone, without even considering people using the showers, are frightening. So, by renting the pool to local swimming instructors, we offset some of those costs. "There were several different swim schools using the pool and I came to know some very good instructors. So, I decided that rather than hiring the venue out to different swim schools, I would establish my own and work with some of the better teachers."


Finding the best instructors...

Swimming classes stopped for two years whilst Tony obtained a commercial license for his business.Tony's position as a Horsham District Councillor meant that everything had to be done by the book! Swim England supported the application as its own studies revealed a lack of pool space within the Horsham District. With permission granted, the business was formed in May 2017. Using his experience as a director of a marketing firm and an onlineretailer, Tony named the business Horsham Swim School. When it comes to using internet search engines, it pays to keep things simple!Tony took on the administrative duties, whilst in the pool were an experienced team of teachers, including Linda Hooker, Sharon Sharman and Jackie Reeves.
Jackie said: "I've been a swimming teacher for 15 years. I started off at the Pavilions in the Park before I started running my own classes at Morriswood. "Along with my sister Linda, I also teach swimming at Handcross Park School, where Tony's children attend. Linda and I have both been competitive swimmers and in fact Linda recently competed for Team GB at the European and World Masters Championships."

Keeping the temperature right for babies...
It's been an incredible few months for the swim school, with 400 people having already attended lessons. After-school classes are held every weekday for children up to ASA level 6 and the pool caters particularly well for parents with babies and toddlers.
Jackie said: "At 33 degrees celsius, the pool is warmer compared to most public pools, making it more suitable for young children, particularly those under the age of six months.In some pools, they would get very cold very quickly. When that happens, the parents don't enjoy the experience as they know their child is uncomfortable. Parents also like coming here as it's a private swimming pool with only one lesson going on at any given time. It doesn't have the noise of a busy leisure centre, which is important as some new mums can be conscience about their appearance after a pregnancy. These early experiences in the water are all about building confidence between the baby and the mother or father. All of our classes follow the developmental Swim England training plan, so whilst we may be playing a game or singing rhymes, everything is designed to help a baby's development. "Swimming is a life skill and can open up so many adventures. The earlier you can get the children used to the water, the better it is for them."

Keeping the group sizes down...
The classes can help form new friendships, particularly amongst the parents of babies. One group bonded so well that they all changed their meeting time when one parent could no longer commit to the lesson! It may have been easier to go elsewhere instead, but there is more to Horsham Swim School than privacy - people also like the professional teaching. There are five instructors, all female, with three being ASA Level 2 teachers, whilst Sharon has specific training in teaching baby and pre-school children. Three of the instructors are qualified to teach disabled people to swim. Already, several young people from charities and organisations including the Dame Vera Lynn Children's Charity, have been welcomed. Horsham Swim School also keeps group sizes to a maximum of six, to provide the best level of tuition.
Jackie said: "It's very difficult to give instructions from the side of a pool when you are working with a large group. When you have a dozen six-year-old beginners in the pool, they are not going to know what to do when you ask them to lie back with a float. "If you are in the water with them, it is very different. You can support their body, put them at ease so they don't panic and talk them through the process. It also helps to be in the pool with the baby and parent classes, as they are fun and interactional."

Intensive courses held over the holidays...
The L-shaped pool, which is 12m long and 7m at its widest, is 2.3m deep at one end, meaning it has been hired out by SCUBA clubs in the past. As well as having four individual changing rooms and ample parking, the swim school invested in new equipment for the launch of the business earlier this year.As well as weekly lessons, Horsham Swim School offers intensive courses during the holidays, with four children per class to offer the best chance of improvement. As with all classes, young people are rewarded for their success.
Tony said: "Children will be regularly awarded swimming badges and certificates from the ASA Discovery Duckling and I can award schemes. It's important to encourage praise and give recognition for progress. "We believe that there are many more people who could benefit from swimming classes. We offer a free trial lesson for young parents with babies, where the instructor will show you the basics of climbing in and out of the water safely with a baby and how to hold them securely in the water. "Hopefully they will enjoy the experience and the baby can start its swimming journey with us."
For further information visit www.horshamswimschool.co.uk or call Horsham Swim School on 07497 647220 or email info@horshamswimschool.co.uk