Carl Watts: Boring Golf, Exciting Scores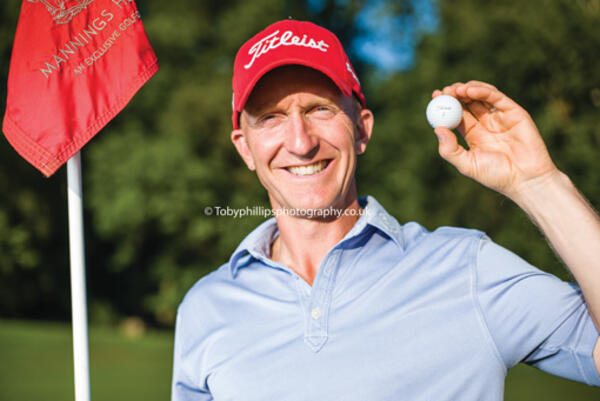 Published on 6th October 2015
I haven't played golf since I launched AAH in the spring of 2011. The reasons are threefold. To begin with, I didn't have the money. Then I didn't have the time. Thirdly, I'm not very good. There is a motley collection of clubs in a bag in the loft, as I did used to venture out for the occasional game.
I have memories of plonking six balls in the water on the short fourth at Horsham Golf & Fitness Club. I recall playing partners sympathetically saying 'Just pick it up, we'll put you down for 12!' during a Society day for St Catherine's at Cottesmore. I was the kind of player who believed there was something to be said for the Happy Gilmour style of driving, and genuinely based my putting on Chevy Chase's carefree display in Caddyshack.
All of which led to some rather lousy scorecards.
So when Carl Watts, an ex-European Tour professional who now coaches at Mannings Heath Golf Club, invited me along for a lesson, I ignored his request out of embarrassment. Eventually, I ran out of excuses and headed down to the club. After giving me two bottles of water (more on that later) Carl placed one ball on the edge of the green, handed me a pitching wedge and said 'Play the shot. '
'Come on Ben, make it respectable," I thought. No such fortune. The ball bounced across the other side of the green, no closer to the flag than it had been. A bad start!
Yet over the next 20 minutes, with a few simple demonstrations Carl was able to transform my perception of the game and my own ability. Much to the amazement of Toby, the AAH photographer, I was hitting shots near the flag!
Carl's Greatest Day
Carl is a fine player, and made headlines in 1997 when he was the first player ever on the European Tour to shoot 24 under par. But he admits that this incredible result came out of the blue and only later, when coaching, did he understand the freak result.
Carl said: "I had won the British Boys' Championship and won the Sussex Boys' Championship for three years in a row before turning pro at the age of 23. I qualified to play on the European Challenge Tour and the European Tour and would flick between the two, depending on my ranking.
"In truth, I was really struggling with my game when out of the blue at the 1997 BMW Open I became the first player in Tour history to shot 24 under par. Colin Montgomerie was waiting for me to finish at the 18th as he shot 23 under. Unfortunately for me, a short time later Robert Karlsson equalled my score and beat me on the fourth hole of a playoff.
There were just a few elements that fell into place that week that allowed me to reach an incredible level from nowhere. It was very confusing for me, because I felt I'd opened Pandora's Box and reached a new level. It's exactly the same with amateurs when they shoot an amazing score and think 'I have no idea what happened!'
"So now, I'm a big believer of finding routines that help players maintain their game and their score, especially when they don't play very often."
Eye-Opening Lesson
With me having played just that one rather miserable shot, Carl began his coaching with a couple of short
demonstrations based on perception of the game. He's developed a 'caddie style' method over many years, coaching professionals in Holland and Germany for nine years before eventually basing himself at Mannings Heath.
His methods may be a little unusual, but they have a dramatic impact. He began coaching me by spreading out several balls, running close to the hole and then out to the edge of the green, and asking me to guess the percentage of successful putts from each distance by PGA Tour players.
We then do something similar 50 yards from the flag, when I'm asked to guess how close Rory McIlroy's average shot from such range is to the pin. On both counts, I'm a long way from the right answer and without having held a club, I'm already feeling much better about my own game!
"There are a lot of misconceptions of the standard people assume that they need to reach," said Carl. "So my coaching involves psychology, strategy and is massively focused on the short game. Most people don't have much time to practice as they have work, mortgages and families. If you're lucky, you might play once a week. So my perspective is geared towards your maximum ability to score better, rather than just saying 'I think your swing should look like this.'
"If you look at the guys on the PGA Tour you see every different type of swing possible. There's no right way, so the art is to help somebody understand their own swing.­ So I don't go on the driving range and teach people a new swing for their long play. Instead I base my teaching on psychology, perception, statistics and a strategy-based around a simple clock face technique. My methods help players relax and the impact it has is huge."
A Bit Too Furyk?
I asked Carl if this methodic, statistic-based approach to golf may be a little, well, boring. Young players are inspired by naturally gifted players – Seve Ballesteros and Rory McIlroy. They don't have Jim Furyk posters on their bedroom wall!
Carl insists that players with a God-given talent will always light up the game, but that such a 'roulette wheel' approach does not serve us mere mortals so well. Most amateurs blindly bet and think 'I'm going to go for the flag as I've done it before!' said Carl. "Nine times out of ten, they won't pull it off. Players want to score well but they will only ever pull off the occasional 'flash in the pan' result with this gambling approach. I know because it happened to me.
"My motto of 'boring golf, exciting scores' helps players use their intellect and common sense. It stops them wasting shots, and they enjoy the game more because their score is better.Mine is a different philosophy focused on maximising your score. It is not about scoring the 'perfect par'.
"That is why so much of it is psychology focused. When we ask people to guess the putting averages on the US tour, people's assumptions are typically way off. Most guess that the percentage of putts from 10 feet is between 70% and 80%. When they discover it is actually 37% and that's the pros, it takes a huge amount of pressure off you as an amateur player!"
The Caddie Method
Carl likes to adopt a caddie method of coaching so he can join a player on a round and help them make decisions that suit their game. His 'holistic approach' incorporates all aspects of the game, including water
intake! "I've worked with a lot of pros and the element that really stops them moving forward is their perception of the standard, which is too high, and their inability to stick to the fundamental basics, regarding swing length and
distance.
"It is consistently simple stuff that you can practice in your back garden. Another part of the game I promote is water. Three quarters of people suffer from unintentional chronic dehydration which has a massive impact on
performance and well-being.
"Part of what I do is to help people to understand its importance and produce a dehydration plan. It might sound quite obsessive but it is frustrating for me if I've given a good lesson and someone starts to fall back into old habits during the final few holes because they're dehydrated.
"I create an experience in a lesson which people aren't used to. It is unusual, but when they finish, they say 'That was fascinating. I could really see the difference."
Carl, who has an indoor coaching studio at Mannings Heath that he can turn to in poor weather, certainly had an impact on my perception of the game. For the first time in many years, I'm keen to brush the cobwebs off my clubs, buy some chequered trousers, and see what I can shoot with my new and improved short game.
Now, if only I can nail that 'Happy Gilmour' golf drive!
Carl Watts Golf offers coaching for individuals, pairs and small groups and also hosts corporate days for businesses. For more information visit https://carlwattsgolf.co.uk