Harry Harrod: Promising Gymnast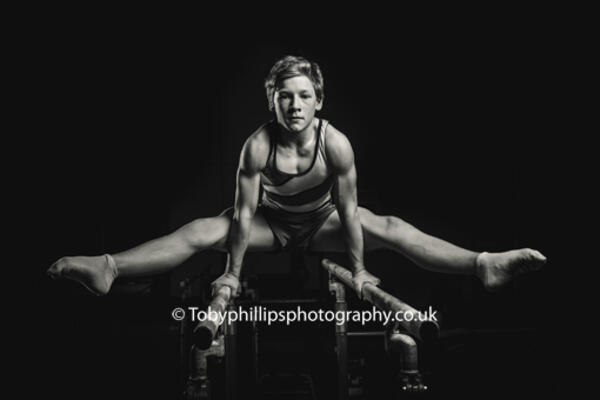 Published 3rd January 2015
So who is this then?
This is Harry Harrod, a 13-year-old from Kingsfold, who has been a gymnast since the age of three. After ten years of practice, he has become rather good at it.
Is he a bit on the small side?
He is, although he is very strong thanks to a demanding training schedule. Whilst his height may mean he misses out on the big rollercoaster rides at Alton Towers, it's not necessarily a disadvantage when it comes to gymnastics.
I thought it would be? Who's that well-known gymnast who was on Strictly?
Louis Smith...
That's him! Well, he's really tall...
He is, but he specialises on the pommel horse. Harry said: "Being small can help on pieces like the rings, as you don't have to carry that much body weight. But on the pommel horse, I lose out because I have shorter arms, giving me shorter leverage and making it quite hard to maintain balance. The floor and parallel bars are where I consistently score well."
So does Harry just do certain pieces then?
It doesn't work like that. Gymnasts train on every piece of apparatus in the Artistic gymnastics
programme. In competitions, men are judged on six routines - floor, vault, pommel horse, high bar, still rings and parallel bars. Of course, every gymnast has their strengths and weaknesses, but at this moment Harry's training is split evenly between each discipline.
So how long does he train for each week?
Harry trains at the K2 leisure centre in Crawley with Hawth Gymnastics Club, for 19 hours every week.
19 hours?
Yes, he trains for four hours on Monday, three hours on Tuesday, four hours on Wednesday, four hours on Friday and four hours on Saturday. It doesn't leave much time for other sports and hobbies, but Harry doesn't mind.
What about his homework?
Harry said: "I do struggle sometimes with homework as I come home quite late at night and I don't always have time to finish school work. But that's something I'm trying to handle as it's something every gymnast has to face."
Must take a lot of commitment from his family?
It does indeed. Harry said: "My mum is probably the most supportive as she drives me around everywhere. She takes me to training, competitions and everything."
How come he goes to Crawley to train?
Harry did start out with Horsham Gymnastics Club, and after a few years he was transferred to the Crawley club to develop with the men's artistic squad. Horsham is renowned as a leading club for women's Artistic gymnastics, and the Crawley club will often send its most talented girls to Horsham. So Harry benefits from more focused training at K2.
How good is Harry then?
This year, he came second at the South East Regional Championships, and that result amongst others
ensured he earned a place in the Under 14 British Championships in Glasgow. Harry said: "It didn't go quite according to plan, as I finished 19th out of about 60 competitors. I could have done better, as I had two major falls on the pommel horse, which is unusual for me, even though that is my weakest piece."
Was there a big crowd watching?
Not huge crowds, but the venue itself was deliberately imposing. Harry said: "The British Championships are held in a proper arena so that it gives us a taste of what it is like to compete at national and international level. I can get nervous in front of a big crowd so that's something I'll have to get used to if I want to reach the top."
So do the likes of Louis Smith help?
What do you mean? He doesn't chip in with tips at training!
No, I mean in terms of showing what's possible.
Yes, and of course Max Whitlock took bronze at the World Championships. Harry said: "British gymnastics has
improved a lot since the 2008 Olympics, when Louis Smith came third on the pommel horse. We won a lot of medals at the Olympics two years ago, and that improvement does make a difference to me and other youngsters, as it shows that British gymnastics can compete with the likes of Japan, USA, Russia and China."
So how far does Harry think he can go?
He's concentrating on training hard and improving, as he needs to improve through Under 14, Under 16 and Under 18 level before progressing to senior level. But, as Harry says, "the ultimate goal is to one day make the Olympic team."
Read more about Harry's club at www.hawthgymnastics.co.uk