Billingshurst Belles Softball Cricket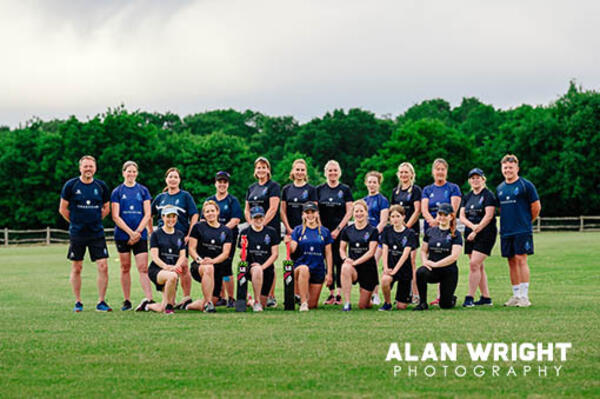 Published 1st July 2022
The success of England's women cricketers in recent years, culminating in a famous World Cup win on home soil in 2017, has led to increased interest in the game at grass roots level. To entice newcomers to the sport, the England and Wales Cricket Board (ECB) is promoting a softball format to help more clubs establish women's teams. AAH met the Billingshurst Belles as they prepare for their first league fixtures…

RINGING THE BELLES
The Belles formed in 2019 after Jim Burroughs, the much-missed former President of Billingshurst Cricket Club, mooted the idea of a women's team to Rachel Gosling, now captain of the Belles. Rachel initially recruited the wives and partners of players in the established men's teams, but it didn't take long for word to spread among parents with children in the Colts too. Belles player Louise Dunn said: "My husband David is captain of the 2nd team at Billingshurst and has played for as long as I've known him. I've been a cricket widow for many years and have always enjoyed watching, but never thought about playing. But the idea of softball appealed to me and as I had a connection with some of the other players already, I thought I'd give it a go and it's been good fun!"

NEW BOUNDARIES
With the ECB pushing to make the game more inclusive, the Belles have been well supported. Sussex Cricket helped by providing equipment and kit, while cricket festivals where round-robin games are played with flexible rules presented the Belles with some opportunities to play friendlies against other teams.

Billingshurst CC has been supportive too. The Belles use the main pitch (named the Jim Burroughs Oval after his passing in 2021) and coaches from the men's teams help with training. Jon Alexander, Chairman of BCC, said: "Billingshurst is a growing village and we need to ensure we're an inclusive club with cricket for all. We want our fantastic oval and facilities at Jubilee Fields to be used as often as possible and the Women's team is a welcome addition."

SIMPLE RULES
So, what is softball? In short, it's like cricket but without hours of waiting around to see if you'll get the chance to play! Games are usually six or eight-a-side (a cricket team has 11 players) and the pitch is smaller, with only 40 - 45 yards from the wicket to the boundary. Both teams bat only once (in cricket there are two innings) and there's a set amount of overs (typically 16) with six balls per over. In cricket, batsmen remain at the crease until they're out, which happens when they're either bowled, caught, run-out, stumped or use their leg to block the ball from hitting the wicket (LBW). In softball, batters play for a set amount of overs (usually four) to ensure all players are given the same opportunity.
Rachel said: "Softball gives everyone a chance to learn the game and play without having to be scared of the hardball, which can leave you with nasty bruises. With a lighter ball and fewer players covering the field, there's less distance to the boundary and the bowling crease is shorter too, which makes it easier."

WINDMILL STYLE
The batting team starts with a score of 200 runs and can add more in the usual way - by running between the stumps to score a run or hitting the ball beyond the boundary for four or six runs. Extra runs are awarded for a wide delivery, but five is deducted from the score when a batter gets out. Even then, batsmen remain at the crease for an allotted number of overs, with both changing at the same time.
The rules are also more relaxed when it comes to bowling, as Rachel explains: "You can bowl underarm, but we encourage everyone to bowl overarm, often teaching newcomers the "windmill" technique until they improve their speed and accuracy. For a couple of years, the focus has been on developing skills, individually and as a team. Everyone has been supportive and that remains the case, but now we're entering the league, there is an increased sense of competitiveness, as we want to win!"

TEEN SPIRIT
The club has a healthy Colts section with teams at U-10's, U-13's and U-16's. While the two younger teams welcome both boys and girls, it becomes more difficult for girls to compete with boys in hardball cricket and the club doesn't want to lose young players from the game. So, it is hoped that Billingshurst can soon have a girls' only Colts team to help feed into the Belles' softball side and also a hardball team, for those playing at a higher level.
Fifteen-year-old Mimi Fraher was one of only two girls playing in the U-13s. Now, the softball format has presented her with a chance to continue cricket. Mimi said: "To begin with, I could hold my own with the boys. But when they get older, they become more powerful, so the timing of the softball team was perfect for me. The training sessions have been fun as there's a good team spirit at the Belles. We encourage each other and even when I'm not selected for matches, as we'll have to rotate who plays, I'll still come down to cheer the girls on!"
TEAM TACTICS
The Belles have become an even tighter-knit team since 12 players spent a Bank Holiday weekend on the Isle of Wight for their first cricket tour. Now, they're ready for their first season in the Sussex Soft Ball Super Series League.
Mandy Parke, who is prolific with the bat, is confident they'll do well. "When we started out, some players were total beginners. There were a lot of no-balls bowled and we're still working through that to a degree. But Martin Gosling is a great coach and we've had the tour too, so the skill level is rising with both bat and ball and game play is improving too."

"We're starting to take some risks when it comes to stealing a quick run and thinking tactically about where to place shots, looking for gaps in the field. Certainly, as we approach the league season, we feel competitive. We won our first friendly match recently and it gave the whole squad a real buzz. We enjoy playing together, but now we want to add some glory! At the same time, people will still be forgiven for bowling a wide, as the most important thing is to give everyone a chance to play cricket."
For more information about the Belles, email billingshurst@gmail.com or visit the website at www.billingshurstcc.co.uk

WORDS: Ben Morris
PHOTOS: Alan Wright