FOREVER ACTIVE: 50+ GROUP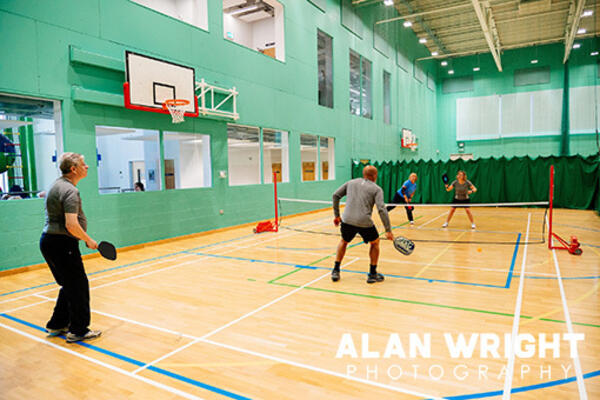 Published: 1st August 2023
The Forever Active sessions at The Bridge provide an opportunity for older adults to keep fit and healthy in a relaxed, sociable setting. Here, we meet Sue and Paul Kornycky, who serve as Chair and Secretary of the 50 Plus group that uses the activity programme…
CENTRE SAVERS
In 1994, Horsham District Council organised a '50 Plus' event at the former Broadbridge Heath Sports Centre, with the aim of encouraging older adults to participate in sports and fitness activities. The day was a success and led to the 50 Plus group meeting once a week, with a variety of activities offered.
They were part of the Joint User Group that campaigned against the Council's plan to close the sports centre in 2012, as initial proposals didn't provide replacement leisure facilities elsewhere. Thanks in no small part to the user group's efforts (it also included Blue Star Harriers, Horsham Joggers, HAODS, Horsham Arun Badminton Club and others), the Council changed its mind, culminating in the opening of The Bridge in 2018. Since then, 50 Plus has worked in partnership with Places Leisure, which organises a busy timetable of activities on two days of each week, Mondays and Thursdays, under the banner of 'Forever Active'.
Paul Kornycky said: 'When we were battling to save the sports centre, we kept a list of email addresses for 50 Plus users, to keep them informed about developments and campaign events. We maintained this list even after the campaign ended, as it became a way of keeping in touch. It has meant that anyone who uses the services has been able to provide feedback and also suggest ideas for new activities.'
'We work closely with HDC's Sports Development Team and Places Leisure, who run The Bridge, as well as other local leisure centres, so everyone benefits. The team at HDC have been fantastic, helping us introduce many activities, the most recent being Pickleball. The 50 Plus programme is an important part of the Council's Sports and Development strategy, so we meet with them regularly to ensure we offer a programme that caters to the needs of the community.'
FLEXIBLE APPROACH
The leisure industry was badly hit by the pandemic. Even when activities were allowed to return, participants needed to individually book sessions, with numbers restricted by social distancing. Places Leisure reinstated the Forever Active programme incrementally, but while the number of activities has returned to pre-pandemic levels, some users have not yet had the confidence to return.
Despite budgets being stretched (and the additional impact of rising energy costs), sessions remain affordable for most people. In addition to a pay-as -you-go ticket of £4.20 per activity, there is a day rate of £6.30, which allows people to partake in as many Forever Active activities as they wish. Membership is also available for £25 per month, which covers Forever Active activities on Mondays and Thursdays, with gym sessions too.
Sue Kornycky said: 'Many leisure centres work with local authorities to offer programmes similar to 50 Plus, but what is unique about our group is the affordability and flexibility. It encourages people to try either just a single session or enjoy a full day of activities.'
'Like many, I plan my own activities, which today includes pickleball in the morning, with Pilates and badminton in the afternoon. Most studio classes last about 45 minutes, although table tennis and badminton run throughout a morning or afternoon, so people can do other things around them. This flexibility is important, as some of our users fit activities around work, while others are grandparents who take children to and from school. So, the pay as-you-go option suits them, and all they need to do is book activities at Reception. Others prefer to become members, which is cost effective if you have time to participate in activities on both days.'
SPORTING CHANCE
This bi-weekly programme includes table tennis, badminton, tennis, pickleball, archery and short mat bowls. Badminton attracts people of all ages and ability levels, with some approaching 80, while the archery sessions are instructor-led, with equipment provided. Short-mat bowls is organised by Ray and Phil, who promote a relaxed, sociable atmosphere while still providing a competitive element. Tennis and table tennis tend to attract a regular crowd, with players paired with and against people of a similar age and ability in doubles matches.
Carol, a regular at table tennis, said: 'When I joined Forever Active, I was a novice, but quickly learned that there was a bit more to it than the name "ping pong" suggests. I enjoy the flexible, easy-going sessions. There is a range of abilities, from rusty school players to hardened spinners, so no two games are alike. We mostly play doubles, but there is normally an opportunity to play singles or to just practice. We laugh a lot, but it's still a good workout for body and mind.'
It is hoped that Tai Chi will soon return, having been popular prior to the pandemic, while walking football was trialled for the first time in June. A recent success has been pickleball, introduced after a surge in popularity in America. Paul said: 'Pickleball has similarities with short tennis, in that it's a court-based game where players use racquets or paddles to hit hollow plastic balls over a net. It's ideal for mixed doubles, as it's not all about power. Pickleball was suggested by HDC's Sports Development team and demand is so high that we now run sessions on both days. As well as the fitness benefits, the arithmetic involved in keeping score in such activities helps you stay sharp mentally too.'
STUDIO SESSIONS
There's a range of studio-based fitness and exercise activities, including cycling, Pilates, aerobics and yoga. Keep Fit is a low-impact class set to music, which helps coordination and balance. Gym circuit sessions give people a chance to use The Bridge gym, with qualified instructors leading the exercises.
Yoga is held on Thursday afternoons, with a knowledgeable instructor guiding participants through controlled breathing techniques and various postures designed to help maintain flexibility and balance, finishing with a period of restful relaxation. 'Steady and Strong' is a gentler introduction to balance and posture exercises, while 'Ballet Stretch' is held in a studio with mirrors and a balance barre. Joan, a regular at the ballet sessions, said: 'It is a mixed ability class, as some did ballet as children, while others like me have only recently bought our first pair of ballet shoes. I don't think we'll be appearing at Covent Garden any time soon, but everyone leaves smiling, and I find my flexibility, posture and balance improves week by week. There is a good deal of laughter too, which is the best medicine!'
NEW FRIENDS
The sociable side of Forever Active is just as important as the activities. 50 Plus is a good way to meet people and often small social groups form, organising lunches or even trips away. Many take the chance to enjoy a drink at The Bridge Café after sessions, while a recent coffee morning and cake sale organised by the group raised £720 for Ukraine.
Sue said: 'We have people here who live alone and enjoy the company the group offers. We also have carers who look after a partner or relative with dementia or illness, and they find that coming here gives them a break. Then there are grandparents who use the school hours to stay fit and active, as well as people with health issues like Parkinson's, or who are recovering after a stroke, surgery or illness. About 150 people regularly attend, but many more in the community could benefit from these activities. If you are of a certain age and would like to be more active, or have retired and miss the social interaction work provided, then Forever Active might have something to offer you. Bus No.63 from Guildford to Horsham now comes to The Bridge and there is free parking too, so it's accessible for many people. It takes effort to get out of the house and participate in activities, but I always feel the benefit afterwards, both physically and mentally. So, if you've not been before, come give it a try!'
Further information:
To find out more or to join 50 Plus, email Sue and Paul at 50Plus@btinternet.com
Visit Places Leisure for details of activities: www.placesleisure.org/centres/the-bridge-leisure-centre/centre-activities/fitness-health/
Words: Ben Morris / Photos: Alan Wright