Caitlin Ward: Kicking Boys into Touch!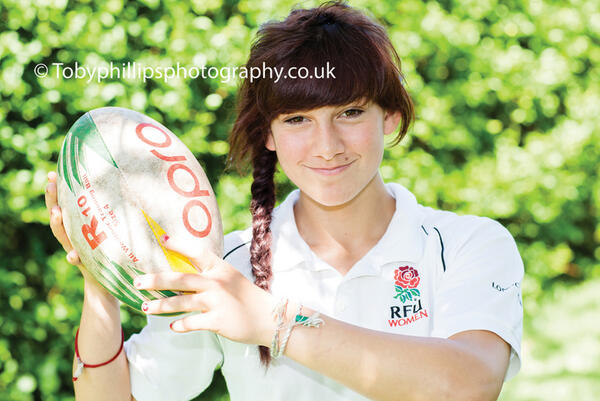 Caitlin was a promising competitor in Karate when she was younger, winning medals and competing in international tournaments all over Europe. But these days the Warnham schoolgirl is
focused on rugby.
As well as playing at County level, Caitlin has played for London Irish, one of the few leading teams to develop rugby for girls. The club established teams for girls at Under 15 and Under 18 level, which proved very successful.
Sadly though, the support structure has not developed and the entire London Irish team that Caitlin plays for has recently moved over to Esher, where the England Women play international games. It is a move that should help Caitlin as she attempts to reach the top levels of the game.
Caitlin only started playing rugby in 2009, but picked up the game quickly and was voted Most Improved player at London Irish. She said: "I started playing rugby in Year 9 at Millais having been
introduced to it by one of my teachers, Mrs Billington. We played rugby during PE lessons and then we started an after-school club. Then we had a man called Mick Orton, a community rugby coach, come to our school, and he said I should join a club. From there I went to Brighton Blues and then I was spotted by London Irish.
"The set-up was good but we had to move all the girls to Esher recently. It's hard to break through in a man's sport as there is not much money or support for the women's team. It's quite frustrating. There are county teams and from there you can get picked for divisional teams. The next step from there is talent development groups and they can lead to the international set-up. I played at county level last year but had a bad injury one week before the divisional trials, so that set me back for a while."
Caitlin plays either centre, outside centre or as a winger, and her game is well suited to seven-a-side rugby. The IOC (International Olympic Committee) recently voted to include Rugby Sevens in the Olympic programme for Rio in 2016. Caitlin hopes that she can develop her game enough over the next four years to be involved.
She is working hard for it, running ten kilometres three times a week. She said: "The more fitness and training you do the fewer injuries you get. There are some big women that play rugby, but they have to catch you! I know quite a lot of the boys that play for Horsham at my age, and I think I'm at least as good as them. I shouldn't say that though, as a couple of them are ex-boyfriends!"
Caitlin, a recent recipient of a Horsham District Set4Success award (left), will be heading to
Collyer's this year, where she will be studying Government and Politics, Law, History and Music Technology.