RUNNING FOR FUN IN HORSHAM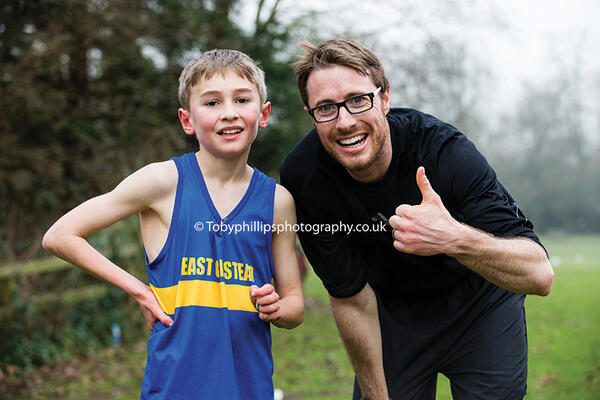 Published on 1st March 2017
The Horsham Parkrun isn't really about the winning. Nonetheless, the battle for the lead caused a stir amongst participants on 18 February. Richard Lee-Wright of Horsham Joggers had to give his all to fend off an unlikely challenge from 12-year-old Ethan Scott, who had been snapping at his heels throughout the 5km route.
The pair finished a minute ahead of the field after completing three laps of the course, around the perimeter of Horsham Park.
A delighted Ethan said: "I took part in a few Parkrun events last summer, but this was my personal best time (17.34mins). I was just hoping to set a good time and I was very happy that the other runner pushed on, because it made me go a lot faster than I have done before."
Ethan, who lives in Surrey and runs for an athletics club in East Grinstead, added: "I recently won the Sussex league cross country event for my club, so I was coming here on good form."I came to Horsham as a lot of the course is on grass, so it's good practice for my cross country. I should think that I'll be coming back soon."
ALL AGES & ABILITIES

However, for most of the runners, it is the taking part that counts. The Horsham Parkrun has been an enormous success since the first run in 2014, regularly attracting over 400 people to every Saturday morning. Runners of all ages and abilities gather around the Horsham Park pond for a 9am start, with the course taking in the north end of the park around the skate park, before heading south behind Horsham Superbowl and the area used by North Sussex Soccer Academy, run by Ted Streeter.
Some runners compete with their dogs on a lead and in summer it's not uncommon to see prams being pushed around! One group met through a 'Learn to Run' course in Horsham, hosted by West Sussex Wellbeing, which they enjoyed so much that several members have continued to improve their fitness together at Parkrun. Another group – including Neil Davies who competes in barefoot - wear red T-shirts as proud members of the '50 Parkrun' club.
The Balfour family from Southwater are amongst the majority of people taking part primarily to maintain fitness. Mike Balfour, who has competed in 67 Parkruns, was joined by sons Harry and Tom.
Mike said: "Having taken part in quite a few runs, I asked my sons if they wanted to join me. Sometimes they play football on a Saturday and it's not always a good idea to do this first before a match. But if there's no fixture then they will come down. The event has grown a lot since I first came here and I see new runners every week. When I first started coming, we'd have maybe 200 people. Now we're seeing over 300 in the winter and over 450 in summer.
"It is a brilliant event, especially as it's free. When you register, you're given a specific barcode and this gives everyone their personal time. "Within a couple of hours, you receive a text message or an email telling you your time, along with a full list of results. It will also tell you additional information, including how many Parkruns you have completed and personal best times. The organisation is excellent."
THE NUMBERS CONTINUE TO GROW

That is partly down to the man finishing in 111th place, a veteran of 131 Parkruns called Phil Liberman (pictured in black top below).With a team of dedicated volunteers who continue to support the event week after week, Event Director Phil was part of the team who established a Parkrun in the town.
Parkrun events had been growing in popularity across the country since the first was founded by Paul Sinton-Hewitt in 2004. Phil believed Horsham had the potential to host one, but needed to raise £3,000 to set-up an authorised Parkrun. The idea was well received by Horsham District Council and North Horsham Parish Council, which helped bring the event to fruition.
In February 2014, a test run was held so that the council could assess the route and its impact on the park, whilst the Parkrun team could test their new equipment and resolve any issues.Six months later, with an official website and social media pages up and running, Horsham Parkrun was officially launched.
Phil said: "At the first event, we had 366 runners as a lot of people from the Parkrun community will go and support a new event. After a while, it levelled off and ranged from 140 – 180 over the first winter."Since then, it's grown primarily through word-of-mouth, as people bring their friends and family along. Last summer, we reached our highest figure of 488.
"As it's a free event, it's difficult to put a cap on numbers. Horsham Park can take a little bit more but not hundreds of extra people, especially in the winter. We don't want to be cutting up the grass that runs alongside the path because it's a public park, but it's difficult when you have so many people running on narrow paths.
"Ideally, we would like someone to start a Parkrun nearby. There is one in Crawley and Haywards Heath, but perhaps an event in Billingshurst or Southwater would ease the burden."We have created a very good community here and we are blessed with helpers, whereas some events struggle with that. Many of us head over to Conservatory Cafe after the run to upload the results. Often, participants can see the final results by lunchtime, which I know people really appreciate."
WORDS: BEN MORRIS/PICTURES: TOBY PHILLIPS
Horsham Parkrun is held every Saturday at 9am in Horsham. Register before your first run online at https://www.parkrun.org.uk/horsham/
It is hoped that a Junior Parkrun will soon be established in Horsham. We hope to bring details in a future edition of AAH.