Horsham Flamingos Synchronised Swimming Club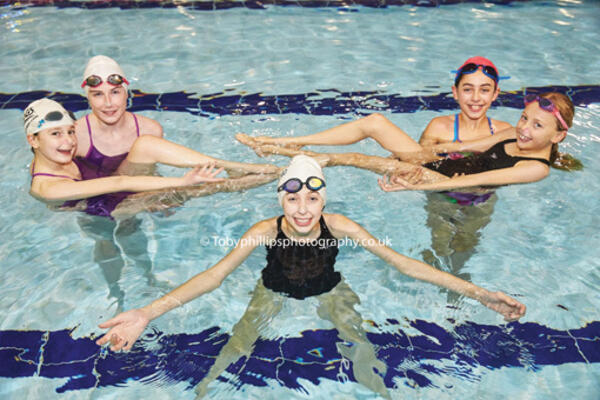 Published on 4th December 2015
Francesca Casagrande (Coach),
Amie Wright, Esme Allford, Harry Yip, Abbie Mellor, Heather Surley and Sophia McInnes.
Francesca: When I first came to England 18 years ago, I started teaching swimming, and continue to do so. I was surprised that there were no synchronised swimming clubs around Horsham, as I've always thought it to be a beautiful sport. So I established Horsham Flamingos about eight years ago. We needed to be associated with a
swimming club to enter competitions. Locally, we didn't have much success, but we were welcomed by the Brighton Dolphins team. Brighton has a master synchro club but no junior competitors. I've also been well supported by The Pavilions in the Park management, who have allowed me to run Flamingos independently.
Sophia: I went to watch synchronised swimming at the 2012 Olympic Games in London, and it looked really good fun. I was always a water baby when I was young, so it was the ideal sport for me. I looked for a club near my home in East Grinstead, and Horsham was the closest, so I have to travel quite a way to train. I don't know why it's not more popular, as it is great fun!
Heather: My brother was having swimming lessons with Fran and when I was at The Pavilions watching him, she said 'Why don't you come along to synchronised swimming?' I'm a keen dancer and I thought it would be fun as it's basically like dancing in water.
Amie: A good synchronised swimmer needs long legs and elegance, and maybe Fran saw that in me, so she asked me along from lessons too.
Esme: I started synchronised swimming when I was five. I was a good swimmer and always preferred to be under the water than over it! Over the years, I have improved and have won two medals for individual
performances, including a gold in 2014.
Francesca: I teach every day so I see a lot of girls at swimming classes. I approach those who I think might be suitable. It is a sport that requires dancing, gymnastics and swimming skills, and it is not easy to find girls that are adept at all three.
Sophia: We train twice a week, on Tuesday and Saturday. We are really just beginners, but we are not bad. At the moment, we are rehearsing an Italian routine, set to music. It includes a few lifts, ballet legs, a walkover and an eggbeater. They are relatively simple moves, but as you progress through Skill levels (Level 0 to Level 5) the moves become more advanced.
Esme: I have passed my Skill Level One, and have twice tried for my Skill Level Two. Both times, I found that the moves I normally struggle on went okay, but I struggled on other moves that I normally get right! One I was upset about failing was one of the vertical positions, as I was told my legs were not straight enough. I will be trying again next summer though.
Abbie: I am currently on Skill Level One and to reach Level Two you have to perform new moves including 'ballet leg', a travelling 'eggbeater' and a 'fishtail', in which you have your legs split at a 90° angle with your head underwater. You do have to be quite flexible to do synchronised swimming and you'll need to be able to do the splits. You also spend a lot of the time underwater.
Amie: We do all count underwater. It's not so important for us all to count at the same speed, as we have underwater speakers, so you can hear the music even when you're upside down. We use triggers in the music as our cue to move or surface. I personally can hold my breath for about one minute and a half, and that is something you improve with time. The nose clips really help!
Heather: When we are in the water, we perform our routines to music. It can be anything. It is usually quite poppy but sometimes we perform to classical music.
Abbie: We are currently preparing for the ASA National Synchro Competition in Gloucester in December. The team is Esme, Sofia, Amie, Heather and me. We do have other strong girls in the club though and several others (including Georgia Garman, Hannah Medley, Lily Foskett and Georgia Stone) were involved in our big performance as part of the Brighton Fringe Festival. I think we can do well at the Nationals, but we will have to work hard.
Amie: We are all good friends and we are becoming closer the more we practice. The National competition will be my first competition and I am a bit nervous. Our routine is not the hardest though, as we don't want anything to go wrong. It is quite simple in terms of moves, but we think it looks good.
Francesca: Bringing the team up to the same standard is difficult when girls can individually be at a different level. It is up to the more senior members of the team to adapt.
Esme: It is really important that we all keep in time. Some people can be just a little too fast or slow, and the team has to adapt to that. I would say for a synchronised swimming team, it is harder to perfect the timing than it is to perform the moves. As a team, we are getting better.
Abbie: If there's one person off time in the routine it can bring the score down in a competition, so if one of us can't perfect a move then the whole team can't do it, as it just won't look right.
Sophia: During five team routine, there is a lot of flexibility. You will sometimes see two synchronised duets with a solo part too, so there is still a lot of creativity. My favourite routine is probably the walkover, so you have one leg going across the water into the splits position, then the trailing leg follows.
Esme: We also have moves like the 'flamingo', where you lie with your back on the water, with your knees into your chest, and then you slowly stretch out one leg into the air. Other moves include the 'helicopter' in which you do the splits and rotate in the water.
Heather: You do have solo routines in synchronised swimming too. I'm performing a solo to Rudolph the Red Nosed Reindeer at our club's Christmas show. I prefer solo routines because it's just you and the music and you don't have to keep time with anybody else.
Harry: One of my friends came across a news story that said that synchronised swimming had been introduced for boys for the first time, and I thought that I would try it. It looked like something I would enjoy.
Francesca: Harry is one of my greatest achievements! I have fought for male competitors and written letters to the Amateur Swimming Association (ASA) because it is illogical not to include boys. How can you have a duet with two girls? It is not natural. The boys will add so much to the sport because of their strength. It will take a while for attitudes to change but I believe boys will add an entirely different dimension.
Harry: I think it's good for boys, as it is fun as you can splash around and go underwater. I don't mind being the only boy for now, but I would like some more here in the future. The moves may be a little bit harder for us, because a lot of girls do gymnastics. But it suits me fine as I am a gymnast too!
Francesca: If one of my girls reaches Skills Level Two at the Nationals, then I believe that they will be West Sussex champions. There are very few clubs around, so there are opportunities, especially for boys as the sport is only beginning to open up for them. If they train hard, you never know how far that they can go.
Sophia: It is an Olympic sport, so if you are good at it you have a chance of reaching the National competition, as there are not many teams. I think if I kept on training hard, I could eventually make it to the top. That is my goal!
The Flamingos train at The Pavilions on a Tuesday and Saturday. For more details visit www.placesforpeopleleisure.org/centres/pavilions-in-the-park/